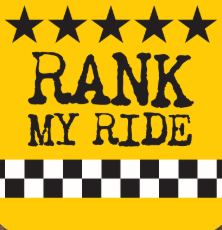 If you frequently use ride sharing apps (Uber, Lyft, etc.), then you'll probably get a kick out this promotion. Customers who use Rank My Ride app to write reviews about ride sharing apps can get paid $5 per ride sharing review! This can be done up to 5 times per month (one time per ride sharing app).
However, in order to take part in this promotion, you must submit an application to become an eligible reviewer. There's also a list of things that are required for each review – An eReceipt of your ride with the ride sharing app (Including where you traveled to and from), and it must be ranked on a number of factors (each one being on a 1 to 5 star scale).
If you're interested be sure to send in your application today!
Editor's Note: If you've yet to create an account with one of these apps, be sure to sign up through our provided link. It'll give you a $5 bonus just for singing up!
Rank My Ride Promotion
Promotion: Get $5 Per Ride Sharing Review
Expiration: N/A
Availability: NYC, Los Angeles & San Francisco Only. Rewards paid through Amazon gift cards, PayPal, or bank transfer.
Terms: Must submit application to be eligible to earn rewards per review.

How To Earn $5 Per Review
Register an account with Rank My Ride an submit an application.
If you fit their criteria, you'll be accepted.
After every ride, do a survey over your experience with your ride.
Get rewards with $5 per review!
Bottom Line
If you frequently use ride sharing apps like Uber or Lyft, be sure to take advantage of the Rank My Ride Promotion! This promotion lets users apply for a chance to get paid $5 per review written for a ride sharing app.
Up to 5 reviews can be rewarded per month, but it's free money so why not? Be sure to take advantage of this promotion today for a chance to get rewarded for writing reviews!
If you love finding deals like this, be sure to check out more on HMB! You can also find our compiled list of other ways to Save Money!