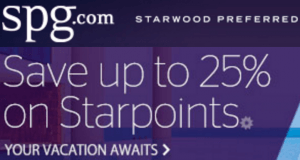 SPG Starpoints is offering a 25% Discount Promotion when you purchase 20,000 Starpoints, through December 31, 2015. If you need to top off your account, now may be a good time to get SPG points as you are limited to receive up to a maximum of 20,000 Starpoints per account per calendar year so it's best to buy points during their promotional offer. This offer could be better if you want to combine it with the Aeroplan 40,000 Miles Bonus Transfer Offer. Otherwise Starpoints are quite valuable  as you can use them for hotel stays, cash and points awards, and transfer them to various airlines.
SPG Starpoints 25% Discount Promotion:
Offer: Buy Starpoints for up to 25% off, a maximum of 20,000 Starpoints.

Buy 5,000 – 9,500 points 10% 3.15 cents
Buy 10,000 – 14,500 points 15% 2.98 cents
Buy 15,000 – 19,500 points 20% 2.80 cents
Buy 20,000 points 25% 2.63 cents

Valid: 12/21/2015
Terms: The recipient of a Starpoint purchase must be a member of Starwood Preferred Guest for a minimum of 14 days before being able to purchase Starpoints. Members may purchase a minimum of 500 Starpoints and then in any increment of 500. Purchased Starpoints are applicable for all Starpoint awards. A maximum of 20,000 Starpoints may be purchased or received as a gift into your account per calendar year. Please allow 24 hours for your account to be updated. Starpoints can only be purchased via the Internet, and are not refundable or exchangeable.
How to Maximize Starpoints 25% Discount:
Log in: Sign In and enter you account number to get started.
Buy: Use your Starwood Preferred Guest Credit Card to purchase the Maximum 20,000 SPG points to max out the 25% discount.
Maximize Miles: Starwood gives you a 20% bonus when you transfer a block of 20,000 miles to any of Starwood's various airline partners. For example, if you buy 20,000 Starpoints at $525 (2.63 cents) and transfer to airlines, such as Alaska Airlines, American, or Delta, you'll get a total of 25,000 miles (2.1 cents per mile). If you have 120,000 SPG points or more consider Aeroplan 40,000 Miles Bonus Transfer Offer to get even more savings!
Bottom Line:
Whether you have plans for not, SPG Starpoints 25% Discount Promotion is a great offer to top off a rewards threshold. Even better if you combine it with one of the two maximizing miles ideas mentioned above. This deal ends December 21, 2015 so don't wait too long if you want to make point transfers or need to book a trip soon. See more deals for Points, Miles & Bonuses!