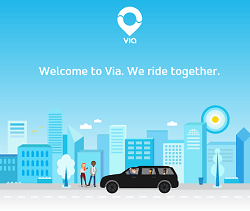 If you're a fan of rideshare apps, like Uber and Lyft, sign up and try Via today. Some targeted members can get free $20 ride credit when you refer someone! Just check your emails to see if you were targeted.
Via is another rideshare app that offers rides to and from major stations around town. Request a ride on your phone and share with other riders going your way. Get traveling but most importantly, get saving! Enjoy your discounted ride now.
Editor's Note: Sign up to Via Rideshare and get 2 Free Rides with promo code anthony2u4c
Via Rideshare Discount Promotion
Check Your Emails!
Promotion: Get free $20 ride credit
Promo Code: Unique promo code sent via email
Expiration: January 27, 2019
Availability: Targeted members only in select cities
Terms: Offer is valid in New York City (or Chicago or DC if you're based there) ending at 11:59pm on 1/22/2019. Promotional rate applies to the base fare only and excludes airport rides. Additional passengers in party will be charged extra.
How To Get Free $20 Ride Credit
Download the free app: App Store or Google Play
Check your email for targeted promotion from Via.
Enjoy free $20 ride credit!
Bottom Line
Via finally available in New York City, Chicago and Washington D.C, so get this app now to save money wherever you travel to. This app is available on iOS or Android, the low fare rideshare app can get you from point A to point B! There is a targeted offer going around that gives lucky Via user a chance to get free $20 ride credit when you refer a someone!
This amazing deal expires January 27, 2019, so don't wait, you'll miss this offer before you know it. Download the app today and start saving! For more deals like this check out our coupons listing! For additional ways to save money, be sure to check out our full listings!