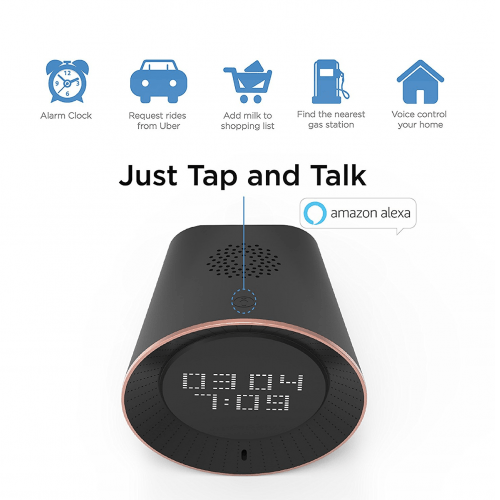 Hate waking up? Do you need a better alarm system? Try out the Vobot Smart Alarm Clock With Alexa for only $35.64 + free shipping on Amazon! This smart clock is built with intelligence, where you can set up your alarm with Alexa. That's right, you can command your alarm clock instead of pushing buttons. It is touch-initiated and voice-controlled device that allows you to play music, provide information, control smart home devices, listen to news and much more. You can now choose to wake up to your favorite sound or music of choice and if waking up is a challenge for you, you can turn off your alarm by shaking, tapping, or saying "stop". If you enjoy snoozing, you can easily flip the alarm clock on the other surface to activate snooze. This smart alarm clock is everything that a not-so-morning-person needs. Or maybe it's a perfect chance for you to update your alarm clock and use the Vobot! Be sure to also come back for more hot deals here at HMB!
Vobot Smart Alarm Clock With Alexa Features:
Easy setup with the free Vobot App. Enjoy Alexa service with the Amazon Alexa App.
This device allows you to set alarm, active alarm, recurring alarm( e.g. for weekdays or every Monday), timer and reminder with voice command.
Play music, provide information, control smart home devices, listen to news and audio books, report weather, traffic conditions, and so on.
Wake to your favorite built-in sounds, TuneIn radio, or any music since you can upload or customize (paste the music URL) the music you like. The alarm clock can be easily turned off by pressing mute.
Helps you fall asleep by playing sleep sounds to make you be more conducive to concentration and relaxation.
Shake to dismiss alarm helps power up your mornings and gets you to be ready to make the most of your day.
LED dot-matrix display with smooth surface makes everything clear at first sight. The display is customizable with multiple options, such as date+time, date only, word clock display and12h/24h display.
Built-in 5W speaker and 3.5mm AUX out makes the room full of sound during music playback, and thus you can easily enjoy the streaming media from Amazon music, TuneIn and iHeartRadio.
 It is a hands-free device after full charge of the battery. When it is in low battery, it will go into deep sleep and wake up before next alarm (so you can leave it uncharged at night).
The clock always shows the right time once configured, even after a power and/or internet outage.
Simply flip it over to get the alarm to snooze and then take a quick nap to continue your sweet dream.
Bottom Line:
Get your hands on the latest innovative alarm clock, the Vobot Smart Alarm Clock With Alexa  from Amazon! This smart alarm clock has all the functions that you need for a wonderful wake up in the morning. It's the best clock for a lazy person who hates morning and better yet, it's going for only $35.64 + free shipping! This product usually cost around $59.99, but get it now and save $23.00 instantly! Buy now and be sure to also check out all our available Discounted Gift Cards, and perhaps save even more money with the Best Cash Back Shopping Portals!