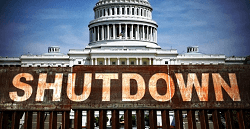 With the latest and longest lasting Government shutdown in recorded history, hundreds of thousands of workers are going without any pay. If you or any friends or family that you know are affected by this shut down, be sure to let them know about this post. We'll go over many different specials and other resources going around to help those affected by this shut down.
Finances 
A lot of financial institutions are offering aid to those affected by the shut down. Below is a small compiled list of different institutions offering aid.
Restaurants
Macaroni Grill: Offering all employees a free Mom's Ricotta Meatballs + Spaghetti. Valid through 1/23/19 or until government shut down ends. Valid 11am – 4pm, not valid at airport or international locations. This can be used once per day.
Fazoli's: Through January 27th, participating Fazoli's locations are offering furloughed federal government employees with valid ID a free Pizza Baked Spaghetti with the purchase of a drink.
Great Harvest Bread Co.: Over 50 Great Harvest locations nationwide are setting up "Shutdown Shelves" and offering free bread to federal employees impacted by the partial government shutdown.
Potbelly Sandwich Shop: Between January 23 – 27, government workers can get buy one, get one free entrees at Potbelly Sandwich Shop when they show a federal government ID.
Ruby Slipper Cafe: Federal workers and their immediate families with a valid ID badge or business card will be treated to a free meal and beverage at participating Ruby Slipper Cafe locations (Monday-Friday only).
Taco Cabana: Participating Texas Taco Cabana locations are offering federal employees affected by the federal government shutdown 20% off with valid federal government employee identification issued by a department affected by the shutdown. The discount will continue through the period of the shutdown unless otherwise announced and has a max cap of $20 in savings.
Food Banks: Many people are making additional donations to food banks to help government employees during this difficult time. Please do not feel bad about using these resources; you're put in a situation completely out of your control and people are donating for this exact cause. If and when the shut down ends, please consider donating to your local food bank.
Pay It Furloughed: Visitors to the website can pay it forward and offer federal employees affected a free beer.
#ChefsForFeds: From the looks of it, chefs from around the nation are offering to cook and feed federal workers.
Whole Foods: Free spaghetti dinners every Thursday. Valid from 5PM to 7:30PM. Looks to be available at some D.C., Virginia & Maryland locations.
JBJ Soul Kitchen, Red Bank New Jersey: Free meal from 12-2PM, they will also be helping federal workers to locate additional support and resources in the local area.
Entertainment/Retail
Bottom Line
If you or anyone you know are affected by the shut down, please let them know about all the opportunities around them. These are the opportunities we've found so far, but if you know of any additional aid, please be sure to let us known in the comments below. Be sure to find more posts on HMB! You can also check out our compiled lists of ways to Save Money!