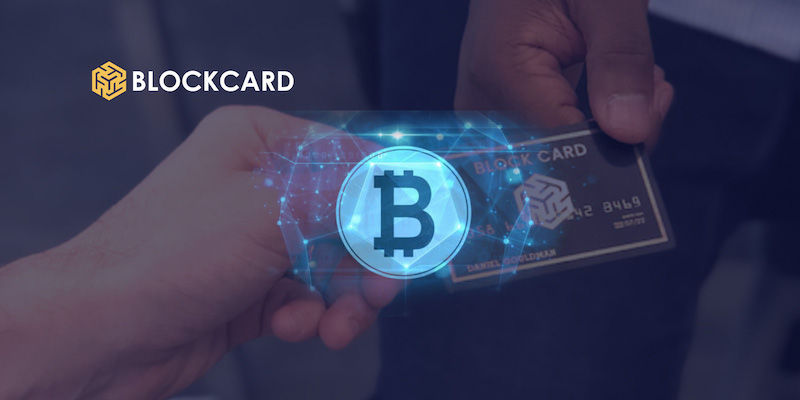 Here you will find all of the latest Ternio Blockcard promotions, discounts, bonuses, and deals here!
Blockcard is a pre-paid debit card that allows you to make purchases using crypto and withdraw cash at ATMs. Not only will you get to utilize your cryptocurrency in a your daily life, the process is quick and easy. Additionally, it comes with crypto back rewards (up to 6% at the time of this update) on all your purchases.
See our list of the best cryptocurrency offers here, including promos from Gemini, Voyager, Coinbase, SoFi and more. Make sure to check out more investment promotions and referral offers here.
---
Ternio Blockcard Features
---
| | |
| --- | --- |
| Card Type | Visa |
| Cryptocurrencies Supported | BAT, BTC, BCH, DAI, ETH, LTC, PAX, XLM, TERN, USDT, TUSD, USDC and XRP |
| Cryptoback Rewards | 1% to 6% on spending |
| Proprietary Token | TERN |
| Issuing Bank | Metropolitan Commercial Bank |
After you complete resgistration for a Blockcard account and deposit crypto, you can start spending your digital funds anywhere VISA is accepted. The process doesn't require conversion to USD, so you can easily add and remove funds to your Blockcard.
This platform supports 13 different types of cryptocurrencies including Bitcoin, Litecoin and Ethereum, as well as some smaller currencies like Basic Attention Token and Stellar Lumen.
Crypto Cashback
Differing from most other crypto debit cards, Blockcard rewards members with cryptoback rewards. You must stake TERN to earn rewards; the more you stake the better the rewards rate.
1%
2%
3%
4%
5%
6%
30,000 TERN
staked
57,500 TERN
staked
82,000 TERN
staked
105,000 TERN
staked
120,000 TERN
staked
145,000 TERN
staked
You'll get another 0.38% back from spending TERN on your Blockcard, where your rewards are compounded. Cryptoback rewards are paid in TERN as well.
Dashboard & Mobile App
The mobile app and dashboard – via website or mobile app – allow you to manage and track your crypto spending from any computer or smartphone. You are able to instantly send anyone money, from anywhere, to anywhere with just an email address. You can also check your balance and deposit funds.
VISA Card
Blockcard is a VISA card, meaning that you can use the card anywhere that accepts VISA. It's the most widely accepted card in the world, along with MasterCard.
Mobile Wallet Support
You can also use Blockcard anywhere that accepts Apple Pay, Google Pay and Samsung Pay.
---
Blockcard Pricing & Fees
---
Blockcard comes in four forms with varying costs:
WALLET
VIRTUAL CARD*
PLASTIC CARD
METAL CARD
Free
Free
$10 activation fee
$50 activation fee
No
daily spending limit
$5,000
daily spending limit
$5,000
daily spending limit
$5,000
daily spending limit
No
ATM withdrawal
No
ATM withdrawal
$500
ATM withdrawal limit
$500
ATM withdrawal limit
No fees
Fees (see below)
Fees (see below)
Fees (see below)
*Is included with the Plastic Card.
Blockcard does not charge any deposit, exchange or withdrawal fee. There is a monthly subscription fee of $5, but it's waived if you spend more than $750 in non-cash transactions that month. Other fees include:
| | |
| --- | --- |
| PIN Transaction Fee | $1 (domestic) | $2 (international) |
| ATM Cash Withdrawal Fee | $3 (domestic) | $3.50 (international) |
| ACH Transaction Fee | $1 |
| Wire Transaction Fee | $20 |
---
Blockcard Limitations
---
Blockcard is closely tied to the TERN token. This can be a limiting factor because the future value of TERN is undetermined. In addition, members must stake TERN in order to access the best cashback rates. Past values of small cap crypto tokens like TERN can drop by 90% or more against USD. Therefore, the requirement of staking TERN in exchange for rewards on a debit card is a high-risk decision.
It should also be noted that the staking process for TERN and Blockcard works on a 30-day basis, so you can't exit the TERN market immediately, should you decide to opt out of it. If TERN starts to crash, your hands are tied. You'll have to watch the value of your TERN tokens fall until the end of the month.
---
Current Ternio Blockcard Promotions
---
*$10 Welcome Bonus*
Ternio Blockcard is currently offering a promotion where you can earn a $10 welcome bonus! All you have to do is sign up for an account using a referral link. Start investing the right way. Be sure to take advantage of this promotion while you can, as it is only valid for a limited time.
Promotion: $10 Welcome Bonus
Offer Expiration: Limited time offer or while supplies last
Availability: Ternio Blockcard
How to get it:

Click on the link below to register for an account
Add a minimum of $100 worth of crypto to your account
(Click here to learn more about the promotion)
---
*$10 Referral Bonus*
If you're loving your new cryptocurrency platform, then share it with your friends, colleagues, and loved ones. For a limited time, customers can earn $10 Referrals for every person they refer. Additionally, each of your friends will also get $10 to use towards their investments.
Promotion: Get $10 Referrals
Offer Expiration: Limited time offer or while supplies last
Availability: Ternio Blockcard
How to get it:

Click on the link below to register for an account. Complete the sign up process to start earning.
Share your unique referral link with friends
Have your friends use your linkwhen signing up for a account
Wait until your referral add a minimum of $100 of crypto to their account.
(Click here to learn more about the promotion)
---
Bottom Line
If you believe in the value of TERN, then you'll want to get a Blockcard. It offers an incredible cryptoback rewards rate and comes with a lot of functionality.
However, if you're not interested in using TERN, we recommend taking a look at another crypto debit card such as the VISA card from Crypto.com. Crypto.com is currently offering a $50 welcome bonus. Additionally, check out more cryptocurrency promotions here on HMB!