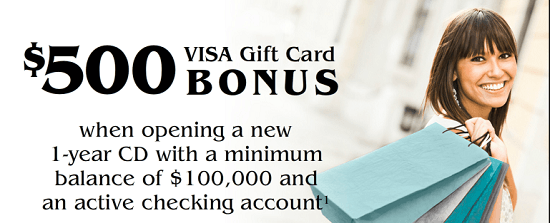 Unity Bank is now offering a $500 Visa Gift Card Bonus when opening a new 1-year CD with a minimum balance of $100,000 along with an active checking account. They are a financial institution dedicated to working with customers in New Jersey and Pennsylvania. The bank has a long standing history of serving its clients with respect and integrity and has been growing right alongside the customers and communities it serves. From time to time, Unity Bank offers special promotions to its clients and is currently offering a Unity Bank $500 Visa gift card bonus for clients who open a CD at the bank.
There are a few requirements in order for clients to be able to receive the Unity Bank $500 Visa gift card bonus. The requirements are discussed below.
Clients purchasing the CD must have an active Unity Bank account. An account qualifies as active if it has a minimum of three transactions per month. Qualifying transactions can be either direct deposits, debit card purchases, bill payments or third party check deposits. Transactions like interest credits, account corrections or account transfers do not count towards the three transaction per month requirement.
Clients must open the CD with a minimum term of one year and the deposit must be at least $100,000. The Unity Bank $500 Visa gift card bonus is given at the time the CD is opened and clients may not combine this offer with any offers or promotions given at Unity Bank.
The money used to open the CD account needs to be money not held at Unity Bank during the 90-day period prior to opening the account.
There is a little bad news. You shouldn't withdraw money from your CD prior to the end of its term or you'll have to pay that $500 back.
The Unity Bank Visa gift card bonus is a great promotion and certificates of deposit are always excellent financial vehicles for investing money. They provide a safe way to make interest at higher than rates than found in traditional savings accounts. For those lucky residents of New Jersey and Pennsylvania, open a Unity Bank account along with the requirements to earn $500 Visa Gift Card Bonus!