Those who are looking to open a Chase Checking account(up to $200 bonus), you may want to open a Chase savings account for up to another $200 bonus if you have $10K sitting around. There are currently no coupon codes for the Chase savings bonus available online for free, but you can find them on eBay as many people are selling them for $10 to $20 each. Here's the best list of all Chase Coupons on the web!
Some other methods to get the Chase Savings Coupon Code:
Visit your local Branch and ask the branch manager. Tell them how your neighbor received a $150 bonus code and you are looking to open a Savings Account with $10K deposit for the same promotion.
Visit your local USPS, ask the counter person for a Movers Guide Packet. Inside the packet, there may be a Chase savings coupon.
If you have a Chase branch near you, more than likely, they do sent out these Savings coupon flyers to gain more customers. If you don't get it through the mail, ask your neighbors to be on the lookout.
Get it on eBay if you need a Chase Savings Account Coupon Codes right away: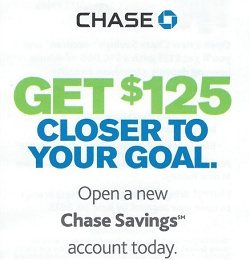 Chase Savings $125 Coupon Codes:
Currently on eBay, you can find at least 7 people selling the Chase $125 savings coupons. In order to get the $125 bonus, you must 0pen a Chase Savings account with $10,000 or more in new money. Chase will deposit $125 into your new Chase Savings account within 10 business days of deposit validation. You do no need to keep the $10K in your savings account after your bonus has shown up, however the account must stay open for at least 6 months before closing.
Chase Savings $150 Bonus Coupons:
I'm also seeing a lot of $150 Chase Savings Account Bonus Coupons for sale with $10K in new deposit money. The main difference is you must keep the $10K for 90 days in your Savings account to get your bonus money.
$150 just for NEW Chase SAVINGS Customers…It's easy to redeem your cash bonus: Apply online or at the Branch. You will be getting a Chase promotional coupon for $150 when you open a new savings account with Chase and deposit $10,000 in the account and maintain at least that much as a balance for 90 days.
This promotional coupon offer expires July 11, 2013. The requirements for achieving the $150 bonus are to:
Open a new Chase Savings Account
Deposit $10,000 or more in new money within 10 business days of account opening. (New Money means money not currently held by chase)
Maintain at least $10,000 balance for 90 days from the date of deposit
You are limited to one personal savings account bonus per calender year and the bonus is considered interest and will be reported on ITS Form 1099-INT.
Chase Savings $175, $200, $250 Bonus Coupons: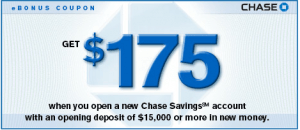 If you have more deposit money, Chase Bank is also offering $175 savings account bonus for new customers with with an opening deposit of $15,000 or more, and you only have to keep the $15,000 in your account for 10 days in order to qualify.
The main benefit of the $175 Savings coupon over the $150 bonus offers if the non-requirement of your deposit money for 90 days in order to get the reward. However, you do need a higher deposit of $15,000 instead of the $10,000 deposit requirement. I've also seen Chase Savings Coupons of $200 and $250 on eBay too!
How To Open the Chase Savings Account Bonus Online:
Visit the Chase Savings WebPage to apply for your Chase Savings account online.
Within the "Getting Started Section", enter your unique promotional code into the Coupon Code field.
Open your Chase Savings account and make a minimum opening deposit of either $10,000 or $15,000 within 10 business days of account opening depending the bonus offer.
Chase will deposit $125, $150, or $175 into your new Chase Savings account within 10 business days of your qualifying deposit.
Chase Savings Account Fees:
The Chase Savings account monthly service fee is waived if:
The minimum daily balance is $300 or more in this account.
If you have at least 1 repeating automatic transfer of $25 or more from your Chase checking account each month.
If the Saver is under 18 years of age (but then you can't qualify for the bonus).
Otherwise, a $4 monthly Service Fee applies ($5 for accounts opened in CA, FL, GA, ID, NV, OR, and WA).
For those opening a Chase Checking account bonus, be sure to get extra bonus money with the Chase Savings account promotions of up to $175 cash bonus from eBay. This is great way to get bonus money when you combined both Checking and savings accounts for up to $400 cash bonus. I highly recommend to check out many bank bonuses from out exclusive list!

Hot Deal of the Day: TD Ameritrade offers up to $600 bonus and free trades for 60 days. Gain access to trading tools, guidance, and resources that can get you the best start for retirement.
Chase Ink Bold® Business Card offers 50,000 Bonus Points($500 value) after you spend $5,000 in 3 months from account opening- that's good for $625 toward travel! The card requires you to pay off your balance in full each month along with flexible spending limits. Cardholders earn 5X points per $1 on the first $50,000 spent annually at office supply stores, and on cellular phone, landline, internet, and cable TV services. They will also earn 2X points per $1 on the first $50,000 spent annually at gas stations and for hotel accommodations when purchased directly with the hotel. There is no foreign transaction fees and the employee cards are free. The annual fee is waived for the first year, and $95 for future years.

Full Review