*Expired*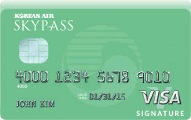 The SKYPASS Visa Signature card is offering 15,000 SKYPASS Bonus Miles after your first purchase. It's gear toward members who use rewards points, discounts, and other benefits for using Korean Air Lines. With SKYPASS Visa Signature, you'll get 1 mile for every net $1 in purchases, a 2,000 Bonus Miles at renewal, and double miles on Korean Air ticket purchases. Cardmembers enjoy 2 Korean Air VIP Lounge coupons each year and pay absolutely no foreign transaction fee when spending abroad. They include travel & emergency assistance services along with $1,000,000 in Travel Accident Insurance. It is a premier credit card, recognized and accepted in the United States and abroad with an annual fee of $80 per year.
It's consider a good card for those who often use Korean Air Lines, since that is the card sponsor. The SKYPASS Visa card comes in both a signature type and regular type(the signature one offers more rewards points and benefits).
SKYPASS Visa Signature Card Features:
Get up to 15,000 Bonus Miles after your first purchase.
Earn 1 mile for every $1 you spend in net purchases
Double Miles on Korean Air ticket purchases.
Redeem miles for award travel and upgrades on any SkyTeam partner, including Korean Air and domestic carriers such as Alaska Airlines and Delta Air Lines
Earning Miles & Traveling Benefits
Whenever you use your SKYPASS Visa card to make purchases or book travel & lodging, you'll earn SKYPASS miles in order to redeem on Korean Air Lines tickets. The SKYPASS Visa Signature card offers a number of travel and shopping benefits such as having access to travel, hotel, and spa benefits available only on the Signature card.
SKYPASS Visa Signature Card Benefits:
The accumulated miles can be redeemed as travel tickets, concessions on travel tickets, and upgrades on Korean Air and SkyTeam partners
SKYPASS Visa Card enables members to purchase and maintain a Morning Calm Club Membership.
An additional card security via the EMV chip technology for using the card abroad
Visa paywave technology for security over the Internet.
World wide accessibility of the credit card
Cash withdrawal from ATMs all over the world
Bilingual automated account access
Bilingual telephonic customer service
No limitation on air miles earned
Collision damage waiver for rented automobiles
Additional SKYPASS miles for signing up for automatic bill payment
Credit card score update
SKYPASS via miles can be added to SKYPASS flight meals.
Applying for SKYPASS Credit Card is very easy, membership is open to all US citizens and residents. An applicant may file an online application to become a member of SKYPASS. A member may choose to apply as a sole account holder, or a joint account holder. Either way he or she is entitled to the SKYPASS credit card and all the benefits that come with it. The fees include $80 annual fee for the Signature card. Balance and transaction fees are about what you would pay on other cards, $5 or 3% or $5 or 4%, whichever is greater. Sign up for the SKYPASS Visa Signature Card today, which comes with a number of benefits, and a whole lot of points to keep customers satisfied, and also gives them incentives to swipe their SKYPASS cards every time they have to make a payment.
Find more Exclusive Offers for all Credit Card Deals: