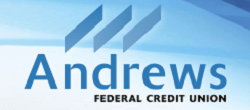 Andrews Federal Credit Union have roots in the military and strive to retain their military values in their business. AFCU is an outstanding financial institution comprised of volunteers and employees. Their focus has always been to provide financial solutions that help their members reach their dreams. Anyone can look to Andrews Federal Credit Union to serve as a life-long partner for financial success. They'll be there to lend a hand with the financial expertise you need. They are able to pay higher interest rates on savings, money market and interest-earning checking accounts! There are 14 locations in Washington, D.C, Delaware, Maryland, New Jersey, and Virginia. However, members can access AFCU's services on the road through their online banking options. In addition to Andrews Federal Credit Union online services, they are part of the Shared Branching Network, which gives you access to 5,300 other credit unions to perform the transactions or use services you need, wherever you are!
Andrews FCU Membership:
Visit your nearest Andrews Federal Credit Union
Check out their eligibility requirements:

You are employed by or a member of one of our Employer Groups.
You live, work, attend school or worship in Washington, D.C.
You are or wish to be a member of the American Consumer Council.
You are an immediate family or household member of an existing Andrews Federal member.
Civilian personnel of US Military units who work at or are assigned to Joint Base Andrews or Joint Base McGuire-Dix-Lakehurst.
You are Active Duty or Retired Military Personnel assigned to, or eligible to and are currently receiving benefits or services on a regular basis from Joint Base Andrews or Joint Base McGuire-Dix-Lakehurst.
Active Duty US Military or Civilian personnel of the Department of Defense who have a valid Uniformed Services Identification and Privilege Card and who are authorized logistical support in accordance with the appropriate host nation Status of Forces Agreement, AND who have a work or residential address within Andrews' assigned geographical territory, consisting of areas in: the Netherlands, Belgium, and northern and central Germany.
If you have no military affiliation you will be granted membership if you make $5 donation
Lifetime membership costs $15

To apply for membership, you will need the following info to fill out the online application form:
Valid Driver's License/State ID/Passport
Valid United States Social Security Number
Account information for accounts that you would like to close and transfer
Reasons To Join Andrews FCU:
All AFCU checking accounts come with a wide array of free services including early pay day providing access to funds a day early with direct deposit, no monthly fees, no minimum balance, free e-Statements, free online bill pay. Their programs are designed to work around your schedule and budget to build wealth in the easiest way for you. This federal credit union offers loans for personal signature, home equity, vehicle, and mortgage loans. For AFCU's vehicle loans, you can enjoy their features such as: affordable payment options with low interest rates, terms available up to 84 months, convenient online application, fast pre-approvals, and protection options. With an home equity loan, you get a one-time lump sum of cash you can use any way you like and you can have rates as low as 4.49% APR, borrow up to 90% of your home's value, a one-time payout to get your money up front, and loan amounts from $5,000 to $350,000! AFCU also provides insurance services such as: auto insurance, home insurance, AD&D insurance, life insurance, debt protection, and health insurance. Your funds will be secure and they will all be accessible for withdrawal at an Andrews Federal Credit Union branch or ATM. Your funds are insured up to $250,000 by the National Credit Union Administration.
Bottom Line:
Overall, Andrews Federal Credit Union is quite a great credit union to be a part of. They combine the advantages of a large financial institution with the commitment to their members that comes from their roots. At AFCU, they are able to provide customers with lower rates on loans and credit cards as well as higher rates on savings. There are no hidden fees, either. If you have more membership eligibility questions that were unsolved, feel free to contact an AFCU employee! If this credit union did no suit you, be sure to check out our full list of Credit Unions Anyone Can Join. Don't forget to share your experience with this credit union by commenting below.