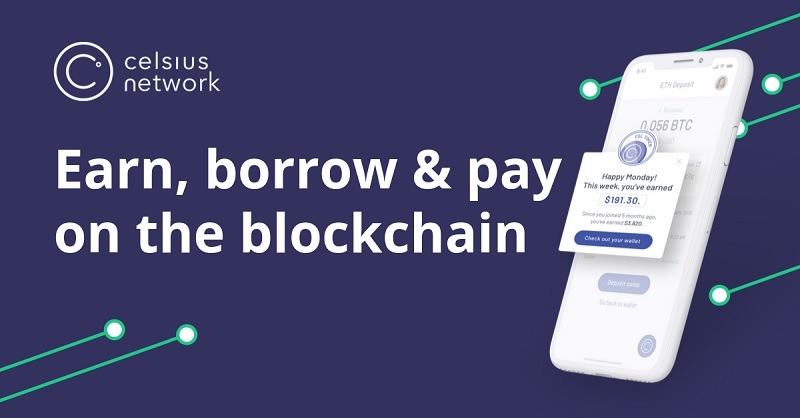 Find the latest Celsius Network promotions, bonus offers, and referral codes here.
Celsius Network is a peer-to-peer lending company that facilitates borrowing and lending of cryptocurrencies who needs it the most. For borrowers, there are low-interest rates; while lenders, there is a fair share of the income distribution. Continue reading below to see if you want to start earning interest on crypto!
---
Celsius Network Top Features
---
Celsius is a peer-to-peer crypto lending platform that connects borrowers and lenders. See Celsius Network's top features:
Cash loans: borrow dollars at the lowest interest rates on the market. Cash and stablecoin loans start at 4.95% interest.
Earn crypto: Send bitcoin and other cryptocurrencies instantly, with no wallet required.
CelPay: Send Bitcoin and other cryptocurrencies instantly, with no wallet required.
CEL Token: An in-app token gives you exclusive access to the best financial services for cryptocurrencies, including better interest rates, priority status, community membership and more.
Fee free: no fees with Celsius, no withdrawal, deposit, transaction, early termination and no origination fees.
No minimum deposit: Celsius treats all users equally, no matter how much you put into your Celsius account.
BitGo Insurance: All Celsius assets are stored in a multisig wallet with BitGo. Coverage is up to $100 million against cyber thefts, attacks and inside jobs.
Crypto that are compatible with Celsius include:
BTC
ETH
LTC
XRP
OMG
BCH
ZRX
BTG
ZEC
XLM
DASH
TUSD
GUSD
PAX
USDC
DAI
ORBS
EOS
TGBP
TAUD
TCAD
THKD
---
Current Celsius Network Promotions
---
$20 Bitcoin Welcome Offer
Earn a free welcome offer  worth $20 in Bitcoin when you use this referral link and the referral code "191885810c" to register, verify your account and deposit at least $200 worth of crypto to your Celsius wallet.
You just need to verify your account and deposit at least $200 worth of crypto to your Celsius wallet. Just download the app with the link we provided below!
When you receive your welcome bonus, you must leave the reward in your account 72 hours. However if funds are withdrawn before then, the bonus will be revoked.
(Visit the link above to download the Celsius Network app)
---
$20 Bitcoin Referral Bonus
Active users can now start referring people! Earn $20 bitcoin bonus for every person that registers for a new Celsius account who uses your referral code!
Make sure that they verify their account and make a deposit of at least $200 worth in coins. Plus your referrals will also get $20 bonus!
What you'll get: $20 bitcoin bous

There is no limit to how many people you can refer, nor how many referral bonuses you can earn.

Who is eligible: 

Current Celsius members only

Where it's available: Celsius Network Referral
How to earn it: 

You can find your referral code by tapping on the "Profile" button and then on the "Refer your friends".
Share your code to your friends and family!

Offer terms: The referral reward will be locked for 72h after which it will be unlocked. If the funds are withdrawn from the account during the 72h lock period the reward will be canceled and there is no way to receive it again.
---
---
Bottom Line
Celsius Network aims to allow users who deposit their coins on the Celsius wallet to earn interest and lend the holdings out. Celsius Network also makes it easy to become a borrower So if this platform interests you, see the offers listed above!
We've written several other similar Cryptocurrency, you can check out Xapo or Coinbase's latest promotions for this month, if you don't think Purse is the one for you! You can also check out other current Cryptocurrency promotions here!