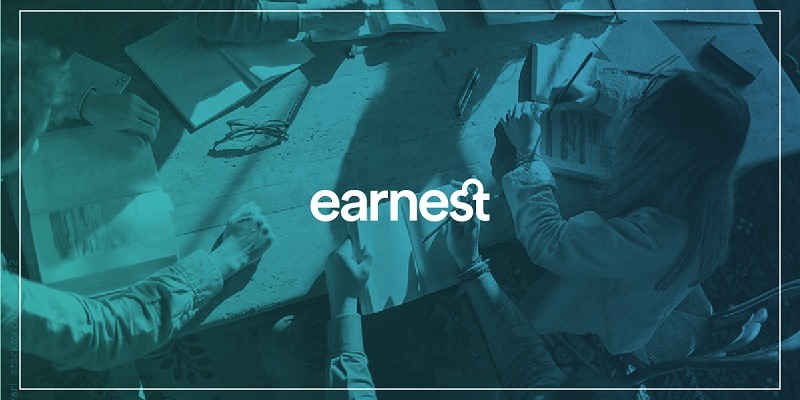 See our Earnest Refinance Student Loans Review to pay less interest, pick a payment that fits your budget. Get rate estimate without affecting your credit score.
Earnest is a great way to refinance your college debt and pay it off quickly. You'll get customizable repayment options and other great perks.
Other lenders may only look at your credit score, but Earnest will also look at your earning potential from your financial accounts to determine eligibility. Often times, you will be approved if you save money regularly, make payments on time, and you don't have a lot of credit card or personal loan debt. Continue reading to learn more about Earnest.
(Click here to learn more at Earnest)
Earnest In a Nutshell
| | |
| --- | --- |
| Loan Terms | 5 – 20 Years, down to the month |
| Loan Amounts | $5,000 – $500,000 |
| Loan Types | Variable & Fixed |
| Cosigner | No |
| Autopay Discount | 0.25% |
| Prepayment Fees | None |
| Late Fees | None |
---
Earnest $200 Per Referral Offer
Earnest customers have the chance to earn $200 referral offers when they refinance their student loans with Earnest. This is valid for those who use a referral link to sign up for Earnest, and for those who referred them. For more referral promotions click here.
(Click here to learn more at Earnest)
---
Earnest Special Features
How is Earnest different from other student loan companies? Earnest offers radical payment flexibility options, such as:
Customized Monthly Payments
Earnest has precision pricing, which allows you to choose the exact monthly amount you would like to pay. This saves you money on interest. The provider will automatically adjust your repayment term to match the amount you choose.
Adjustable Payment Date
If you would like to shift your monthly payment date, you can do so on your Earnest dashboard. You can either push it back for up to seven days, or move it up as much as you would like.
Adjustable Payment Amount
You have the ability to change your payment details online from the Earnest dashboard at any time in order to increase your minimum monthly payment, pay off your debt faster and save on interest.
Extra Payments
You can use any extra cash you have to help bring down your loan principal balance. The lower your balance, the less interest you will create between payments. This means you will save more over the life of the loan. You can schedule extra payments for any day, of any amount, with no fees or penalties.
Skipped Payments
Every 12 months, up to 12 times over the duration of your loan, you can choose to skip a payment. You can use this extra cash to pay for other things. However, this option is only available if you have had six months of consistent. timely payments.
---
Earnest Rates & Fees
As mentioned above, Earnest has a precision pricing option. This means you can pick your monthly payment amount and the company will come up with a term between 5 to 20 years to let you hit your exact monthly payment target. However, getting the amount right means the term won't be as exact to years. It can be rounded to an 8.5-year loan term, which is not found among other lenders.
The actual rate you pay depends on several other factors, such as your credit history and financial profile. Earnest also does not charge any application or origination fee, prepayment penalty, or late fees.
---
Earnest Financial Eligibility
Other information Earnest takes into consideration are things like income, savings, timely payments, career earning potential, and more. This helps them get a better idea of how well you have managed your money. Then they will compare it to your long-term financial outlook.
This approach is great if you are financially responsible, but have not established a long credit history yet. Other lenders will only look at your credit history, while Earnest looks at various other factors as well.
---
Earnest Requirements
In order to refinance your student loans with Earnest, you must meet these requirements:
Be a US citizen or possess a 10-year, non-conditional green card.
Not a resident of Alabama, Delaware, Kentucky, Nevada or Rhode Island.
Variable rates aren't available if you live in Alaska, Illinois, Minnesota, New Hampshire, Ohio, Tennessee or Texas.
Must apply within six months of graduation.
Must have attended a Title IV-accredited school.
Additionally. Earnest cannot refinance Sallie Mae loans due to a non-compete agreement.
---
Bottom Line
With Earnest, it is easy to pay back your loans. You have the ability to adjust your payment date amount, make extra payments, and even skip a payment. Earnest even has a flexible approval process to offer you a low-rate loan, despite a mediocre credit score.
(Click here to learn more at Earnest)