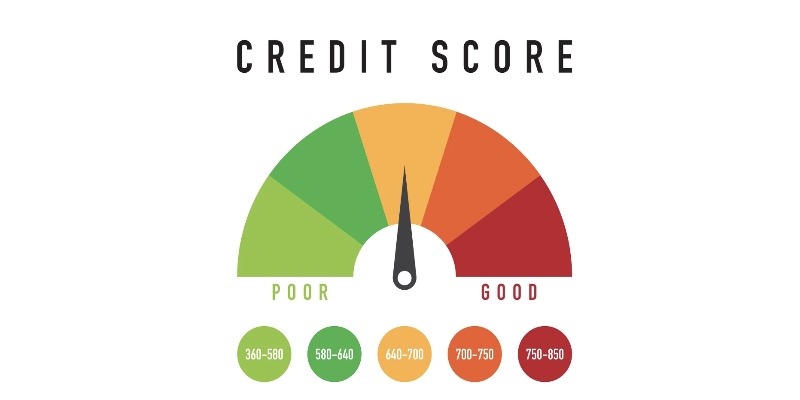 If you're finding yourself not getting approved for loans, credit cards, or getting unfavorable financial rates, then improving your credit score is your solution. It sounds simple enough right?
However, building good credit doesn't happen overnight. Good news is that we've compiled a list of helpful tips and tricks for you to get started. So if you're interested in Ways to Increase Your Credit Score then keep on reading!
---
How Credit Scores Are Calculated
There are many different credit scores available. This is because they are calculated wit ha mathematical algorithm, and each lender (or other financial company) uses a different algorithm to compute your score.
However, don't be too worried about your different credit ratings. Most scoring models tend to use the same factors, so your credit scores will be within a small amount of points.
There are some credit scoring models, like the FICO Score, that are very common. FICO uses the following five factors to determine your credit rating:
Payment History
Amounts Owed
Length Of Credit History
Credit Mix
New Credit
Payment history takes up 35% of your FICO Score. It looks at whether you pay on time and whether you pay in full, the minimum or somewhere in between.
The amount you owe weighs in at 30% of your FICO Score. It takes into account how much credit you're allowed and how much credit you use. If you use less than 30% of your credit limit, FICO considers you a safe borrower. But if you use more than 30%, you'll be deemed high risk and penalized.
Fifteen percent of your FICO Score is determined by the length of your credit history. The longer you have an account, the better your score.
Credit mix determines 10% of your FICO Score. You'll get a better score if you have a mix of credit: cards, mortgages, auto loans, etc. But don't take out another loan just to try to improve your score. You have to be able to afford it as well!
New credit makes up the last 10% of your FICO Score. It's quite okay to open a new account occasionally. But it's considered risky if you open several accounts within a short period of time, and your credit score will reflect that.
Normally, credit scores tend to fall anywhere between 300 and 850. Anything higher than 750 is considered excellent credit.
If your credit score isn't where you would like it to be to meet your financial goals, there are a couple of things you can do to improve it. By utilizing some of the strategies we have listed below, you will be able to access lower interest rates and higher credit limits.
---
5 Ways To Improve Your Credit Score
Before we get into what you can do to improve your credit rating, check your credit score. Pinpoint what factors are negatively affecting your score the most. This will help you understand the changes you need to make to get a better credit rating.
That said, here are five things you can put into action:
Pay Your Bills On Time
Pay Off Debt & Keep Balances Low
Apply For New Credit Sparingly
Don't Close Unused Cards
Dispute Credit Report Errors
Lenders are very interested in how reliable you are at paying bills. They believe that past payment behavior is a very good predictor of future payment behavior.
If you're behind on any payments, bring them up to speed ASAP. Late or missed payments will appear as negative information on your credit report and will stay there for seven years. However, their impact on your score wanes over time. That means older late payments have less of an effect than recent ones.
Tip: Automate Your Bill Pay. Never miss a payment when you set up your bills with autopay.
If you do not pay your debt off and your credit card balances are too high, the the amount you owe is most likely over 30%. This high percentage tells lenders you're close to maxing out your credit cards, if you have not already, and you do not know how to manage your credit well. So pay off your debt as quickly as possible, and try to keep your credit card balances low.
Tip: Become An Authorized User. If you have a parent or family member with good credit, ask if you can be an authorized user on their credit card so you can "inherit" their good financial behavior.
As we've mentioned before, don't open accounts for the sole reason of having a better credit mix because it probably won't end up improving your credit score.
Too many hard inquiries on your credit report lowers your score and remains on your report for two years
It's extremely tempting to overspend and accumulate more debt
Tip: Get Higher Credit Limits. Call your card issuer and ask if you can get a higher limit without a hard credit inquiry. This will decrease your "Amounts Owed" percentage.
Keep your unused credit cards open, as long as they don't carry any annual fees, because closing an account may increase your "Amounts Owed" percentage.
Tip: Pay A Small Bill With Your Unused Card. Put any small recurring expense – like a $30 gym membership – on your credit card, then pay it off. Just make sure to pay the bill on time.
Check your credit reports from all three credit reporting bureaus (Equifax, Experian and TransUnion) for any incorrect information. Inaccuracies could make your scores go down. If you see any issues or errors, immediately dispute the information. It takes 30 days for the credit bureaus to investigate and respond.
Tip: Check Your Credit For Free. Click here for the best ways to get your free credit report.
---
Improving FICO Scores
It might seem scary, but you need to regularly check your credit report to make sure there are no errors or fraud. Your payment history contributes to 35% of your overall FICO Score, therefore this has one of the most significant impacts. Learn How to get a Free ChexSystems Report and get started today!
Rapid re-scoring is a practice commonly used by mortgage originators to help improve credit scores. Rapid re-scoring is a two-step process that first involves correcting and updating information, and that information is then sent to the credit bureaus.
When the rapid re-score is done, this information is added to the consumer's credit file within days to update and improve their credit scores quickly. However, the rapid re-score is not a service a consumer can get done on their own and will need the assistance of the mortgage lender.
---
Mix it up
If you're looking for a way to bump up your credit score a bit then try mixing things up! For instance, if you have credit cards with low utilization ratios, mortgages, and an unpaid installment, then this might be a good solution for you. Also, make sure to read up on Ways to Avoid Excessive Bank Charges!
Try getting a car loan for a low rate and pay it off within a year just to add variety to your credit. In the beginning you may notice that your score will take a slight dip, but after months you'll see that your score will start to increase.
Keep in mind that credit mix only makes up 10% of your FICO score, but an increase of any kind is always great! Also, this might turn your good credit into excellent credit.
This is only a good strategy if you aren't planning on applying for credit immediately. If you're looking into refinancing something big such as your mortgage then this isn't for you.
---
Stay well under your credit limit
Your credit utilization is how much of your credit limit you use and has a big impact on your overall score. The spokesman for The National Foundation for Credit Counseling, Bruce McClary says that it is best to keep the balance to 30% of your credit limit or less. Some ways to manage your credit include:
Make micro-payments (multiple small payments) during the month to keep your balances down! If you treat your credit card like a debit card and pay online as soon as the purchase is posted, then it would make sure that you're spending within your means.
If you have issues with overspending, then this method may not be the one for you, but for those who are on top of payments I recommend that you ask for a credit limit increase. For instance, when your limit goes up and your balance stays the same, you imminently lower your utilization. So call your card issuer and ask for a higher limit, but make sure it isn't a "hard pull" which will hurt your credit score.
Pay off the balance on the cards with the highest utilization first. And it doesn't necessarily take a lot of money, especially on a low-limit card. For example, making a $150 payment on a $200 limit card will make a huge difference.
For some people, moving some debt around may be the solution. Making a debt consolidation loan could reduce or all together eliminate your card balance, thus lowering your utilization. So getting a personal loan at a better rate than what your credit card is offering could save you money on interest. If this strategy isn't for you, then perhaps Understanding Balance Transfers On Credit Cards will be for you!
---
---
Bottom Line
Having a good credit score makes life much easier when you're applying for loans, credit cards, or trying to making a big purchase. So whether you have excellent credit, or if your score could use some extra help, it's never too late to bump it up.
Some landlords take into account your credit score when you apply, and mobile phone providers may even look at your credit score before leasing you a new smartphone. As explained above, there's sadly no quick fix, but with our tips, consistency, and diligence, your credit will go up over time.
Furthermore, see our list of the latest credit card promotions from institutions like Chase, American Express, Capital One, Wells Fargo, Citibank, and more!
Also, check out our fully updated HMB list of Bank Bonuses!