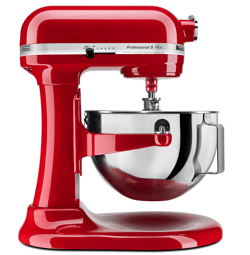 If you love to cook and bake, but struggle with mixing large batches evenly, then it's time to consider buying a electronic mixer. Head over to eBay and purchase the new KitchenAid Professional 5 Plus Series 5 Mixer for only $199.99 + free shipping! With automated repetitive tasks of stirring, whisking or beating, this mixer will definitely make your cooking experience easier than ever. This mixer has the powerful ability to mix large batches of heavy batter and dough with the direct drive transmission feature. With the PowerKnead Spiral Dough Hook and a 5-quart polished stainless steel wide bowl with handle, you'll be able to cook a larger batch while sitting back relaxed. If you're in need of a new mixer that will surely get the job done, then this deal is for you. Be sure to also come back for more hot deals here at HMB!
KitchenAid Professional Mixer Features:
450 Watt Motor for powerful mixing
PowerKnead Spiral Dough Hook
Direct Drive Transmission, All-Steel Gears, and All-Metal Construction
5-Quart Polished Stainless Steel Wide-Mouth Bowl with handle
Multipurpose Attachment Hub with Hinged Hub Cover
Bottom Line:
Enhance your cooking and baking experience with this all new mixer! Get a perfectly mixed batch with this KitchenAid Professional 5 Plus Series 5 Mixer. Invest in this product from eBay since it is going for a great price of $199.99 + free shipping! This product usually cost around $429.99, but get it now and save $230.00 instantly! Buy now and be sure to also check out all our available Discounted Gift Cards, and perhaps save even more money with the Best Cash Back Shopping Portals!