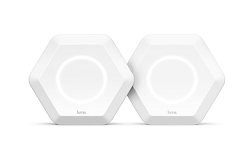 Get the fastest wifi for your home. Head on over to Amazon now to purchase the Luma Whole Home WiFi with Alexa for a great price of only $116.99 + free shipping. Even better because connect it with Alexa for the ultimate experience for your home. Simply have your WiFi under control with your own voice. Purchase the Luma for ultra-fast WiFi delivered to every square inch of your house! There will be no dead zones or buffering! Furthermore, enjoy top notch security that automatically scans for any virus or malware that could possibly do harm to your devices! With the Luma app, have everything under control: pause the internet, alternate devices, allow guest access, and even remove unwanted users! If you're in need of a new device that will surely keep your WiFi going, then this deal is for you. Be sure to also come back for more hot deals here at HMB!
Luma Whole Home WiFi Features:
Lightning quick set up
Compatible Devices:Desktop Computers, Android, Apple iOS

Smarter parenting: Set a user rating (G, PG, or PG-13) for each person on your network, to easily and effectively limit all the inappropriate things they might somehow stumble upon

All-day, every-day security automatically scans and neutralizes any virus or malware, keeping your devices as safe as a Swiss bank account
Bottom Line:
If you love to have great speed for Wifi all under the control of your voice, then get the Luma Whole Home WiFi with Alexa now for your home from Amazon, since it is going for a great price of $116.99 + free shipping! This product usually cost around $137.99, but get it now and save $$21.00 instantly! Enjoy all of the features from sharing internet access, expanding your network coverage in your home, and much more. Buy now and be sure to also check out all our available Discounted Gift Cards, and perhaps save even more money with the Best Cash Back Shopping Portals!