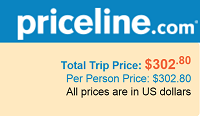 Priceline via American Airlines has Cheap Roundtrip Flights for as low as $302 to/from DFW – San Juan, Puerto Rico for fares between February to April. As of the time of this posting, I saw several flights available Friday through Sunday so you aren't restricted to only weekdays. If you need a little break from the chilly weather, or just want to dig your toes into the sand, Puerto Rico is an amazing beach destination. Please read all terms before completing your bookings. Name Your Own Price bookings, Express Deals, and any reservations where the full itinerary is not disclosed prior to purchase are non-refundable, non-changeable. Cancel and change rules vary by airline and fare purchased. The airline fares rules associated with your flight can be reviewed pre-purchase on your contract and post purchase within the itinerary displayed on their website.
American Airlines Cheap R/T Flights:
Promotion: Round flights to and from Dallas/Fort Worth TX with a least a one connection to San Juan, Puerto Rico for $302, bookable February to April of 2016.
Valid: Limited time, while available.
Terms: For FAQ you can contact Priceline at their Help page. Baggage fees are not included in your trip cost and will be charged directly by the airline at check-in. Airlines, for various reasons, your will be adjusted, most commonly flight times, prior to your departure. If your itinerary undergoes a schedule change, you will be notified of the changes via email.  Please visit AA.com to review all fare cost including taxes and baggage fees.
Maximize American Airlines Fare Deal:
Enroll: First sign up for AAdvantage, American Airline's loyalty program to enjoy benefits such as earn points, perks, and reward flights whenever you fly AA. Members will always earn 100% base points.
Shop the Sale: YMMV! Choose your travel dates, usually weekdays excluding Fridays will give you the lowest fares. To save the most have flexible travel times, shift your dates by a day or two which will give you the cheapest price. Search one traveler first to see the lowest prices possible before you book.
Use Chase Sapphire Preferred to pay for your ticket, get the most from travel rewards including dining, rentals and lodging.
Bottom Line:
Shop the Priceline American Airlines Cheap Roundtrip Flights; Dallas to/from San Juan, Puerto Rico for as low as $302 while it's available. It's always a good time to take a vacation and with trips to a beach destination, you never need a vacation after your vacation. It's a laid back and leisurely trip filled with as much or as little activity as you want. I remember watching a episode of Andrew Zimmer's Bizarre Foods, and when he visited PR, he said their roasted whole pork was the best he ever had. This man has traveled the globe and eaten just about everything, I'm so jealous. Check out more ways to Save Money!