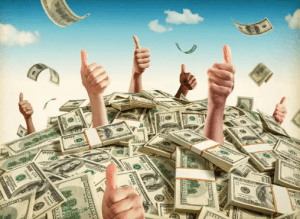 The pursuit of wealth is one of the most important aspects of most peoples lives. How did the richest among us get to where they are? A ton of different factors are at play when reviewing how someone got to the top.
To help you your pursuit of wealth, here are some quotes of the richest in our society. Perhaps a little insight into their mindset will help you achieve you dreams.
23 Famous Quotes to Get You Rich
1. Warren Buffet
"I will tell you how to become rich. Close the doors. Be fearful when others are greedy. Be greedy when others are fearful."
Warren Buffet is one of, if not the most successful investor in the 20th century. This quote may sound a little odd, but he is simply saying to be skeptical of what the crowd is doing and to think on your own.
2. Peter Lynch
"If you don't study any companies, you have the same success buying stocks as you do in a poker game if you bet without looking at your cards."
Peter Lynch emphasizes the importance of research before you do any serious investing. If you don't fully understand what your putting your money into, you're essentially playing with a slot machine.
3. Robert G. Allen
"How many millionaires do you know who have become wealthy by investing in savings accounts? I rest my case."
People use investing for different reasons. Some use it to make a safe stream of small cash, but if you want to make it big, there has to be some risk. Robert Allen is telling us that there is no reward without risk, so don't be afraid to make a leap of faith.
4. Jim Cramer
"Every once in a while, the market does something so stupid it takes your breath away."
Jim Cramer is a colorful TV host who doesn't shy away from telling the truth. The only way to make it big through investing is to be independent, and to not fall into the trap of following what everyone else does.
5. John Neff
"It's not always easy to do what's not popular, but that's where you make your money. Buy stocks that look bad to less careful investors and hang on until their real value is recognized."
Instead of focusing all of your time into looking into all of the popular stocks, it's often worth your time to look through the underdogs. John Neff is someone who is comfortable going off the beaten path, which is something he attributes to his success.
6. Phillip Fisher
"The stock market is filled with individuals who know the price of everything, but the value of nothing."
Fisher is known for his extreme long term investments. He's someone that saw the intrinsic value of different companies, and was able to determine which ones would net him a profit in the future.
7. Sir John Templeton
"The four most dangerous words in investing are: 'This time it's different.'"
John Templeton understood that history repeats itself. Instead of relying on future predictions, looking at the past performance of companies can often be a better indicator of their future price.
8. Warren Buffet
"Wide diversification is only required when investors do not understand what they are doing."
Once you start out investing, it may be wise to diversify and see what stocks work best and which ones don't. However, the best investors have narrow portfolios that will net them the highest possible profit.
9. John Bogle
"If you have trouble imagining a 20% loss in the stock market, you shouldn't be in stocks."
John Bogle is advocating for those who are not prepared to lose money to not start investing in the first place. The stock market is a dangerous place, and if you aren't prepared to take some hits then you may want to rethink investing in the first place.
10. John Maynard Keynes
"As time goes on, I get more and more convinced that the right method of investment is to put fairly large sums into enterprises which one thinks one knows something about and in the management of which one thoroughly believes."
John Maynard Keyes has a simple view of investing; go with what you know. He advocates for choosing companies that you are familiar with and whose missions statement you believe in.
11. Bill Gross
"Finding the best person or the best organization to invest your money is one of the most important financial decisions you'll ever make."
A full-service brokerage will give you advice and their full attention when investing. Finding out who you can trust with your money is an important decision, and can net you huge returns in the long run.
12. Benjamin Graham
"To achieve satisfactory investment results is easier than most people realize; to achieve superior results is harder than it looks."
Graham is the father of value investing, a strategy that picks stocks that are consistently undervalued. He was a large influence on some of the greats such as Warren Buffet. It's tempting to settle for decent, but to reach a higher tier of success will take time and passion.
13. John D. Rockefeller
"The person who starts simply with the idea of getting rich won't succeed; you must have a larger ambition."
Rockefeller is a name that is synonymous with wealth, but it didn't come out of the sky. Focus on a larger goal than simply money, and your path will be made a little easier.
14. George Soros
"If investing is entertaining, if you're having fun, you're probably not making any money. Good investing is boring."
Although George Soros is a controversial figure, it's hard to deny his success in investing. Take investing as seriously as any other job you would have. The primary goal of investing is to make money, not to have fun.
15. Warren Buffet
"If you have more than 120 or 130 I.Q. points, you can afford to give the rest away. You don't need extraordinary intelligence to succeed as an investor."
Investing can be a daunting financial activity to get into, but overthinking it can often lead to ruin. Research and learn what you can, but don't spend hours second guessing yourself. If others can do it, so can you.
16. Charlie Munger
"All intelligent investing is value investing – acquiring more that you are paying for. You must value the business in order to value the stock."
Like the others who share in this philosophy, the best type of investing is to find the underdog. Figuring out an investments true worth while others don't see it is the most effective way to make money in investing. If you think the business has a good chance of success, invest!
17. Robert Arnott
"In investing, what is comfortable is rarely profitable."
If you want to stick to stocks that are safe, that's totally fine, but don't be surprised when you don't become Bill Gates. Stepping out on a limb and getting out of your comfort zone is one of the best ways to make it big in the investing world.
18. Howard Marks
"Smart investing doesn't consist of buying good assets but of buying assets well. This is a very, very important distinction that very, very few people understand."
Adding a good mix of investments is something that is always advocated for, but most people don't realize when to buy stocks. Understanding the context of every stock purchase is one of the most important parts of investing that is often overlooked.
19. Peter Lynch
"You get recessions, you have stock market declines. If you don't understand that's going to happen, then you're not ready, you won't do well in the markets."
The 2008 financial crisis shocked many young investors and scared many people off of the stock market. Understand that a recession is a natural part of an economic cycle, and there will always be moments when the market dips down.
20. T. Boone Pickens
"The older I get, the more I see a straight path where I want to go. If you're going to hunt elephants, don't get off the trail for a rabbit."
If you start out with specific goals, don't let yourself go down any other path if it means you will lose sight of what you set out to do.
21. David Tepper
"This company looks cheap, that company looks cheap, but the overall economy could completely screw it up. The key is to wait. Sometimes the hardest thing to do is to do nothing."
Don't jump the shark when you think you see a good price on something. Often times waiting will lead you to a much higher profit than if you had acted immediately.
22. Bruce Kovner
"The emotional burden of trading is substantial; on any given day, I could lose millions of dollars. If you personalize these losses, you can't trade."
If you don't do well with losing money, the market may not be for you. If you focus on your assets on a minute by minute basis you're bound to go crazy. Disconnect yourself from the money you put in, and you will find yourself having more success
23. Carlos Slim
"Anyone who is not investing now is missing a tremendous opportunity."
The best time to invest was yesterday. The second best time is right now. If you keep waiting for that perfect moment, chances are it will never come. If you're thinking about trading, then right now is the perfect time to do so. Get out there are start earning some money!
Bottom Line
There are countless tips out there on investing, but these are some helpful short snippets of what the top investors advise. Make sure you to do research and watch the market whenever you can.
If you're interesting in saving some money, we've also composed a list of other ways to Save Money that you can check out. Also if you would like to see all the latest bank deals nationwide, be sure to view our full list of Bank Bonuses and find one in your area!

BMO Harris PremierTM Checking: Earn $500 cash bonus when you open a new PremierTM Checking Account and have a total of at least $7,500 in qualifying direct deposits within the first 90 days. Learn More---

BMO Harris Premier Checking Review

U.S. Bank Smartly® Checking: Earn up to $400 bonus when you open a new U.S. Bank Smartly® Checking account and a Standard Savings account and complete qualifying activities. Subject to certain terms and limitations. Offer valid through June 20, 2023. Member FDIC. Apply Now---

U.S. Bank Checking Review

Discover Online Savings Account: Earn $200 Bonus/$150 Bonus with promo code HMB223 by 06/15/2023 along with a competitive interest rate of 3.90% APY. Fund your first savings account with a minimum of $25K within 30 days of account open date to earn the $200 Bonus (fund $15K to earn $150 bonus). No minimum opening deposit, no minimum balance requirement, and no monthly fees. See advertiser website for full details.
Apply Now---

Discover Savings Review

Chase Private Client: Enjoy up to $3,000 bonus when you open a new Chase Private Client Checking account with qualifying activities. Get more from a personalized relationship when you open a new Chase Private Client Checking account with qualifying activities. Learn More---

Chase Private Client Review