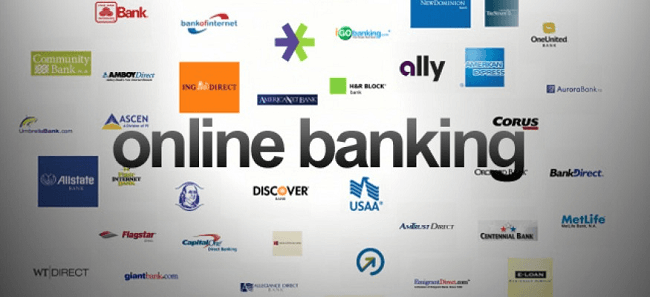 If you've been looking for Best Online Checking Accounts, then look no further because we have the answers to solve your questions. Banking has grown more sophisticated but it's also gotten more expensive but this is why we have provided the Best Online Checking Accounts for you to look at.
Checking accounts allow you to write checks to access your funds and is convenient to pay bills by mail or in person. It's usually cheaper than purchasing money orders to pay bills and is much safer than carrying cash. The best checking accounts will usually include:
No monthly fees
No minimum balance requirement
No limits on the number of transactions
Online and mobile access
Free ATM access
Free cash for signing up (sometimes)
Online checking accounts will help you to keep full control over your bank even on the go, meaning, at all times you can have access to your bank and overlook any problems instantly if it does occur. If they do come with apps, you can set up to receive alerts that can help protect your account as you are notified for every transaction and problem with your account. This is great for those who tend to travel a lot so an online bank is more convenient.
If you're freshly new to online checking accounts, its best if you educate yourself on what to avoid in an online checking account. ATM fees can quickly add up, so if you are likely to need access to cash during evenings and weekends, choose a bank with a large ATM network to avoid fees. When your checking account includes overdraft protection, a debit transaction or ATM withdrawal that pushes your balance below zero usually results in an overdraft fee. So it's best to avoid banks that don't offer overdraft protection. Also the FDIC protects you against the loss of your deposits if an FDIC-insured bank or savings association fails. It's important to understand that FDIC coverage only protects you if your bank fails, not if you lose money due to investment choices.
Lastly there are some things to consider before signing up with an online checking account. Be sure to check the terms of any account before applying because you never know when you might catch yourself into a tricky situation that could've easily been prevented. Some free checking accounts require an initial set-up of direct deposit in order to both open an account and avoid any fees. It also doesn't hurt to ask how many free checks you can write each month and the minimum balance requirements. But the most important of all is to know that you're being protected at all times. Many banks should offer security features to help protect you against identity theft and stolen or lost debit card. Some banks may allow you to put a hold onto your account via mobile or online if you suspect the card has been lost or stolen. Check with your bank to learn more about the security features it offers to help protect against theft and fraud.
Best Online Checking Accounts 2018: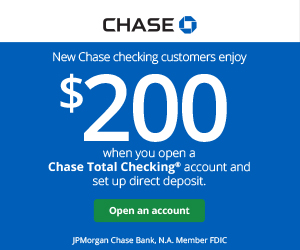 • New Chase checking customers enjoy a $200 bonus when you open a Chase Total Checking® account and set up direct deposit
• Access to more than 16,000 Chase ATMs and more than 4,700 branches
• Chase Mobile® app - Manage your accounts, deposit checks, transfer money and more -- all from your device.
• JPMorgan Chase Bank, N.A. Member FDIC
• Open your account online now
• Available online nationwide except in Alaska, Hawaii and Puerto Rico. For branch locations, visit locator.chase.com.
• Chase Overdraft AssistSM – no overdraft fee if you're overdrawn by $50 or less at the end of the business day or if you're overdrawn by more than $50 and bring your account balance to overdrawn by $50 or less at the end of the next business day*

*With Chase Overdraft AssistSM, we won't charge an Overdraft Fee if you're overdrawn by $50 or less at the end of the business day OR if you're overdrawn by more than $50 and you bring your account balance to overdrawn by $50 or less at the end of the next business day (you have until 11 PM ET (8 PM PT) to make a deposit or transfer). Chase Overdraft Assist does not require enrollment and comes with eligible Chase checking accounts.


Bottom Line 
An online checking account is more convienent for those who are busy and constantly on the go, or if you tend to travel a lot. Online checking accounts will give you full access to your bank whenever and wherever. With mobile apps provided, you can have overlook your account at any times and receive alerts for any problems such as identity theft and fraud. Online checking accounts makes it easy to handle since usually there are no monthly fees or minimum balance requirement. Having free access to your ATM's and no limits on transactions makes online checking account an easy thing to have in your life. If you're curious for business online checking accounts, we have a listing of  Best Business Free Checking Accounts  on HMB for you to overlook.