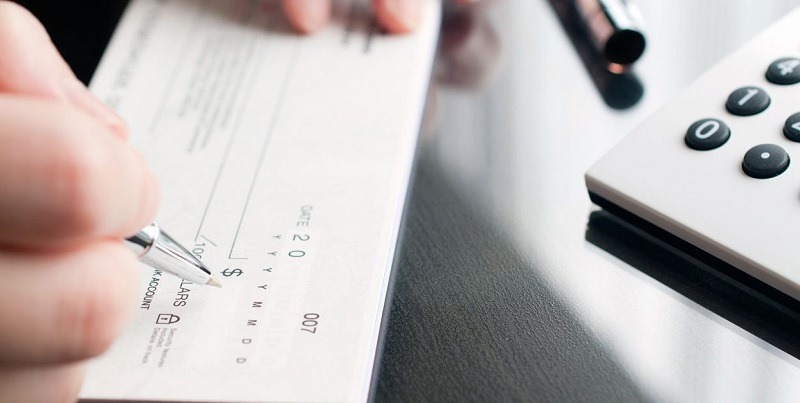 Our best free business checking accounts will help you relieve some of your worries and troubles of for your business banking needs. If you own a business you know the frustration of small fees adding up.
Explore Business Checking Accounts to find the perfect account for you. Each account comes with a unique blend of features as well as fees and restrictions.
If you're starting your business, keeping your overhead costs as low as possible without overdoing it is ideal – so with free business checking accounts, that's a good start. Below are the most common fees you'll come across with business checking accounts:
Monthly Service Fee: Just as straightforward as it sounds, it's a charge that occurs for each month, and this monthly fee can range anywhere from $8 and up. Most accounts will allow you to waive this fee entirely by meeting some requirement.
Excess Transaction Fee: This may sound new, but a handful of business checking accounts do have transaction limits; and if you go over this limit, there will be a charge. The charge isn't much (could range up to 75 cents), but can surely add up over time increasing your overhead. Prepare and analyze how many transactions your business will incur each month to help pick the best account suitable for your business. The typical limit you'll find is 100 possibly up to 200 – but there will be some accounts that offer more or less. Transactions can include but not limited to things like writing checks, debit card transactions, & ATM deposits.
Cash Handling Fee: Another fee that can occur is if you deposit too much. Yes, depositing too much. Accounts may have a limit of how much cash you can deposit monthly – and if you go over, you'll get charged for the overage. The fee is subtle (typically 20 – 30 cents), but can definitely add up over time.
Free Business Checking accounts take care of the monthly maintenance fees. You're then left with deciding on which account gives you the most features with the fewest restrictions and overage charges. Other factors particular to your individual situation include branch and ATM locations.
You can view an extensive list of bank bonuses from institutions like Chase Bank, Huntington Bank, HSBC, Discover Bank, TD Bank, BBVA, CIT Bank, and Bank of America.
We reviewed the largest traditional banks and online banks to come up with the list of the best free Business Checking accounts below.
Best Free Business Checking Accounts
---
Chase Business Complete BankingSM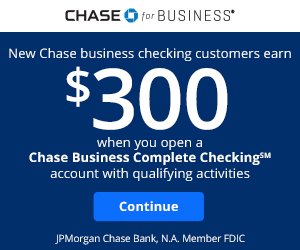 • Earn $300 when you open a new Chase Business Complete Checking account. For new Chase business checking customers with qualifying activities.
• More ways to waive fees. Multiple options to waive the Monthly Service Fee, including maintaining a minimum daily balance or purchases on your Chase Ink® Business credit card
• Convenient access to payment processing. Accept card payments anytime, anywhere in the U.S., and get transparent pricing with Chase QuickAcceptSM.
• Same-day deposits with QuickAcceptSM. Free up the cash you need to keep your business moving forward with same-day deposits at no additional cost.
• Alerts to help you stay on top of your account activity.
• Easy account management through Chase Business online and the Chase Mobile® app.
• Unlimited electronic deposits, ACH and Chase Quick DepositSM.
• Convenient access to 16,000 ATMs and more than 4,700 branches.


We recommend this account for growing businesses which allows up to 100 transactions per month at no charge, plus unlimited electronic deposits & a $5,000 cash deposit per statement cycle without an additional fee. You'll receive tons of perks from Chase Bank such as Account Alerts, Unlimited Electronic Deposits, a Business Associate Card, and much more! In addition, you can take advantage of great modern features larger banks offer like Chase Offers. Features from online/mobile banking operate exquisitely from institutions with such resources.
You can also pair this with one of Chase's business credit cards.
---
Huntington Business Checking 100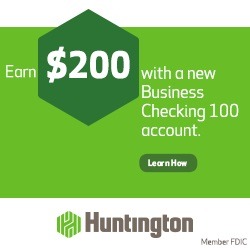 • Open your Huntington Business Checking 100 Account today!
• Earn $200 bonus when you open a Huntington Business 100 Checking account and make total deposits of at least $2,000 within 60 days of account opening.
• The $200 bonus will be deposited into your account after all requirements are met.
• Overdraft Protection Line of Credit available, or Deposit-to-Deposit Overdraft Protection with no transfer fee.
• Do business without a minimum checking account balance fee or maintenance fee.
• No monthly maintenance fee applies to this account.
• Enjoy up to 100 monthly transactions. And deposit up to $5,000 in cash or currency monthly in-branch or at an ATM at no charge.
• Ideal for start-ups and small businesses with lower balances and checking activity.
• Bonus Service Trial. Free 120-day trial of a fraud tool: Reverse Positive Pay.


The Huntington Business Checking 100 account is ideal for start-ups and small businesses with lower balances and checking activity. You get up to 100 transactions each month and a free 120-day trial of a fraud tool: Reverse Positive Pay.
The Huntington Business Checking 100 comes with no monthly fees. However, there is a $3.00 mailed statement service fee that can be waived when you choose free e-statements.
This account is available for those in IN, KY, MI, OH, PA, WV, IL, & WI (Bank Locator).
Editor's Note: For those who are interested, you can also choose to take advantage of the Huntington Unlimited Business as well as the Huntington Unlimited Business Plus Accounts for an even higher bonus!
---
Wise Business Banking

What you'll get: $100 credit
Where it's available: Nationwide online
How to earn it:

Get a $100 credit in your Wise account when you sign up and spend $1000 on your Wise card the first 30 days.
The Wise card is the black commercial physical or the colored virtual card included in your account.

When it expires: Not expiration date listed
(Click the link above to view the promotion)
---
Axos Bank Basic Business Checking

For a limited time, you can earn a $100 bonus when opening a new Basic Business Checking account from Axos Bank. Keep in mind that this offer is only valid if your business is incorporated after 6/01/2020 and application must be submitted before 11:59pm on 3/31/2021 to qualify.
Monthly Service Fee: None
Monthly Cash Deposit Limit: N/A
Availability: Online nationwide
Bottom Line: This account is ideal for small businesses as there are 200 free transactions per month.
Axos Bank is offering a Basic Business Checking Account for business owners looking to expedite your finances through attractive features and services.
(Expires 03/31/2021)
---
Bluevine Small Business Checking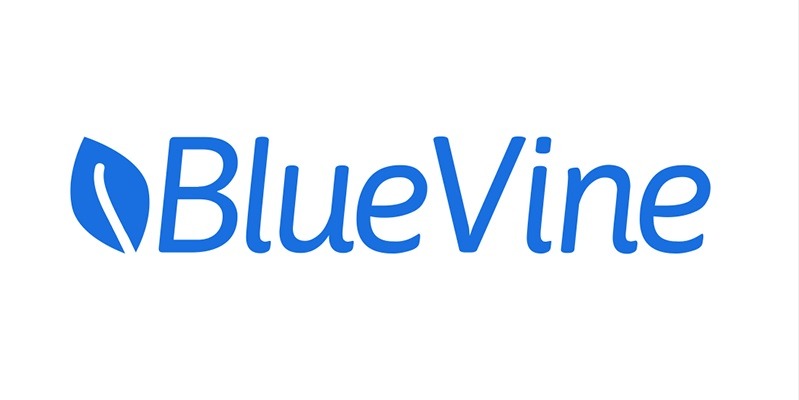 Monthly Service Fee: None
Monthly Cash Deposit Limit: None
Availability: Online nationwide
Bottom Line: This internet-only account provides an attractive interest rate.
The Small Business Checking from Bluevine is designed for small businesses who prefer to bank online. Through features such as a high-interest rate, no monthly fee and no penalties or fees for most checking account transactions, definitely take advantage of the account.
(Visit Bluevine for more details)
---
Novo Review: Smarter Business Banking For Today's Entrepreneurs

Monthly Service Fee: None
Monthly Cash Deposit Limit: N/A
Availability: Online nationwide
Bottom Line: Novo is a business banking platform that is bringing small business banking into the modern age with their easy-to-use tools for businesses on the go. You can easily open a business checking account in minutes, securely with no minimum balance requirements.
When you open an account, you get a free Novo business debit card. You can use it anywhere where Mastercard is accepted, as well as both Apple Pay and Google Pay.
Additionally, Novo doesn't charge a fee to use an ATM, but you may have to pay a fee to the owner of the ATM. Plus, you can withdraw up to $1,000 per day.
(Visit Novo for more details)
---
Axos Bank Basic Interest Checking

Monthly Service Fee: $10, waived with a minimum $5,000 balance
Monthly Cash Deposit Limit: N/A
Availability: Online nationwide
Bottom Line: This account compounds interest on your account balance, 50 free items per month, free image statements, and the first 50 checks are free.
Axos Bank is offering a Business Interest Checking Account, allowing you to take charge with industry-leading rates to better your small business!
---
TIAA Bank Business Checking
Monthly Service Fee: None with $5,000 minimum balance
Monthly Transactions Limit: 200
Monthly Cash Deposit Limit: N/A
Availability: Online nationwide
Bottom Line: This account will be ideal for most small businesses that incur 200 monthly transactions or less and 10 monthly bill payments.
The minimum opening deposit is $1,500 but to waive the $14.95 monthly service fee you will need to have a $5,000 balance.
In addition, this account comes with 200 free transactions a cycle. There will be a $0.25 charge per additional transaction as well as $0.50 fee for every additional bill payment over the 10 monthly limit.
This account is ideal for small business that do not have a high amount of transactions. This account also comes with several features to help you deposit checks:
Business Mobile App. You can deposit checks using your mobile app by simply taking a picture/scanning using your mobile device (and you can deposit as many checks as you'd like).
Office Deposits. You are able to use any approved scanner to make deposits. If you have 50 or less than 50 checks to deposit per given month, the Online Check Deposit (OCD) option will be free. For a higher volumes of check deposits, the Remote Deposit Capture (RDC) will run you a fee of $35  per month.
Wire Transfer. This option may not be ideal – even though TIAA may not charge a fee, other institutions may.
Postage paid deposit envelops. Not all of us prefer technology or some of us are not technologically savvy. In this case, you can order free postage paid deposit envelopes.
If you own a small business and looking for an online checking option, the Business Checking account from TIAA Bank is worth considering.
(Visit TIAA Bank for more details)
For more information about TIAA Bank see our review on
TIAA Bank
.
---
U.S. Bank Silver Business Checking
No Monthly Service Fee
Monthly Transactions Limit: 150
Monthly Cash Deposit Limit: 25 units (see explanation below)
Availability: AR, AZ, CA, CO, FL, GA, IA, ID, IL, IN, KS, KY, MN, MO, MT, ND, NE, NM, NV, OH, OR, SD, TN, TX, UT, WA, WI, WY
Bottom Line: There is no monthly fee with this account, however, you are limited to 150 transactions & 25 units of cash deposits per month. In convenience, they're one of the largest banks in the U.S. and have over 3,000 branch locations across 28 states.
There is no monthly service fee, but you're limited to only 150 transactions per month at no charge –  if you go over, the fee will be $0.50.
Now here's where it gets a little tricky. You're allowed "25 free units" each month in cash deposits. Each unit is a cash deposit divided by 100, and then rounded to a whole number. For example, if you deposit $250 cash in one transaction, the 2.5 is rounded up to 3, for a total of 3 units towards the 25 maximum monthly. Once you go over the 25 unit limit, there's a small fee between $0.15 and $0.20 per additional $100 deposited.
(Visit U.S. Bank for more details)
---
Capital One Spark Business Basic Checking
Monthly Fee: $15 monthly fee waived if your prior 30- or 90-day account balance averages $2,000 or more
Monthly Transaction Limit: Unlimited
Cash Deposit Limit: $5,000 included monthly at no charge; $1 for every $1,000 deposited after that
With this account, you'll be able to take advantage of unlimited transactions! In addition, you can get free Overdraft Protection with a linked Capital One small business deposit account. Also, you'll get a business debit card, online bill pay and online and mobile checking at no additional cost. It's the checking account your business can count on for its cash flow management needs.
(Visit Capital One for more details)
---
Citibank CitiBusiness® Streamlined Checking Account
Monthly Fee: $15 waived with a minimum average monthly balance of $5,000.
Monthly Transaction Limit: 250
Cash Deposit Limit: $5,000 or $10,000 depending on state
This basic business checking account is ideal for businesses that make fewer than 250 transactions every month. This basic account is perfect for smaller businesses and firms. Consider this account if:
You make fewer than 250 transactions every month.
You want no monthly fee when you keep the minimum balance.
No withdrawal fees at Citibank ATMs.
You want the protection of FDIC insurance (up to $250,000 per depositor).
(Visit Citibank for more details)
---