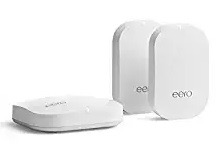 Are you tired of having slow WIFI because you're too far from the router? Or perhaps the router doesn't have great coverage through out your house? Well look no further because we have just the promotion for you! Amazon is offering you an eero Home WiFi System for only $299.00 + free shipping!
With something as simple as this, all you have to do is plug it into a standard outlet! With this promotion, replacing your router has never been easier. You get 2-4 bedroom coverage with super fast and reliable internet all throughout your home! Hot deals like these don't last long so take advantage of this promotion today!
Editor's Note: If you're not a current member of Amazon Prime, you can sign up today for a FREE 30-day trial and redeem this offer today! Being an Amazon Prime Member comes with many benefits. You have access to FREE 2-day shipping, instant access to video streaming, unlimited music streaming to over a million songs, exclusive deals, and much more! Sign up today!
eero Home WiFi System Features
WHOLE HOME WIFI SYSTEM: The eero WiFi System (1 eero + 2 eero Beacon) replaces the traditional WiFi router, WiFi extender, and internet booster by covering a 2-4 bedroom home with fast and reliable internet powered by a mesh network.
eero SECOND GENERATION: With the most intelligent mesh WiFi technology and powerful hardware, the eero 2nd generation WiFi system is 2x as fast as the original eero WiFi. Backwards compatible with 1st generation eeros.
WIFI EXTENDER: The eero Beacon is a full-fledged WiFi access point that simply plugs in to standard outlets and easily extends your WiFi connectivity to every device with more reliability than the standard WiFi booster.
MESH NETWORK: Powered by proprietary TrueMesh technology, the eero mesh WiFi network leverages multiple wireless access points to create an incredibly dependable internet experience, all on a single mesh WiFi system.
QUICK & EASY SETUP: Replacing your old WiFi router has never been easier than with the eero Whole Home WiFi System. Set up takes minutes and the companion mobile app makes managing your home WiFi simple and intuitive. Altitude operating: 3000m; Storage: -25C – 60C
Bottom Line 
Amazon is always coming out with great offers for their customers. Take advantage of this promotion on an eero Home WiFi System for $299.00 + free shipping! With a normal price of $399.00, you'll save $100 with this deal! Never have slow internet again with this easy to use WIFI system. Keep in mind that deals like this don't last long, so purchase it as soon as you can. If you want to save money, you can purchase Discounted Gift Cards!