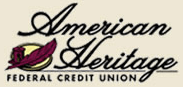 Anyone can join American Heritage Federal Credit Union by making a $15 donation(call them first to confirm) to the Kids-N-Hope Foundation. By joining this FCU, you can earn up to $65 in checking account bonuses. Minus the $15 donation, you can make up to $50 in profit! For residents of the Philadelphia area, you do not need to make a donation in order to be a member.
Make $65 Cash Bonus Cash:
Download and use eDeposit App to earn $5, awarded 60 days after first use;
Sign up for eStatements and earn $5, awarded after 60 days or two billing cycles;
Earn $5 when you download and use the Mobile Teller App; awarded 60 days after first use,
Sign up for Bill Pay to earn $25, awarded 30 days after a new Bill Pay account its opened and first bill is paid,
Earn $25 for each new member that is Referred. New Accounts must remain open and in good standing for 90 days before award is deposited into your account.
Members receiving incentives will be sent an IRS form 1099 and may be responsible for paying taxes on the incentives. Offer valid form good until 11/30/2013. There is a monthly $5 service charge  if you are signed up for Bill Payer but do not use Bill Payer after 31 days. Hence, I would not sign up unless you use bill pay each month. Learn more about their membership on how to join here. Sign up today for this $155 American Heritage Federal Credit Union bonus!

Hot Deal of the Day: Motif Investing is offering $150 bonus when you deposit $2,000 and make 5 trades into your new account. There are no management fees, and no activity requirements. Simply pay the flat transaction fee any time you trade a motif.