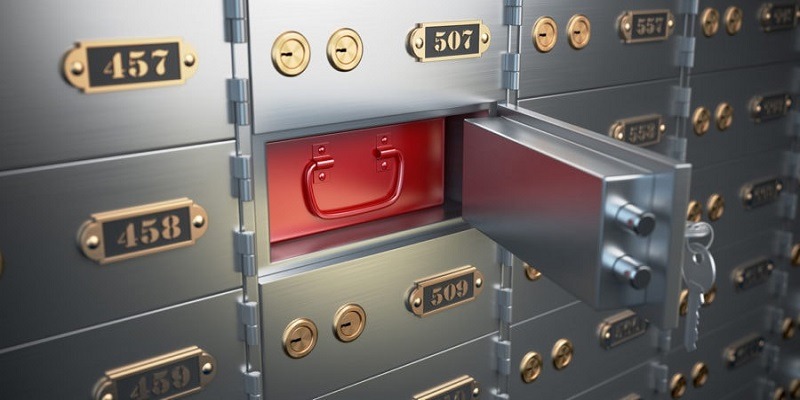 Have you heard about safety deposit boxes? It is an individually locked box held within a larger vault, usually in a bank. It is mainly used for people to store valuables, documents and other valuable items they want to be kept safe. For more information, we have compiled a list of everything that you would need to know about it!
Within this post, we will be discussing how much they cost, what you might put in one, where you can rent one and why you might want to get one. Continue reading to see our full guide on Safety Deposit Boxes!
What Are Safety Deposit Boxes?
A safe-deposit box is typically a metal box located in a secured area at a bank, and can be leased from a bank. This box can usually be accessed during normal banking hours.
The boxes that you rent can come in a wide range of sizes and can be rented on an annual basis. People typically use them to store important personal documents, collectibles, family heirlooms, and other items that they want to be kept safe. 
Where to Rent Safety Deposit Boxes
If you're interested in opening up your very own safety deposit box, then you're in the right spot. We have concluded that the safest place to rent a safety deposit box is a bank where you have an account open. Banks specialize in storing money and most have secured vaults for safety deposit boxes. If you want to rent a safety deposit box, simply visit your local bank.
These boxes might be full but some banks reserve their boxes for existing account-holders, so we recommend that you start at the bank you currently use.
There are also virtual safety deposit boxes that you could open, especially if you just need to store copies of important documents and information. This is a convenient way to keep copies of files like birth certificates, passports, property deeds and more. With this, you are conveniently able to access your deposit box on your computer!
How Much Do They Cost to Rent?
The average cost of a safety deposit box depends to the size of the box and the location of the bank. On average, the banks we surveyed charge about $60 annually for their smallest boxes while the larger ones cost an average of $87 to $173 each year.
To make sure, we recommend you to call your local bank branch to find out the annual rental costs for their safety deposit boxes. Also, if you have a checking account, it may include a free or discounted box in its perks so be sure to ask. Always pay your box rental on time or else the bank will seize the contents or charge another fee.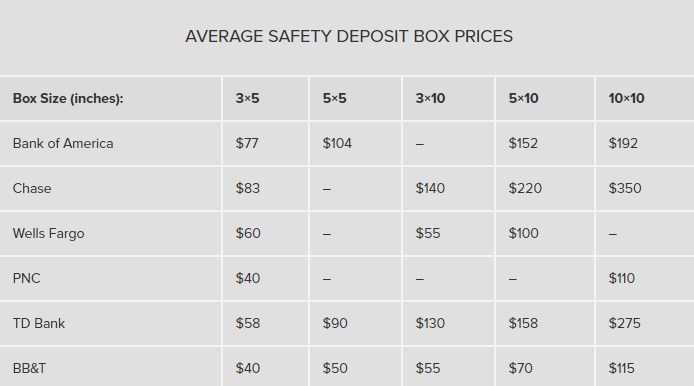 What Should and Shouldn't Go Into The Box
This is an ideal place to store your valuables and important documents. People typically store original birth certificates, insurance policies, property deeds, car titles and U.S. bonds. You can also store items like gold coins, family heirlooms and photos. You might want to place paper items in Ziploc bags or waterproof containers for extra protection in the case that the vault floods.
However, you SHOULD NOT use a safety deposit box to store items that you might need on short notice or in an emergency. This includes items such as passports, revocable living wills, health care proxies and cash. Not only is it against the rules of many banks, but stashing cash in a high-yield savings account can grow your money rather than let it sit.
Keep in mind that you can only access your safety deposit box during the bank's business hours. If there is an emergency in the middle of the night and you need something in your safety deposit box, you won't be able to access it until the next morning.
Bottom Line
It is important to keep your valuables safe and stored away. If you feel like having a safe in a bank is your best option, definitely consider reading more into it before you rent a spot!
After reading this post, go ahead and open up a Safety Deposit Box today! If you're looking or interested in promotions like this, check out our full list of Best Bank Promotions for more options! While you're here on HMB, check out our list of the best Bank Brokerage Bonuses as well as our complied list of credit card promotions.