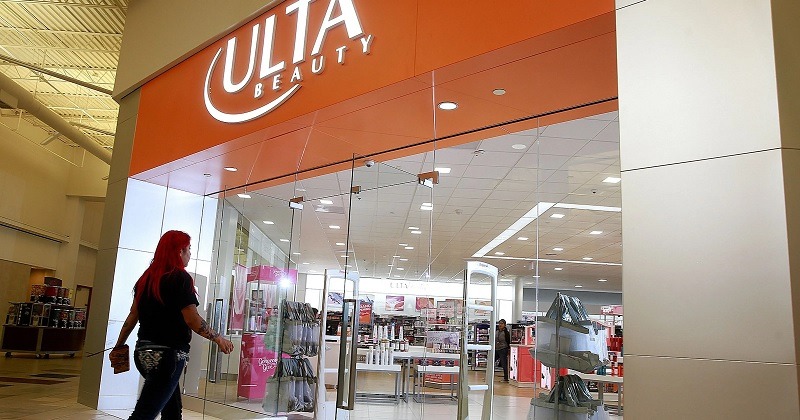 Find the latest Ulta promotions, gift cards, and promo codes here.
Ulta is offers a growing selection of high-end brands, including MAC cosmetics, as well as larger drugstore brands. You can find deals on everything from skincare, hair care, fragrances, and makeup, plus you'll find many items that will interest you!
*  Learn how to maximize cash back or points by using these Best Cashback credit cards on your purchases. You can compare them to our best credit card offers!
---
About Ulta 
---
Ulta Beauty if the largest beauty retailer in the United States and the premier beauty destination for cosmetics, fragrance, skin care products, hair care products, and salon services. They provide unmatched product breath, value, and convenience! They use the power of beauty to bring life and inspire every customers that walk in their doors!
---
Tips on How To Save Money at Ulta
1. Sign Up for Ultamate Rewards
2. Download app for Discount Coupon
3. Sign Up for Email Updates
Get Platinum Status
5. Check bonus offer available
6. Book Salon services for 5X points
7. Hang onto your points
8. Use manufacturer coupons for in-store purchases
Tab title
10. Ask for samples
11. Check out 21 Days of Beauty sale
12. Jumbo Love Events
If you always shop at ULTA, makesure that you sign up for their rewards program, see more info in the section below. Sign up for their program online or in-store with an associate! Once you're an Ultamate Rewards member, start earning points every time you shop and once you've accumulated enough points, you can claim them for rewards and get discounts!
Download the Ulta app for iOS or Google Play Services, you can use it to view your rewards, shop, and score discounts from their coupon! You can get $3,50 off your purchases of $15 or more! Plus once you download the app, you can find it once you scroll down!
When you sign up for Ulta's emails, you'll receive full of coupons, ulta sales, and bonus buys! You can see a lot coupons for $3.50 discounts, a 20% off prestige brands offer (you might see this four times a year and if you have platinum status six times), get special buys and a gift with purchase freebies!
Platinum status awards you 1.25% points earning on purchases, instead of the usual 1%, along with non-expiring points and free shipping on beauty steals during the 21 Days of Beauty event.
You can become a Platinum member when you spend $450 in a calendar year and your status is kept until December 31st of the following year. So if you spend and qualify in the early months and you'll keep your status for much longer than you would if you earned this level later on in the year. Keep in mind that you will need to re-qualify every year to extend your Platinum status.
Know that there is also a Diamond status, so if you're obsessed with makeup and spend about $1,200 on Ulta, you can earn more perks in addition to the previous benefits, like 1.5% points on each purchase, free shipping for online orders over $25, and a $25 beauty services reward card each year.
Bonus Offers are point  multiplier purchases, get notifications in your email. The easiest to find them is by going through the app and click on 'My Rewards' under your Ultamate Rewards account then click on 'My Bonus offers' or scrolling to the bottom.
Ulta offers a lot of services like their beauty services to extend to hair, skin, and brows! As a bonus when using their services, they send you out 5X points offers on salon services around three to four times a year, so  you can plan your appointments!
When you're cashing out and you've realized you've accumulated enough points for a reward, it's tempting to want to spend it ASAP, but make sure you hoard your points until you reach 2,000 points! You will be able to get $125 off and much higher if you hold out at the highest point increment!
You can save money on top of Ulta sales! Not only does Ulta carry prestige beauty brand products, but also drugstore brands! You can use manufacturer coupons alongside the $3.50 off Ulta coupons valid on popular drugstore brands!
Ulta gives you a higher chance of scoring great products at better markdowns since you can't see those online! Look for clearance on the towers near the middle section of the store along with shelves near the back!
Plus you can also ask an employee at your local Ulta when they're doing inventory next, so you ca come in afterward for the best selection of fresh markdown products. Plus you can use the coupons o clearance as long as they meet the requirements!
When you place an order online, you are able to choose a sample category upon checkout. You can also get the same offer in-store by simply asking the cashier if they have any samples available to hand out.
Get the opportunity to take advantage of Ulta's sale during Spring and Fall. This is the great time to purchase your favorite items that are on sale for up to 50% off!
Towards the end of December and through January, you can save on amazing hair care aproducts! This is the perfect chance for you to score up to 50% off on jumbo sized shampoo and conditioners, pus deals like buy two get third one free!
---
Ultamate Rewards 
---
Ultamate Rewards is Ulta's loyalty program that rewards you with exclusive offers and points for purchases made at Ulta Beauty stores and on ulta.com. The program is free and any United States resident over the age of 13 can join.
You can shop and earn points for every dollar spent on products, beauty services, and more! You can get points galore with bonus points promotions available only through email, so be sure to sign up! You can redeem your points on any of their products or beauty services. Points are valid for one calendar year!
(Visit Ulta.com for more details about their loyalty program.)
---
Ultamate Rewards Mastercard
The Ultamate Rewards Mastercard is a credit card that can be used at Ulta Beauty and anywhere Mastercard is accepted. You must be over the age of 18 to apply for this card. Once you are approved, you earn two points for every dollar spent at Ulta Beauty in store or online and one point for every $3 spent anywhere Mastercard is accepted.
(Visit Ulta.com for more details about their Mastercard.)
---
Current Ulta Promotions
---
Get 20% Off Any Qualifying Item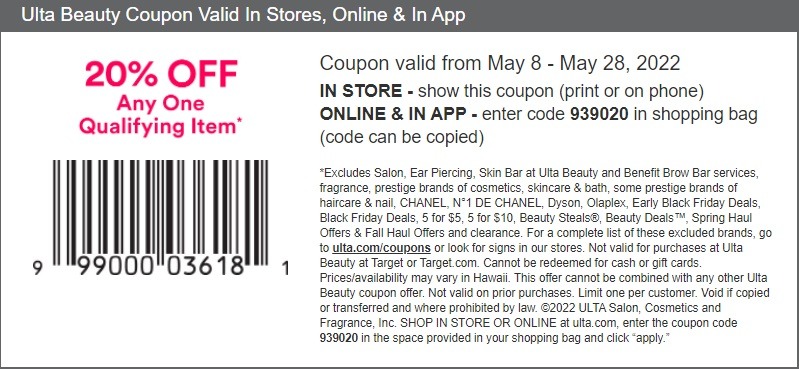 Promotion: Get 20% Off Any Qualifying Item w/ Promo Code 939020
Offer expiration: May 28, 2022
How to earn it: 

Visit the link listed below to view the coupon available for use in stores or apply the promo code 939020 at checkout when shopping online

Terms & Conditions: Excludes Salon, Ear Piercing, Skin Bar at Ulta Beauty and Benefit Brow Bar services, fragrance, prestige brands of cosmetics, skincare & bath, some prestige brands of haircare & nail, CHANEL, N°1 DE CHANEL, Dyson, Olaplex, Early Black Friday Deals, Black Friday Deals, 5 for $5, 5 for $10, Beauty Steals®, Beauty Deals™, Spring Haul Offers & Fall Haul Offers and clearance. For a complete list of these excluded brands, go to ulta.com/coupons or look for signs in our stores. Not valid for purchases at Ulta Beauty at Target or Target.com. Cannot be redeemed for cash or gift cards. Prices/availability may vary in Hawaii. This offer cannot be combined with any other Ulta Beauty coupon offer. Not valid on prior purchases. Limit one per customer. Void if copied or transferred and where prohibited by law. ©2022 ULTA Salon, Cosmetics and Fragrance, Inc. SHOP IN STORE OR ONLINE at ulta.com, enter the coupon code 939020 in the space provided in your shopping bag and click "apply."
(Visit the link above to view the promotional coupon)
---
---
Bottom Line
Don't miss out on the latest Ulta discounts, promo codes and deals! You can save a ton of money if you take advantage of  their beauty promotions! Please note that some of these promotions are valid to certain members, so check if you're targeted!
If you like what Ulta has to offer, you can join their free Ultamate Rewards program and get some birthday freebies when it's your birthday month! Furthermore, you can maximize your savings by purchasing the Best Gift Card deals here on HMB and use it towards your purchase!
Helpful Tips: