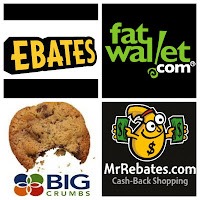 Here at HustlerMoneyBlog, I want to help you find the absolutely lowest price on all items with maximum cash back. You can get maximum cash back by becoming a member from the list of cash back programs below. These Cash back sites give you cash back as high as 25% when you make a purchase from a variety of stores such as Sears, Ebay, Walmart, Home Depot, Barnes & Noble, BestBuy, and many more.
Mr. Rebates – By far our favorite cash back site! mrrebates.com($5 sign up bonus) has cash back offers of up to 30% from almost 2,000 retailers such as Best Buy, Staples, Overstock, and Dell to name a few. The Store of the Week section offers a temporary increase in the cash back percentage, while the Weekly Deals section features incentives like free shipping and discounts. And like other cash back sites, you can get a $5 registration bonus just for signing up. We personally use Mr. Rebates often and highly recommend to sign up! Apply Now—

Mr. Rebates Review

Ebates – Ebates($10 bonus) is a site where you can earn cash rewards by shopping at many online shopping retailers. Instead of going directly to Home Depot or Sears, visit Ebates first then jump to your chosen retailer site. By doing this simple extra step, you'll be tracked by Ebates and end up receiving additional cash back. You can also apply online coupon savings ON TOP OF the cash back if you find a merchant through Ebates that offers those coupons. Featured stores offer as much as 10% cash back, while certain stores can get you discounts from coupons as well as cash back. Sign up for alerts about the Daily Double Deal so you can nab double cash back when you shop. Apply Now—

Ebates Review

TopCashBack – Another shopping cash back portal with some of the highest cash back rewards. Free to join with over 3,500 stores to choose with highest cash back guaranteed. They promise to pay out all their rebate since they only make money on ads. Apply Now—

TopCashBack Review

Simply Best Coupons – They are offering $5 sign-up bonus along with 5% referral bonus for referring each new member. With no cost to join, Simply Best Coupons lets you earn up to 20% cash back from over 4,958 stores for online shopping. Apply Now—

Simply Best Coupons Review

Extrabux – Extrabux works in the same way as other cash back stores along with a $5 Sign-up Bonus. Earn additional cash when your friends shop (equal to 5% on the cash back your friends earn). Register to be a member, and remember to click through through Extrabux to earn your cash back rewards.
MainStreetSHARES – MainStreetSHARES is similar to Mr. Rebates and is a top cash back shopping site where you will find a lot of familiar retailers like Beauty.com, Barnes & Noble, and even eBay. Earn cash back when shopping online by becoming a MainStreetSHARES member: just follow the links to your favorite retailers, then shop. Apply Now—

MainStreetSHARES Review

ShopDiscover – Must have a Discover card to join. With ShopDiscover, Discover cardmembers earn 5% to 20% Cashback Bonus or Double Miles on everyday purchases through ShopDiscover. You'll earn big rewards at over 150 top online retailers. It's easy to use and there is no enrollment and no promo codes to remember. It's also automatic; just login and shop with your Discover Card and your rewards will be applied to your account.
ShopAtHome – Another premier cash back website($5 bonus) offering coupons and discounts to customers who shop at their website instead of directly at the store. With over 3,000 different retailers to choose from, you can be sure to find the best cash back, coupons, and special deals. ShopAtHome Cash Back rebate program offers up to 35% money back.
Upromise – Upromise's focus is on college savings (i.e. a 529 account). As soon as you join Upromise, you can start earning money towards college expenses for a student by shopping through their website to earn between 1% up to 25% back on your purchases. Earn cash back from Upromise for using a credit or debit card you register through their site to pay for your restaurant bill and earn up to 8% cash back. Likewise, earn 1% to 3% back on eligible grocery store or drugstore purchases. The best part: Upromise membership is free.
FatWallet – No sign-up bonus, but current members can earn $5 bonus for referring friends and family members once they make a purchase of $25 or more. Get $20 for referring two friends. Fatwallet offer store coupons, deals, promo codes, deep discounts and special offers from more than 1,000 trusted and popular and big online stores such as Disney, HP, WalMart and Orbitz.
BeFrugal– Save with free printable coupons, promotional codes, deals and up to 30% cash back at 1000s of stores!
Chase Ink Cash® Business Card offers $200 cash back after you spend $3,000 in the first 3 months from account opening – one of the largest amounts ever offered for a business credit card. You'll receive 5% cash back on the first $25,000 spent annually at office supply stores, and on cellular phone, landline, internet, and cable TV services. The card also gives 2% cash rebate on the first $25,000 spent annually on gas and dining expenses, and 1% rebate on all other things. There is a 0% introductory APR for 12 months on purchases and balance transfers. Afterwards, the go-to APR of Regular APR: 13.24% (Variable). I personally prefer Ink Cash Business Card to the other Ink cards because you get cash back, generous cash rebates, and no annual fee for a business card!

If you have a side business such as selling on eBay, Craigslist, or do freelance work, then your business is called sole proprietorship. Simply use your name as business ID and Social Security number as tax ID. Apply Now---

Chase Ink Cash Business Review