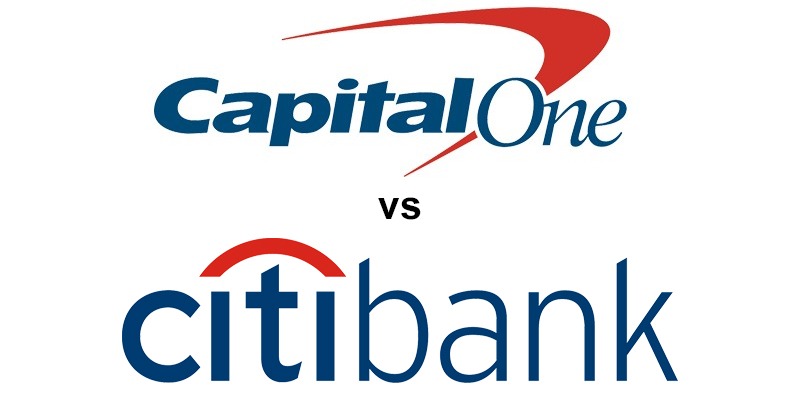 Capital One offers high interest rates without all the online fees, however it's not as high compared to other online banks. They also offer convenience checking and savings under one roof.
While Citibank offer credit cards and banking services, but their service fees and balance requirements are more on the higher side.
Continue reading below for a more in-depth look for both Capital One and Citibank. You can choose to see which one fits your needs the most.
Capital One
Citibank
Locations
Online based banking
700 Citibank branches across 13 states (Mostly in California and New York)
ATMs
Over 39,000 no-fee Capital One & Allpoint ATMs
2400 ATMs across the country.Also works at all MoneyPass ATMs
Savings
3.5/5
3/5
CD
3/5
Checking
5/5
3/5
Money Market
4/5
N/A
Customer Service
4.5/5
4/5
Mobile App
4.5/5
4.5/5
Pros
-Overdraft protection options
-No account minimums
-27 Capital One cafes for in-person support
-Perks for high balance customers
-Many fee-free ATMs
-Global presence
Cons
-Low savings APY compared to other online banks
-No free checking option
-Higher balance requirements
-Low savings APY
Bottom Line
Capital One offers several banking products like checking and savings.
Citibank is offers credit cards and banking services, but it's more geared towards people who have high balances in their deposit account.
---
Capital One Promotions


Open Capital One 360 Money Market, Checking, & Savings with these benefits:
-Earn $100 bonus for opening 360 Money Market with $10,000 deposit or more along with a high rate of 1.15% APY.
-Earn $25 bonus with Capital One 360 Checking account and deposit at least $250 and have a total of 3 Debit Card purchases or Person2Person Payments posted to the account within 45 days of account opening.
-Earn $25 bonus with a Capital One 360 Savings account with at least $250 deposit.
-Access to over 38,000 free All point ATMs, mobile app for your on the go deposits, computer access for free P2P payments, and bill pay.
-FDIC insured for up to $250,000 so you can rest easy.

---
---
Bottom Line
Which Bank is Better: Capital One or Citibank?
In summary:
Capital One has a good range of banking services. They are a good online bank that also has access to in-person support.
Citibank is different compared to other banks because they only offer a package of both checking and savings account when opening an account.
For more variety of options, see our list of the best bank account bonuses & savings account offers.