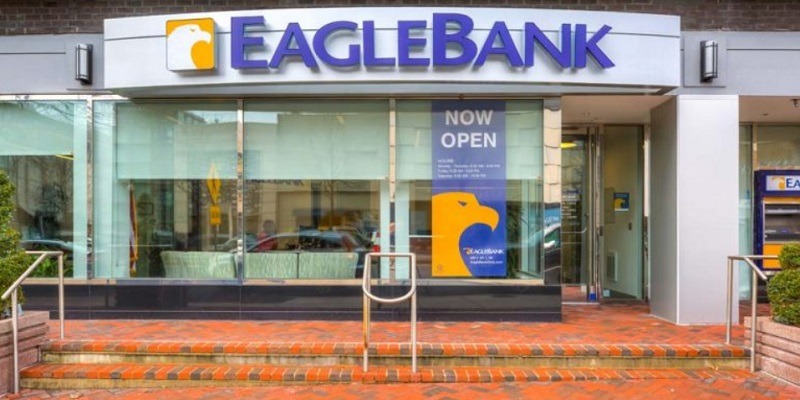 EagleBank has a decent variety of account options. To find out if EagleBank is right for you, continue reading the review below.
Their website doesn't display enough information for their accounts so you might have to call or contact them in some way for information regarding opening deposits and minimum balance requirements.
However, their CDs do seem to earn pretty competitive interest rates.
They also have a program called "Insured Cash Sweep" that transfers transactions into deposit accounts that earn interest.
Checking Account Options
EagleBank offers a good variety of checking accounts.
You may have to contact EagleBank to find out information on how to and what are the requirements in opening an account.
Eagle Relationship CheckingEagle Relationship Interest CheckingEagle Premium Interest Checking
This is an everyday checking account that comes unlimited check writing.
There are also no monthly fees when you meet their balance requirements.
This is an interest bearing checking account that earns competitive interest rates.
Meeting the balance requirements will waive the monthly fee.
This is a high interest bearing checking account and comes with more perks than the other standard ones.
Compare Checking Accounts
Chase Total Checking®HSBC Advance CheckingAsterisk-Free Checking®Chase Premier Plus CheckingSM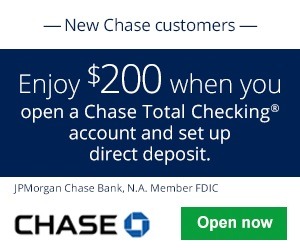 • Enjoy a $200 bonus when you open a new Chase Total Checking® account and set up direct deposit
• Access to 16,000 Chase ATMs and nearly 5,000 branches
• Chase Mobile® app - Manage your accounts, deposit checks, transfer money and more -- all from your device.
• Apply online in minutes
• Open your account online now
• Available online nationwide except in Alaska, Hawaii and Puerto Rico. For branch locations, visit locator.chase.com.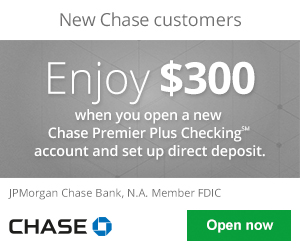 • Enjoy $300 as a new Chase checking customer, when you open a Chase Premier Plus CheckingSM account and set up direct deposit.
• Enjoy $300, more benefits, and earn interest on your new Chase checking account.
• The $25 Monthly Service Fee is waived when you keep an average beginning day balance of $15,000 or more in any combination of this account and linked qualifying Chase checking, savings and other balances.
• No Chase fee on first four non-Chase ATM transactions per statement period.
• Earn interest on your checking account balance.
• Access to 16,000 Chase ATMs and nearly 5,000 branches
• Apply online in minutes. Open your account online now.
• Available online nationwide except in Alaska, Hawaii and Puerto Rico. For branch locations, visit locator.chase.com.


Savings Account Options
EagleBank has one standard savings accounts that comes with perks.
Their savings account come with the standard features that most accounts have. You might have to contact EagleBank to find out additional information like opening deposits.
Eagle Savings:
Free Online Banking and eStatements
Free Debit Card
Access to all EagleBank ATMs
4 ATM Surcharge Fee Refunds per statement cycle
Savings Accounts
Discover Online SavingsChase SavingsSMAmerican Express® Personal SavingsUFB High Yield Savings
Money Market Account Options
Money Market accounts allow for a higher yield and gives access to your funds with either checks or a bankcard.
EagleBank has one money market accounts that earns competitive interest rates.
Eagle Premium Money Market:
Open this account with $2,500
To waive the $25 monthly fee, you will have to maintain a daily balance of $10,000
Interest is compounded monthly
Online and Mobile Banking
Compare Money Market Accounts
Discover Money MarketBBVA Money MarketCIT Bank Money MarketHuntington Business Money Market
CD Account Options
EagleBank offers standard CDs that earn competitive interest rates.
Their CD terms range from 1 month to 60 months. They all require $1,000 to open.
They also offer jumbo CDs from 30 days to 36 months. You will need a minimum deposit of $10,000 to open one though.
To see the current rates, click here.
Compare CD Accounts
Discover CDCIT Bank CDSynchrony Bank CDBBVA CD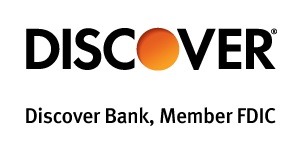 • Available nationwide online, Discover offers CDs with some of the highest & most competitive rates! with select terms as short as 3 months up to 120 months
• Rates ranging from 0.35% APY up to 2.20% APY.
• Opening a Discover Bank Certificate of Deposit is extremely quick and easy.
• Funds on deposit are FDIC-insured up to the maximum allowed by law.
• Start today with a minimum deposit of $2,500!
• Get started and open a Discover CD in 3 easy steps.





• Available online nationwide
• Earn 0.72% APY up to 1.80% APY on a 6-Month up to 5-Year Term CD
• $1,000 minimum to open
• Selection of terms to meet your needs
• A range of choices. Low minimum deposits.
• No fees to open or maintain the account
• Earn 6X the national average
• Available as Custodial
• Open a CIT Bank Certificate of Deposit Account today!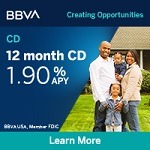 With the BBVA Compass Bank 12-Month and 36-Month CD:
• Earn 1.90% APY on 12-Month or 2.35% APY on 36-Month with just a $500 minimum deposit
• The perfect balance between a great fixed rate and flexible money access.
• Access funds, if needed. No penalty.
• No opening or maintenance fees
• Shorter 11-month timeframe and a great APY
• If you need your funds prior to the maturity date, you can withdraw your money — including any interest earned — beginning seven days after the funds have been received. No penalty. No problem. It's the security of a CD with the flexibility to access your funds early if you need them.


Insured Cash SweepSM
This is a program offered by EagleBank to enable banks to "sweep" your funds from a transaction account into an interest bearing one such as a money market or savings account.
It essentially puts excess cash balances into your interest bearing accounts. You can also have up to 6 withdrawals per month.
To learn more about this program, click here.
Reasons to Bank with EagleBank
They offer relationship checking accounts that can be linked to the standard Eagle Savings.
Their CDs earn pretty high interest rates.
All their checking and savings accounts are high-yield interest bearing.
They offer a 24-hour telephone banking line.
Conduct all your banking online or with the EagleBank mobile app.
Reasons Not to Bank with

EagleBank
They are only located in District of Columbia and Virginia with a total of 22 physical branches scattered about.
Absence of a student check or savings account.
Doesn't provide a senior checking or savings account.
Lack of a holiday savings account.
You might to sign up for an account on their website to find out additional information.
EagleBank Routing Number
EagleBank routing number is 062203719.
Contact Customer Service
EagleBank has a 24-hour telephone banking line that you can reach at 1 (800)-364-8313.
To speak to a customer representative, you can call 301-986-1800. Their business hours are:
Monday to Friday at 8:30 a.m. to 5:00 p.m.
You can also fill out one of their request forms to inquire more information and they will be in touch with you shortly.
How EagleBank

Compares
Chase Bank: Chase is one of the biggest banks in the U.S and offers just about almost everything. Compared to its other competitors, Chase offers much more checking account options.
Discover Bank: Discover Bank is also an online nationwide bank that offers bonuses for their checking and savings accounts! You can earn cash back rewards when you open a checking account and generous bonuses for opening a savings one.
Wells Fargo: Located throughout the US with over 5,800 branches and 13,000 ATMs. They offer a variety of deposits, including accounts for teens and customers who need a second chance.
Bottom Line
If you happen to live in the District of Columbia and prefer to do your banking in person, then perhaps EagleBank can assist you.
Their website lacks crucial information on opening deposits and other requirements which is odd, but maybe it is because they encourage customers to visit a physical branch to open an account.
But, if you don't live in D.C., then you would find it an inconvenience. Of course, you can also always call EagleBank and ask about information regarding account opening as well.
However, keep in mind that when you look for a checking or savings account be sure to look into all the fees charged. Don't focus on the interest rate alone, but on what the account will cost you overall.
If EagleBank has the variety and options you're looking for, apply today! For more options from a variety of banks, see our list of the best bank promotions!