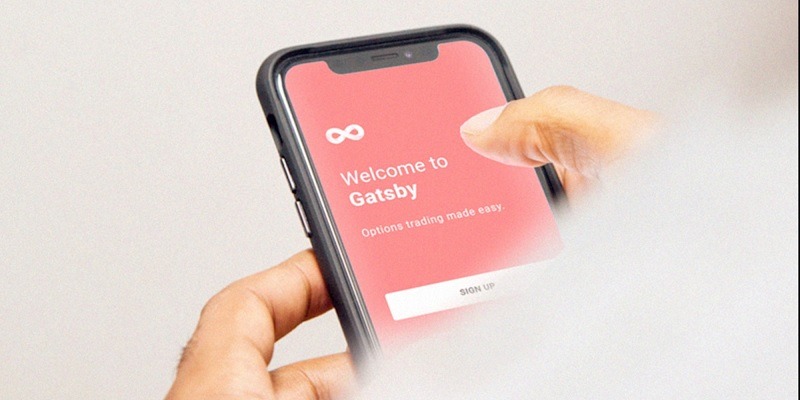 What exactly is Gatsby? It is a trading app that provides users with a less intimidating way to enter the options market.
Ever since Charles Schwab announced commission-free trading back in October 2019, plenty of other brokerages have followed suit. But while trading fees are becoming extinct, most platforms still charge a contract fee for options trading. That is what sets Gatsby apart. Members enjoy $0 trading fees as well as $0 contract fees. You will even earn rewards on every options trade.
See the best investment promotions here.
Gatsby (trygatsby.com) is welcoming new customers with a $10 bonus (referral link required). You'll earn an additional $10 bonus for every person who claims their welcome reward using your unique referral link. Keep reading down below to learn more.
---
Gatsby $10 Welcome Bonus
Enjoy a 1,000-point bonus (worth $10) when you use a referral link to open a Gatsby account, deposit at least $5, and make your first trade. Your welcome reward will post to your account within five business days. At the end of the month, you can redeem your points for $10 towards trades, gift cards or cash withdrawals to your linked bank account.
(Click the link above to learn more)
Offer details subject to change. This offer is valid for new users only. We currently do not have a referral link, so feel free to leave yours in the comment section down below.
---
Gatsby $10 Referral Bonuses
If you created a Gatsby account, you can participate in their referral program. Get a 1,000-point bonus (worth $10) for every new user who clicks on your unique referral link to open a Gatsby account, deposits at least $5, and makes their first trade.
To participate, open the Gatsby app, go to Menu > Refer Friends (Earn Points) and share your unique referral link via email, text message, social media or anywhere you like.
Want to refer new Gatsby customers? Comment below.
You can earn a maximum of $500 in Gatsby promotional offers and rewards (not just from the referral program) per household per year.
---
Gatsby Features
| | |
| --- | --- |
| Minimum Deposit |  $5 |
| Tradable Assets | Stocks, ETFs, Options |
| Mobile App | iOS & Android |
| Customer Service | Email |
| SIPC Insurance | Yes |
Gatsby offers trading on most U.S. exchange-traded stocks, along with hundreds of ETFs and stock options, with a simple and intuitive platform that's easy to master. Other features include:
Simple risk meter to easily gauge your trade's chance of profiting.
Social trading. Connect your social media accounts to trade along with friends, learn from others and get new investment ideas.
Earn rewards for options purchases, which you can later redeem for cash to use for trades and gift cards, or withdraw the amount to your linked bank account.
---
Gatsby Pricing & Fees
Like many of the newer trading platforms, Gatsby has done away with traditional commission and contract fees. That said, stock exchanges charge their own fees, and these are unavoidable no matter which trading platform you choose. See Gatsby's full fee schedule here.
The platform does require a $5 initial deposit to open an account, but there is no minimum you have to spend per trade.
---
---
Bottom Line
If you're new to investing, and you're looking for a simple and low-cost way to get started on trading, Gatsby is a solid option. You won't have to pay commission on trades and contracts, you can learn quickly with social trading, and you'll even earn rewards on options trading.