What's your go to brand when shaving? Keep your facial hair cleaned and trimmed with Gillette On Demand via MyPoints! Subscribe to Gillette via MyPoints and simply earn 7,000 Points for your first shipment. Shop for some razors this season get start saving on your products.
If you've already done this offer before, it probably won't show up for you, but you may check again. The cheapest subscription option is $7 for the Mach 3. Remember to cancel your subscription when you're no longer interested. To get the bonus MyPoints, simply cancel after your first order ships. Check out this offer if you're in the market for a new razor or to make some MyPoints!
MyPoints Gillette On Demand Promotion
Promotion: 7,000 Points
Expiration: Limited time offer
Requirements: Must Subscribe to Gillette via MyPoints
Terms & Conditions: $3 Off First Order. Use of AdBlocking programs may prevent offer from crediting. Please allow up to 32 days for your Points to be credited to your account. Offer may only be redeemed (1) one time per user.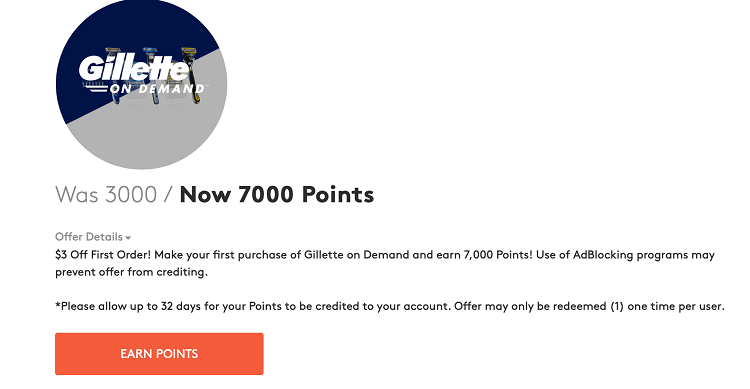 How to Earn 7,000 MyPoints
Log into your a MyPoints account
Create a Gillette On Demand account.
Make your first purchase enjoy your razors, plus 7,000 MyPoints!
Bottom Line
If you're in the market for a new razor or simply want to earn more points, then checkout the MyPoints Gillette On Demand Offer and get 7,000 points with your purchase. Keep your hair looking clean and fresh with this promotion. If you are only doing this for once, remember to cancel your subscription after you are done. If this promotion isn't your cup of tea, find out more ways to save money or earn credit card bonuses on our full list!