If you are a current resident of New Mexico, check out Nusenda Credit Union to learn more about their great products and services that doesn't compare to your traditional bank. Nusenda Credit Union is a not-for-profit community-based organization that passes their earnings onto you. They offer many great savings rates, low loans rates, and cash back through their unique rewards programs. Becoming a member is simple as long as you meet their eligibility requirements. If you are interested, hurry in to your nearest local branch to join!
Nusenda Credit Union Membership:
Visit your nearest Nusenda Credit Union.
Membership Eligibility extends to:

Employees of Select Employee Groups.
Become a member of the La Montanita Food Co-op, which costs $15 for three adults who share a kitchen.

Once you have met the eligibility requirements, you can complete the Membership Application or stop by a Nusenda Credit Union Branch.

The online application contains the complete eligibility list info.
Reasons To Join Nusenda CU:
Banking with Nusenda Credit Union means that your best interests will be put first and foremost in order to satisfy your financial aspirations and goals. Being a community-focused organizations means that you are guarantee to receive the best products and services that are fit for you needs and goals. Nusenda Credit Union works with your best interests in mind so their profits go back to you. They offer high savings rates, low loan rates, and even cash back through their unique cash back rewards programs. If you happen to qualify for membership, don't hesitate to join!
Bottom Line:
Credit Unions are different in which they work with their members. Compared to traditional banks, they want profits to go back to you through their products and services. Nusenda Credit Union is a great option for those looking for a great credit union to join. If you are interested in many other credit unions in your area, be sure to check out our full list of Credit Unions Anyone Can Join to learn more!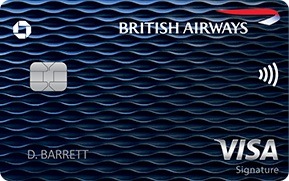 The British Airways Visa Signature® Card offers up to 100,000 Avios. Earn 75,000 Avios after you spend $5,000 on purchases within the first three months of account opening and earn an additional 25,000 Avios after you spend $20,000 in the first 12 months of account opening.

You'll earn:
• 3 Avios per $1 spent on purchases with British Airways, Aer Lingus, Iberia, and LEVEL.
• 2 Avios per $1 spent on hotel accommodations when purchased directly with the hotel.
• 1 Avios per $1 spent on all other purchases.

This card comes with a $95 annual fee and no foreign transaction fees. You'll be able to get 10% off British Airways flights starting in the US when you book through the website provided in your welcome materials. In addition, every calendar year you make $30,000 in purchases on your British Airways Visa card, you'll earn a Travel Together Ticket good for two years.



Learn More About This Card Here