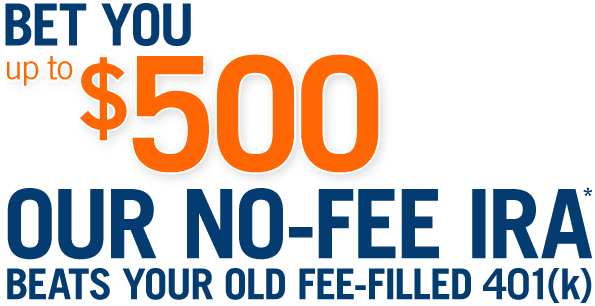 ShareBuilder is offering a $500 bonus when you roll over a 401k or transfer an IRA to a ShareBuilder IRA by 10/31/2012. All you need to do is open a ShareBuilder account online with the promotion code RET500 and transfer $100,000 or more to receive $500. This is a great chance to earn a high bonus along with a great brokerage account. Other bonus offers exist for rewards of $150 and $75.
How to Earn Your Bonus:
Open a ShareBuilder IRA account online and enter promotion code RET500.
Roll over a qualified retirement account or transfer an existing IRA by October 31, 2012.
Roll over or transfer $100,000 or more and receive $500 (or rollover $25,000 to $99,999 and receive $150 or $10,000 to $24,999 to get $75).
The bonus will be added to your IRA by November 16, 2012.
Check out this $500 brokerage bonus from Sharebuilder. You only have to open a new ShareBuilder IRA account by 10/31/2012 and roll over a different retirement account with $100,000 or more to get this bonus! If you are interested in this offer but would rather roll over a smaller amount, you can do just that and earn $150 or $75 as well. Sign up for a new IRA account with ShareBuilder and claim this $500 bonus offer today!

Earn more money through the best brokerage bonuses!