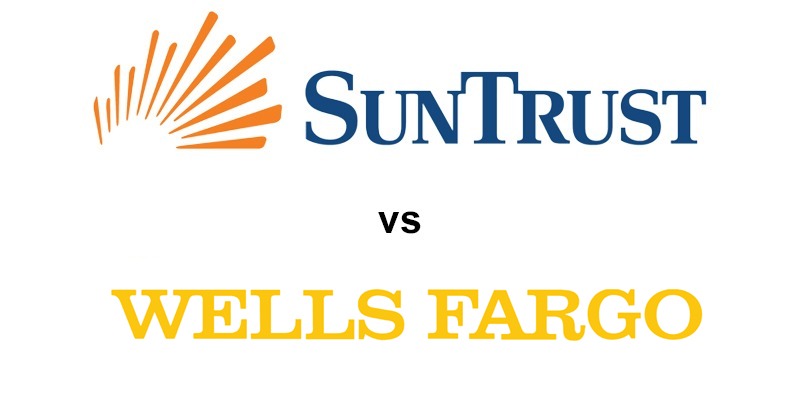 SunTrust Bank that has 1,400 branches in the Southeast region. Their checking accounts require $100 to open while also offering different ways to waive fees.
Moreover, they have additional offers for their savings account where you get an annual 1% bonus and for their promotional CDs that offers high APY rates.
Whereas, Wells Fargo is another well known bank with more than 5,400 locations offering 13,000 ATMs nationwide.
They offer a variety of checking account like Teen Checking or Opportunity Checking for those who have financial troubles.
Continue reading below to see a side-by-side comparison between the two banks, so you can see which one offers the services you need the most.
Suntrust Bank
Wells Fargo 
Locations
1400 bank branches across 11 southeastern states and Washington D.C.

5,400 retail banking branches coast to coast.

(Locator)

ATMs
More than 2000 ATMs across 11 southeastern states and Washington DC.
More than 13,000 ATMs across the country.
Savings
3.5/5
2.5/5
CD
4.5/5
2/5
Checking
3/5
4/5
Money Market
3/5
Customer Service
4/5
4/5
Mobile App
4/5
4.5/5
Pros
-High APY for CDs
-Free student account
– Good customer service
-Nationwide availability
– Large ATM network
– Mobile app features
– 24/7 account monitoring
Cons
-No free checking option
-Limited branches
-Low savings APY
– Make minimal interest
– Pay a fee for overdraft protection
Bottom Line
SunTrust Bank offers a wide variety of checking and savings accounts, offering comparable interest rates to most big banks.
Wells Fargo offer nationwide access to ATMs and branch locations, offering unique features that your bank might not provide.
---
Wells Fargo Promotions
---
Wells Fargo Credit Cards
Wells Fargo Cash Wise Visa® CardWells Fargo Propel American Express® Card
---
---
Bottom Line
Which Bank is Better: SuntTrust Bank or Wells Fargo?
In summary:
If you're interested in good customer service and high APY for CDs then SunTrust is a good option, but note that they have limited branches.
Wells Fargo offers nationwide access to their accounts, if you're looking for basic banking features their accounts are to go to.
For more variety of options, see our list of the best bank account bonuses & savings account offers.