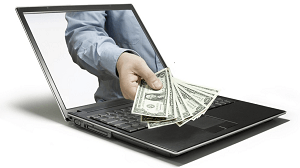 Do you need to make extra money online to go on that dream vacation? How about some extra cash to help pay your monthly bills or to enjoy a nice meal once in a while? Let's face it, we all can use some extra money from time to time.
It is tough out there and for some of us, our main job doesn't generate enough income to afford the nicer things in life. As a result, we have created an extensive list showing the various ways you can make extra money online. We will focus on opportunities that anyone can do from anywhere as long as they have access to the internet.
Most of these online opportunities are relatively simple and quick to do. While they may not get you rich, these online opportunities will definitely help pay for some of your expenses. So be sure to check back often on this page as we continuously update the list below.
How To Make Extra Money Online
| Company | Opportunity Description | Review |
| --- | --- | --- |
| Slidejoy | Earn extra money or gift cards by viewing ads on your phone. | Review |
| Foap | Earn $5 per photo by selling your photos on the Foap app. | Review |
| Leapforce | Earn $12-$15 per hour by evaluating the accuracy of search engine results for Google, Microsoft Bing, and others. | Review |
| Fiverr | Earn anywhere from $5 to $995 for performing various tasks and services. | Review |
| Swagbucks | Earn points that can be redeem for gift cards or PayPal credit by taking surveys, watching videos, and shopping. | Review |
| TranscribeMe | Earn $20 per hour by turning audios and videos to text form. | Review |
| UserTesting | Earn $10 per testing of websites or apps and providing feedback. | Review |
| Udemy | Earn money as an online instructor for Udemy. | Review |
| Tutor | Earn money as online instructor and tutor students from K-12 and college | Review |
| OneSpace | Earn money as a freelancer performing various tasks. | Review |
| LiveOps | Earn money as a virtual call center agent. | Review |
| Listverse | Earn $100 per accepted top 10 items posts. | Review |
| International Living | Earn $75 per accepted post about about living abroad. | Review |
| Amazon Mechanical Turk | Earn money by performing various tasks. | Review |
| Slicethepie | Earn money by writing reviews for new songs, fashion items, accessories and commercials. | Review |
| Humanatic | Earn money by listen to recorded phone calls and providing opinions. | Review |
| iTalki | Earn money by becoming an online language teacher. | Review |
| Viggle | Get paid for watching TV. | Review |
| Fusion Cash | Earn money by listening to the radio. | Review |
| VIPKID | Earn money teaching english | Review |
| Click Worker | Get paid for various jobs from proofreading, completing surveys, and much more | Review |
| CafePress | Design and sell merchandise for extra money | Review |