For those getting the Chase Preferred Sapphire Card, it may be possible to get another 50,000 bonus points along with their initial 50K bonus point even if you already applied. There were some mailed targeted offers with offer code S6V to get the 100K bonus points. You can ask them nicely to match it.
Here's what to do:
1) Apply for the Chase Preferred Sapphire 50k offer, if done so already, go to step 2.
2) Call the Chase number in the back of your card and read the script below.
Dear Chase Representative,
I just applied for my new Chase Sapphire Preferred card with a 50,000 sign up bonus of 50,000 points after spending $3,000. However, I know there is an offer code S6V which promises 100,000 bonus points. I would be very much appreciative if you can match that offer of 100,000 bonus point offer S6V to me as well.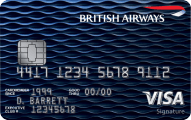 British Airways Visa Signature® Card offers 50,000 BONUS AVIOS after you make $2,000 in purchases in the first 3 months of account opening! Earn Avios with every purchase then use your bonus Avios towards rewards flights. No foreign transaction fee when you make purchases abroad. You will also get 3 Avios for every $1 spent on British Airways purchases and 1 Avios for every $1 spent on all other purchases. Every calendar year you make $30,000 in purchases on your British Airways Visa card, you'll earn a Travel Together Ticket good for two years. Chip with Signature Technology allows you to use your card for chip based purchases in Europe & beyond, while still giving you the ability to use your card as you do today at home. There is no annual fee for the first year, then $95 afterwards. Apply Now---

Chase British Airways Review