While Citi is an advertising partner of HustlerMoneyBlog, the content is not provided by Citi; and that the opinions and beliefs in the article have not been reviewed, approved, or otherwise endorsed by Citi. Learn more on our Advertising Policy.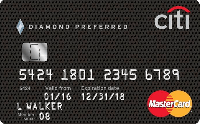 The Citi® Diamond Preferred® MasterCard offers one of the longest 0% introductory APR's and one of the lowest APR post promotion period. It gives the opportunity to pay off credit card debt or to make a big purchase without having to pay interest for almost 2 years. Not having to pay interest equates to major savings and a break at gaining control of your finances.
21 Months of 0% Introductory APR
With the Citi® Diamond Preferred® MasterCard, receive 0% introductory APR for 21 months on purchases and balance transfers. After the introductory promotion, it also offers Citi's lowest variable APR of 12.49% – 22.49% which will based on your credit. The Citi Diamond Preferred is one of the few cards that you can make purchases and make interest-free payments for 21 months.
Balance Transfer to Pay Down Debt
The Citi® Diamond Preferred® MasterCard can help those who have been stuck paying never ending balances from high interest credit cards. What's preventing those balances from decreasing are interest rates or finance charges added on each month. With 21 months of 0% introductory APR on balance transfers, your goals of paying off those balances can become achievable with the Citi Diamond Preferred card.
To illustrate, a $5,000 balance with a credit card with an APR of 15% will ultimately cost you about $5,716 if paid off in 21 months assuming each monthly payment is made on time. The estimated $716 is the total interest you'll be paying and does not include other fees like an annual fee that you would be subjected to. If the same $5,000 balance was transferred to the Citi Diamond Preferred Card, the total amount paid at the end of 21 months would only be $5,150. That's a savings of about $566 as compared to the credit card with 15% APR. The additional $150 comes from the balance transfer fee of 3% of the amount of the transfer. If monthly payments are made before the due date, the Citi Diamond Preferred card has no annual fee or other fees with the exception of the 3% balance transfer fee(minimum $5). Imagine how much money you would save when transferring bigger balances or from credit cards with even higher interest rates.
Make Monthly Payments on Time
The Citi® Diamond Preferred® MasterCard can help you succeed in saving money only if monthly payments are made on time. Doing so will also safeguard your credit and avoid costly fees and interest hikes that can sabotage your efforts to pay down debt or worse yet, lead to even more debt. Just like any other credit card, the Diamond Preferred Card will penalize by charging a $35 fee for late payments, $35 for return payments, and indefinitely apply a penalty APR of 29.99% that will easily set you back. However, it does provide tools to help manage your payments and finances. Keep a close eye on your credit with free access to FICO scores online at anytime. The Citi Diamond Preferred card also lets you choose your payment due date and get automatic account alerts to set yourself up for success and never miss a payment.
More Great Benefits
The Citi® Diamond Preferred® MasterCard's extra benefits makes it a well-rounded card. Receive added purchase protection that includes extended warranty, $0 liability on authorized purchases, and damage and theft protection. It also provides travel protection benefits like worldwide car rental insurance, travel accident insurance, trip cancellation and interruption protection. However, opt for another card for purchases made outside the US since there is a 3% foreign transaction fee. If you enjoy music and events, you'll appreciate the Citi Private Pass that comes with the Citi Diamond Preferred card. Citi Private Pass gives you special access to pre-sale tickets, preferred seating, and VIP packages to concerts, sporting events, dining experiences, and even complimentary movie screenings among other events.
Save Money
The Citi® Diamond Preferred® MasterCard comes with 0% introductory APR for 21 months on purchases and balance transfers and no annual fee. Make those necessary purchases or transfer existing high interest balances and save money by not paying any interest for a remarkable 21 months. The Citi Diamond Preferred Card allows you to take charge of your finances and no longer feel defenseless when it comes to credit card balances. Review our complete list of credit card bonus promotions.

Disclaimer: These responses are not provided or commissioned by the bank advertiser. Responses have not been reviewed, approved or otherwise endorsed by the bank advertiser. It is not the bank advertiser's responsibility to ensure all posts and/or questions are answered.