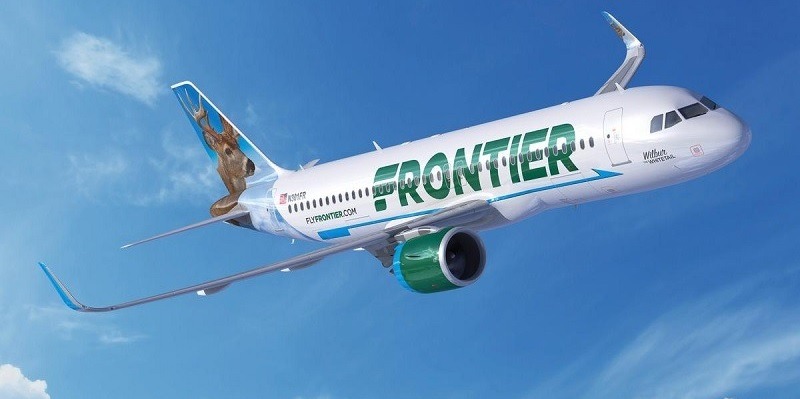 Frontier Airlines is a Denver based low-cost carrier that operates around 350 flights daily to over 100 destinations in the United States, Canada, Central America, and the Caribbean.
Previously, Frontier Airlines had a frequent flyer program known as EarlyReturns. Frontier Miles has since replaced the EarlyReturns program and added plenty of valuable benefits for loyal Frontier travelers. Keep reading to learn all about this program and how you can utilize it to it's full potential.
See our best credit card bonuses here.
---
Frontier Miles Quick Facts
| | |
| --- | --- |
| Domestic Hubs | Denver |
| Domestic Focus Cities | Atlanta, Austin, Chicago, Cincinnati, Cleveland, Las Vegas, Miami, Orlando, Philadelphia, Raleigh/Durham, San Antonio, Trenton |
| Personal Credit Cards | Frontier Airlines World Mastercard |
| Business Credit Cards | No business credit cards |
| Redemption Options | Award flights, family pooling, hotel stays, rental cars, magazines, gift miles |
| Average Mile Value | $0.011 |
---
Frontier Miles Elite Status
Most low-cost carriers do not offer elite status so that makes Frontier Miles seem a little more rewarding. This program consists of three tiers: Elite 20K, Elite 50K and Elite 100K.
Earning Elite StatusElite Status Benefits
Here's how you can unlock elite status:
| | |
| --- | --- |
| Status | Qualifying Miles or Segments |
| Elite 20K | 20,000 miles or 25 segments |
| Elite 50K | 50,000 miles or 50 segments |
| Elite 100K | 100,000 miles or 100 segments |
Earn Qualifying Miles by:
Frontier flights: 1 Qualifying Mile for every mile flown.
Frontier Airlines World Mastercard: 1 Qualifying Mile for every $1 spent.
Unfortunately, special bonus miles, mileage multipliers and other promotional miles don't count as qualifying miles.
**Segments are flights with the same flight number between an origin and final destination, regardless of any stops in between.

All status levels unlock access to family pooling, priority boarding, last seat availability, waived redemption fees and Stretch Seating.
See all elite status benefits below: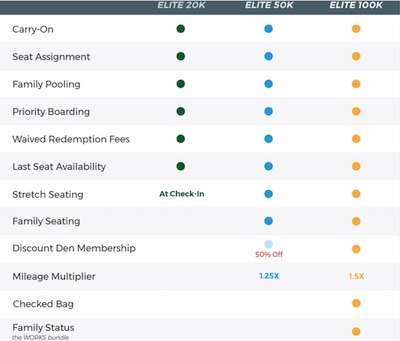 Source: For up to date information on Frontier Miles Elite Status, visit this site here.
---
Earning Frontier Miles
Frontier Miles can be earned by doing various activities. Ways you can earn miles include: flying with the airline, credit card spending, online shopping and more (more on all of that below).
Frontier FlightsCredit CardsHotel PartnersTransportation PartnersOther PartnersBuy Miles
Earn one Frontier mile for every mile you fly, no matter what your ticket costs. There is no business class for Frontier Airlines so there's no way to earn bonus miles on class fare. But if you have elite status, you'll earn extra miles on all paid flights:
| | |
| --- | --- |
| Status | Miles Multiplier |
| Elite 20K | No multiplier |
| Elite 50K | 1.25x |
| Elite 100K | 1.5x |
Source: For updated information on Frontier Miles Elite Status, click here.
Earn Frontier miles, plus enjoy other perks, when you use the Frontier Airlines World Mastercard credit card:
Welcome bonus
40,000 miles when you spend at least $500 on purchases within the first 90 days.
Bonus value
$440, or enough for 2 roundtrips at the lowest redemption level.
Ongoing Rewards/Benefits
5x miles at flyfrontier.com
3x miles at restaurants
1x miles everywhere else
Elite Status
1x Qualifying Miles on purchases
Other perks
Priority boarding
Award redemption fee waiver
Unlock Family Pooling
Spend bonus*
Free FICO credit score
No foreign transaction fees
Annual fee
$79
*Spend bonus: Earn a $100 flight voucher when you spend $2,500 or more on purchases during your cardmembership year.
Earn Frontier miles with the following hotel partners:
Earn Frontier miles with the following transportation partners:
Partner
Details
Alamo
1,000 miles per stay
Avis
 4x miles for 3+ day rentals
35% off base rates
Budget
500 miles for 3-4 day rentals
1,000 miles for 5+ day rentals
Up to 30% off base rates
Dollar
50 miles/day for 1-4 day rentals
500 miles for 5+ day rentals
Hertz
Up to 500 miles per rental
Save on base rates
National
50 miles/day for 1-4 day rentals
500 miles for 5+ day rentals
Up to 20% off base rates
SuperShuttle
50 miles per Blue Van ride
150 miles per ExecuCar ride
Thrifty
50 miles/day for 1-4 day rentals
500 miles for 5+ day rentals
Earn Frontier miles with the following partners:
| | |
| --- | --- |
| Partner | Details |
| Frontier Cruises | Up to 10,000 miles per cruise |
| Teleflora | 10x miles on flowers |
| Thanks Again | Up to 5,000 miles every calendar quarter |
| Vinesse Wines | 5,000 miles + 4x miles on your first shipment |
Buy Frontier miles through Point.com at a rate of $0.025 per mile. Because we value each mile at $0.011, we generally recommend against purchasing Frontier miles. You'll be paying over double what they're worth.
---
Earning Frontier Miles With Marriott Bonvoy Points
One of the best ways to earn Frontier miles is by getting Marriott Bonvoy points and transferring them to your Frontier Miles. You can receive up to 2x miles for transferring. The best way to rack up on points is by getting yourself a Marriott co-branded credit card and qualifying for its welcome bonus.
Chase offers two personal credit cards that earn Marriott points, while American Express (Amex) offers one personal and one business card. If you're looking to apply for a Marriott credit card, keep in mind:
The Chase 5/24 rule. If you opened five or more new credit cards in the past 24 months (from any bank), you won't be approved for a new credit card from Chase.
The Amex once-in-a-lifetime welcome bonus rule. You can only qualify for the introductory offer on each Amex personal and business card once in your lifetime.
MARRIOTT BONVOY BRILLIANT™ AMERICAN EXPRESS® CARDMARRIOTT BONVOY BOUNDLESS™ CREDIT CARDMARRIOTT BONVOY BOLD™ CREDIT CARDMARRIOTT BONVOY BUSINESS™ AMERICAN EXPRESS® CARD
---
Redeeming Frontier Miles
Frontier miles will expire after 180 days of account inactivity. Earn and burning miles will keep them active and from expiring
Once your miles have expired, you can get them back by paying a fee, based on the number of miles. The range is between $50 (up to 25,000 expired miles) and $500 (over 250,000 expired miles).
FLIGHTSFAMILY POOLINGOTHER OPTIONS
Use your Frontier miles for award flights with the airline. There are three award levels: Value, Standard and Last Seat. Value Seats start at 10,000 miles one-way, but have limited availability. Standard Seats start at 20,000 miles each way with greater award availability. And Last Seats are reserved for elite members. It gives access to any seat on the plane, even the last one available.
Keep in mind, there are various fees for award travel:
| | |
| --- | --- |
| Bookings between 21-179 days in advance | $15 |
| Bookings between 7-20 days in advance | $50 |
| Bookings under 6 days | $75 |
| Bookings over the phone | $10 |
There is no fee for booking your award travel 180 days or more in advance.
Elite and Frontier Airlines World Mastercard members get redemption fees waived.
There are also fees for changing or canceling award tickets:
| | |
| --- | --- |
| Changes made 7 days or less before travel | $99 |
| Award ticket cancellations | $75 |
| Changes or cancellations over the phone | $10 |
Pooling your miles is also an option if you're an elite or Frontier Airlines World Mastercard member. That member can open a family pooling account and will serve as the head of the group. They can invite up to eight family members and friends to join and share miles and has the ability to redeem the pooled miles for an award flight.
By pooling your miles, you'll be able to book award flights faster and you won't have have to keep track of multiple account balances.
In comparison, very few frequent flyer programs (JetBlue and Hawaiian Airlines) allow family pooling.
Use your Frontier miles to book hotel stays through the frequent flyer program, rent cars with Alamo, Hertz and National, subscribe to magazines and newspapers via Mags For Miles, or gift your miles through Points.com.
Your Frontier Miles account expire after 18 months of inactivity. You can keep your rewards active by either earning or burning miles.
---
Frontier Miles Tips & Tricks
DISCOUNT DEN DEALSPUERTO RICO, MEXICO & DOMINICAN REPUBLIC
A Discount Den Deals membership gives you access to the lowest fares on Frontier. You can book as many deals as you want for yourself and up to six additional travel companions for just $59.99 a year. Plus, you'll earn Frontier miles with every purchase.
Other features include:
Kids Fly Free. This perk is only available for families and for children aged 15 and under.
First to know about new Frontier destinations, flight offers and promotions.
On average, the difference between Den and standard fares is only $10, so make sure you're using all other Discount Den perks to make your membership worth its annual fee.
Because Frontier doesn't fly to as many destinations as the bigger airlines, your "cheap" award options are a bit limited. In general, travel to Puerto Rico, Mexico and the Dominican Republic are good deals.
| | |
| --- | --- |
| Puerto Rico roundtrip | 20,000 miles |
| Mexico roundtrip | 30,000 miles |
| Dominican Republic roundtrip | 30,000 miles |
---
---
Bottom Line
Frontier Miles can be a good frequent flyer program. All in all, the program offers fairly generous rewards and makes earning miles fairly easy. In addition, the program offers an elite status program, which is rare among budget airlines.
However, if you don't frequently fly with Frontier Airlines, you will not be getting the most out of your card. The fact that points expire after 180 days of inactivity also brings down the value of this card. Lastly, there are no a lot of choices available for flights.
In the case that you don't often travel with Frontier Airlines often, be sure to check out our page for more travel tips from other loyalty programs like Alaska Airlines Mileage Plan or Southwest Airlines Rapid Rewards. For more posts like this, check out our list of credit card bonuses.