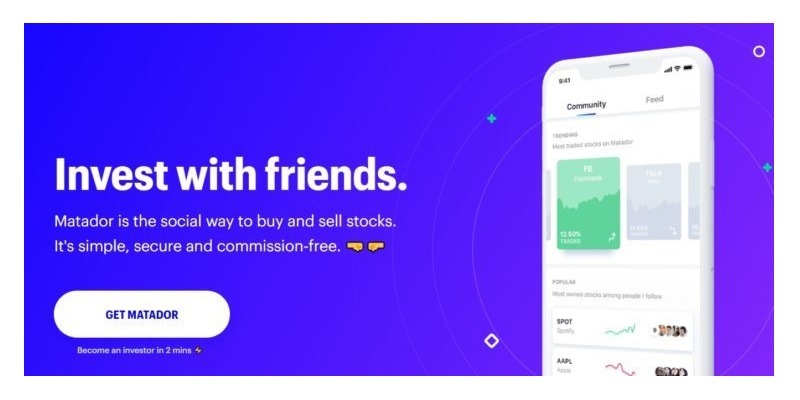 Find new Public promotions, bonuses, and offers for trading stocks, ETFs, bonds, options and more. They were formerly known as Matador.
With the current offer, you can qualify for free stock worth up to $50 bonus plus up to $500 in referrals.
About Public Promotions
Public is a unique investing platform. This service is an account that lets you invest with friends through their social investing feature. Unlike most platforms, Public allows you to follow friends or other users like a social network. However, this is different because it notifies you when someone you follow invests in something.
With this account, you can do other brokerage, trading stocks, and ETF functions just like it's competitors. However, with the social investing function, you can learn from others by viewing what they have invested in and how their investments are performing. If you like their style, you can copy or follow along with how they are investing.
I'll review Public below.
Editor's Note: Along with Public, other popular brokerage bonuses include E*TRADE, Ally Invest, Chase You Invest, and TD Ameritrade. 
Public $50 Bonus + Up To $500 in Referrals
When you use the link provided and open an account, you'll get a free stock worth up to $50 bonus! If you already have an account with Public, you can use your own link to start referring for a bonus up to $500 a year.
You'll likely need to click on our referral link through your smartphone for it to work seamlessly. Here's our referral link in text if needed: https://share.public.com/hustlermoneyblog
Account Type: Public Account
Availability: Nationwide
Online Trades: $0
Credit Inquiry: Soft pull
Monthly Fee: $0
Bonus Requirements: Fund the account with $10 and maintain for 30 days
Closing Account Fee: Unknown
(Offer has no expiration)
How To Earn The Bonus
EARN THE BONUSFINE PRINT
If you use the link provided, you will be able to start a new account
For the initial free stock sign-up bonus, use our referral link above to download the app and create an account.
Once you've finished creating your account you'll be able to choose a free slice of stock.
You'll then be able to earn more free stock for making referrals to Public.
Customers are not limited in the number of times they are entitled to receive this bonus as a Referee. If a client has multiple or has opened multiple accounts, they will be treated as a single account for the purposes of the promotion.
A "Referrer" is a user who shares a bonus link which another user which leads to their opening a Qualified Account. A Referrer must have a Qualified Account themselves in order to receive a bonus.
A "Referee" is a user who receives a share link and opens a Qualified Account.
Best efforts will be used to credit a Customer's account within 5 business days of qualifying.
To establish a "Qualified Account" a customer must sign up and have their account fully approved and verified and receive the confirmation of approval before being able to redeem a free stock.
A customer is only entitled to enroll in a maximum of one promotion and this offer cannot be combined with other offers.
Bottom Line
Here, you can find all the Public promotions offered. It is very easy to get an account started. Although $20 doesn't seem to persuasive right now, if you refer enough people the total bonus will be pretty nice.
Unlike most brokerages, Matador collects $0 in commission fees. Even if you are investing large amounts. There are no account minimums, so it's  a good fit for people who are still learning how to invest because they can invest any amount they are comfortable with.
Bookmark this page and check back often for Public promotions, bonuses, and offers.