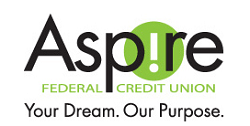 Aspire Federal Credit Union is a not-for-profit financial cooperative, which means all earnings at the end of the year are returned to their members in the form of better, low-cost financial services. They've also transitioned to a more digital credit union, offering state-of-the-art online and mobile banking applications. The employees at Aspire FCU are dedicated to help make your financial goals and dreams a reality, as their tag line is "Your Dream. Our Purpose.". Their headquarter branch lies in Clark, New Jersey. However, members can access AFCU's services on the road through their online banking options. In addition to Aspire Federal Credit Union online services, they are part of the Shared Branching Network, which gives you access to 5,300 other credit unions to perform the transactions or use services you need, wherever you are!
Aspire FCU Membership:
Visit your nearest Aspire Federal Credit Union
Check out their eligibility requirements:

You are employed by or a member of one of their Employer Groups.
You are or wish to be a member of the American Consumer Council.
You are an immediate family or household member of an existing Aspire Federal member.

To apply for membership, you will need the following info to fill out the online application form:
Funding Information (Debit or Credit)
Valid Driver's License/State ID/Passport
Valid United States Social Security Number/Email
Account information for accounts that you would like to close and transfer
Reasons To Join Aspire FCU:
With an Aspire Federal Credit Union checking and savings accounts, you may enjoy their features such as: no ATM transaction fees when using their surcharge- free ATM network, access to 70,000+ surcharge-free ATMs,no monthly checking account fee, free online and telephone account access with My CU Online and Call, and many more! Their programs are designed to work around your schedule and budget to build wealth in the easiest way for you. This federal credit union offers loans for personal signature, home equity, vehicle, and mortgage loans. For AFCU's vehicle loans, you can enjoy their features such as: affordable payment options with low interest rates, convenient online application, fast pre-approvals, and protection options. You're entitled to home owner's Insurance through TruStage and MetLife. With an home equity loan, you get free check access, no annual fees, attorney's fees, appraisal fees or pre-payment penalties, no credit union closing costs, and many more features. AFCU also provides other services such as: borrowing money, managing money, retirement, securing your family, and saving money. Your funds will be secure and they will all be accessible for withdrawal at an Aspire Federal Credit Union branch or ATM. Your funds are insured up to $250,000 by the National Credit Union Administration.
Bottom Line:
The mindset of Aspire Federal Credit Union's employees are what make a great credit union. At AFCU, they are able to provide passion and service to ensure their customers are satisfied. If you have more membership eligibility questions, feel free to contact an AFCU employee! If this credit union did no suit you, be sure to check out our full list of Credit Unions Anyone Can Join. Don't forget to share your experience with this credit union by commenting below.