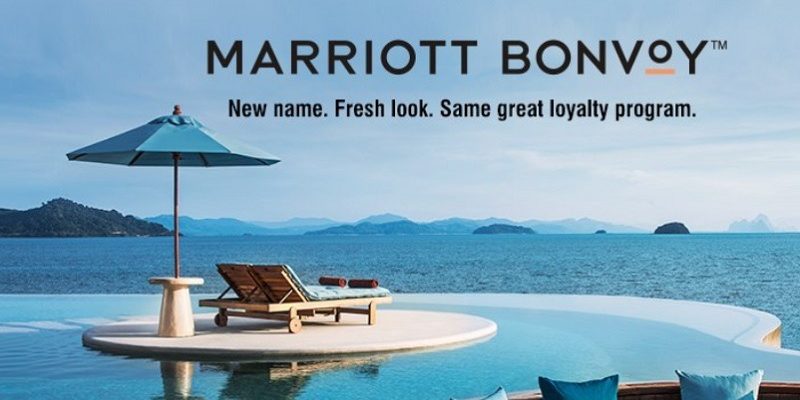 Merging with Starwood has made Marriott the second largest hotel chain in the world. With that said, Marriott is likely to have a property to fit your travel style and price range. That's why the company's loyalty program – Marriott Bonvoy – has become increasingly popular all kinds of among travelers .
Easily earn Marriott points and redeem them for huge bonuses on spending. Although the points don't have a very high value, the loyalty program is still super valuable when you take into account the savings you can get.Keep on reading to get a complete guide to everything you need to know about the Marriott Bonvoy.
See our list of the best credit card bonuses here.
---
Marriott Bonvoy Quick Facts
---
Marriott Bonvoy Brands
Marriott Bonvoy includes 30 brands and over 7,000 properties across 131 countries. Their loyalty program has a hotel for every style, budget and occasion. Brands are organized under five categories: Luxury, Premium, Select, Longer Stays and Collections
LUXURYPREMIUMSELECTLONGER STAYSSELECT
Marriott Luxury brands feature bespoke and superb amenities and services.
EDITION
JW Marriott
The Luxury Collection
The Ritz-Carlton
Ritz-Carlton Reserve
St. Regis
W Hotels
Marriott Premium brands offer sophisticated and thoughtful amenities and services.
Delta Hotels
Gaylord Hotels
Le MERIDIEN
Marriott Hotels
Marriott Vacation Club
Renaissance Hotels
Sheraton
Westin
Marriott Select brands offer smart and easy amenities and services.
AC Hotels
Aloft Hotels
Courtyard Hotels
Fairfield Inn & Suites
Four Points
Moxy Hotels
Protea Hotels
SpringHill Suites
Marriott Longer Stays brands provide customers with a more homey feel.
Element
Homes & Villas by Marriott International
Marriott Executive Apartments
Residence Inn
TownePlace Suites
Marriott Collections brands are uniquely designed and each offers distinctive and luxurious experiences.
Autograph Collection Hotels
Design Hotels
---
Marriott Bonvoy Elite Status
The Marriott program offers five different elite statuses: Silver, Gold, Platinum, Titanium and Ambassador.
SILVER
GOLD
PLATINUM
TITANIUM
AMBASSADOR
10
qualifying nights
25
qualifying nights
50
qualifying nights
75
qualifying nights
100
qualifying nights
10%
points bonus
20%
points bonus
50%
points bonus
75%
points bonus
75%
points bonus
Becoming a member of Marriott Bonvoy, you receive free standard WiFi. As you move from Silver to a higher tier, you'll unlock additional hotel benefits:
ELITE STATUS
STATUS PERKS
Silver
Late checkout
Dedicated reservation phone line
Gold
Enhanced internet access
2pm late checkout
Room upgrades (up to Executive)
"Welcome gift" of 250 to 500 points
Platinum
Room upgrades (up to Standard Suite)
Lounge access
4pm late checkout
Arrival gift (points or food & beverage)
1 Annual Choice Benefit*
Titanium
United MileagePlus Silver status
2nd Annual Choice Benefit**
Ambassador
Personal "ambassador"
24-hour check-in and check-out time
*After staying 50 nights in one year. Choose from: 5 Suite Night Awards, gifting Silver Elite status, 40% mattress discount, 5 Elite Night Credits or $100 donation to charity.
**After staying 75 nights in one year. Includes an additional option of a free night certificate worth up to 40,000 points.
No matter your status, you're guaranteed to receive a handful of benefits as a Marriott Bonvoy member. In the case that you don't end up receiving all of your entitled benefits, you'll receive compensation. Most other hotel loyalty programs offer elite status perks, but nothing is guaranteed.
---
Lifetime Elite Status
Marriott Bonvoy offers lifetime elite status, and it's not too hard to achieve.
| | | |
| --- | --- | --- |
| STATUS | NIGHTS REQUIRED | YEARS REQUIRED |
| Lifetime Silver | 250 | 5 years of Gold status |
| Lifetime Gold | 400 | 7 years of Gold status or higher |
| Lifetime Platinum Elite | 600 | 10 years of Platinum Elite status or higher |
You should consider obtaining lifetime elite status if you travel frequently for business or if you want to enjoy having elite status without worrying about maintaining it for the rest of your life.
*The above information was collected independently and subject to change. Click here for our source.
---
Earning Marriott Bonvoy Points: Co-Branded Cards
Co-branded credit cards are the best way to obtain more Marriott Bonvoy points. These cards usually come with great welcome bonuses and can rack up quite a few points.
Chase offers two personal credit cards that earn Marriott points, while American Express (Amex) offers one personal and one business card. If you're looking to apply for a Marriott credit card, keep in mind:
The Chase 5/24 rule: If you opened five or more new credit cards in the past 24 months (from any bank), Chase will not approve of your request for a new card.
The Amex once-in-a-lifetime welcome bonus rule: You can only qualify for the introductory offer on each Amex personal and business card once in your lifetime.
MARRIOTT BONVOY BRILLIANT AMERICAN EXPRESS CARDMARRIOTT BONVOY BOUNDLESS CREDIT CARDMARRIOTT BONVOY BUSINESS AMERICAN EXPRESS CARDMARRIOTT BONVOY BOLD AMERICAN EXPRESS CARD
---
Earning

Marriott Bonvoy

Points
Although the best way to earn Marriott Bonvoy points is through a Marriott co-branded credit card, there are a ton of other ways to earn Marriott points.
Let's have a closer look at all the ways you can earn Marriott points below:
HOTEL STAYSMEGABONUS PROMOTIONSGO GREENREFER A FRIENDMOMENTSTRAVEL PARTNERSEVENTSSOCIAL MEDIAPURCHASE POINTS
Of course, you can also earn points by staying at Marriott hotels. But remember to book directly with Marriott. Making reservations through online travel agencies (Expedia, Orbitz, etc.) and credit card travel websites (Chase Ultimate Rewards Travel, Citi ThankYou Travel Center, etc.) won't get you any Marriott points.
| | |
| --- | --- |
| BRAND | POINTS EARNED |
| Most marriott Brands | 10x points |
| Extended Stay Hotels | 5x points |
| Executive Apartments & ExecuStay | 2.5x points |
When you gain elite status, you'll earn bonus points for your stay (see the Elite Status section). This points bonus, however, does not apply to Extended Stay hotels.
**Click here for our source.
Every quarter, Marriott will run MegaBonus promotions which give huge bonuses for a variety of different activities. Past offers include:
Up to 3,000 bonus points with your second stay
Double points for a limited time
10,000 bonus points with a 4-night stay
To earn MegaBonus rewards, you must first register for each promotion within your Marriott Bonvoy account.
Earn up to 500 bonus points per day by choosing to "Go Green" and opting out of housekeeping. You must stay for at least two consecutive nights, and you can't skip out on more than three consecutive housekeeping visits. Simply let the front desk know when you check in.
Participating brands include the following (in the United States and Canada only):
Courtyard
Fairfield Inn
Marriott
Renaissance
SpringHill Suites
This feature allows up to a maximum of 5,000 bonus points per stay.
Earn bonus Marriott points when you refer a friend. You'll get 2,000 points every time your referral stays at Marriott. For up to five stays each referral and up to five referrals every calendar year. That's a total of up to 50,000 Marriott points annually.
Your referrals will also earn 2,000 bonus points for their first five stays. So they can earn up to a total of 10,000 Marriott points each.
Next time you plan a trip with your family and friends, ask if they're a Marriott Bonvoy member. For those who aren't, send them your referral link so you can both earn bonus Marriott points.
For every dollar you spend on Marriott Moments, you earn 10 Marriott points. These experiences are open exclusively to Marriott Bonvoy members and include:
Culinary experiences
VIP access to entertainment & sports events
Exclusive Masterclasses
Earn points with Marriott travel partners: Hertz and CruiseOnly:
Hertz. Get up to 2,000 Marriott points per rental when you rent a car for two or more days, and 500 points for one-day rentals. For an even better deal, book through Marriott to receive discounted rates.
CruiseOnly. Earn 3x Marriott points by booking your cruises through CruiseOnly's Marriott partner site.
Earn two Marriott points for every dollar spent when you book your wedding, conference, or other event directly with Marriott and provide your Marriott Bonvoy member number. Participating brands include:
Bulgari Hotels & Resorts
Design Hotels
Executive Apartments
Residence Inn
The Ritz-Carlton Reserve
Towneplace Suites
Vistana
This offer is limited to 60,000 bonus Marriott points.
Earn 250 points just for linking your social media profiles – Facebook, Twitter and Instagram – to your Marriott Bonvoy account. Get another 250 Marriott points for following Marriott Bonvoy on Twitter. That's a total of 1,000 easy points.
You can buy 1,000 Marriott points for $12.50. Although I generally don't recommend it, there are a couple reasons why purchasing points might make sense:
To keep your points from expiring.
To complete a redemption when you're short on points.
---
Redeeming Marriott Bonvoy Points
Besides hotel stays, Marriott points can be used for travel, gift cards, and more. Points are transferrable to over 40 loyalty programs and are extremely flexible.
Here's all of the way thats you can redeem your points:
Hotel StaysTransfer PartnersTravel PackagesMomentsOther Options
All Marriott Bonvoy members will receive their fifth night free when booking an award stay of four nights – be sure to refer to Marriott's award chart to seek out how many you'll need to utilize for an award stay at a Marriott property.
| | | | |
| --- | --- | --- | --- |
| Hotel Category | Off Peak | Standard | Peak |
| 1 | 5,000 | 7,500 | 10,000 |
| 2 | 10,000 | 12,500 | 15,000 |
| 3 | 15,000 | 17,500 | 20,000 |
| 4 | 20,000 | 25,000 | 30,000 |
| 5 | 30,000 | 35,000 | 40,000 |
| 6 | 40,000 | 50,000 | 60,000 |
| 7 | 50,000 | 60,000 | 70,000 |
| 8 | 70,000 | 85,000 | 100,000 |
In the case that you do not have enough points to redeem, you are able pay Cash + Points or by using the Points Advance feature. Cash + Points allows you pay for the stay via both cash & points. Click here to view the Cash + Points chart.
Points Advance enables you to book an award stay if you do not have enough points at the time being – with that said, you must earn the remainder of the points at least 14 days before you check in. This may be a viable option if you're planning to travel at peak times of the year (New Year's, spring break, etc.).
In comparison to other hotel loyalty programs, Marriott Bonvoy has (by far) the most airline transfer partners:
Marriott Bonvoy Airline Partner Programs
The majority have transfer rates of three Marriott points for one airline mile. So 6,000 Marriott points will get you 2,000 miles.
Transfers must be in 3,000-point increments, and you can move up to 240,000 points at a time. Plus, you'll get 5,000 bonus miles for every 60,000 Marriott points. So for the best value, you'll want to transfer your points in increments of 60,000.
You're able to also transfer your Marriott points to Chase Ultimate Rewards®, American Express Membership Rewards® and Diners Club® International.
You're able to book hotel + air packages using your Marriott points.
| | | |
| --- | --- | --- |
| Hotel Category | 7 Nights + 50,000 Miles | 7 Nights + 100,000 Miles |
| 1-4 | 255,000 | 330,000 |
| 5 | 315,000 | 390,000 |
| 6 | 435,000 | 510,000 |
| 7 | 495,000 | 570,000 |
| 8 | 675,000 | 750,000 |
The miles you receive as part of your award travel package can be used towards any participating airline of your choosing. With that being said, it's ideal to choose United Airlines as you'll receive 10% more miles (more info on this later).
Unfortunately, there's no way to book award travel packages online. You'll have to call Marriott if you want to redeem your points this way.
You can use your Marriott Bonvoy Moments and redeem them for premium sporting event tickets, celebrity meet-and-greets, and more. Some experiences include:
Dinner at iconic Michelin-starred restaurant Per Se and a tour of its kitchen
Walking the red carpet at the premier of IT CHAPTER TWO
A private swimming Masterclass with Olympic gold medalist Stephanie Rice
Access to the Chicago Cubs Luxury Suite at Wrigley Field
Now some events have a fixed-amount of points you'll have to redeem whereas otheres are up for auction.
Due to these experiences being exclusive to Marriott Bonvoy members, there is no cash value so there's no way to assume its value for redemption.
It's not recommended that you use your Marriott points for the redemption options below as it will grant you way less than $0.01 value for each point.
| | |
| --- | --- |
| Redemption | Value Per Point |
| Hotel Credit (Room Bill) | $0.004 |
| TSA Precheck* | $0.0034 |
| Airfare via Marriott | $0.0034 – $0.004 |
| Car Rental via Marriott | $0.0034 – $0.004 |
| Gift Cards & Merchandise | $0.0025 – $0.003 |
| Chariable Donations | $0.002 – $0.004 |
*If you have the Marriott Bonvoy Brilliant card, your TSA PreCheck or Global Entry application fee is already covered.
---
Marriott Bonvoy Tips & Tricks
So now that we've gone over how to earn and redeem your points, let's go over some extra pointers that will maximize your rewards.
PointsaversEarn Points on Up to 3 RoomsRoom PreferencesPrice GuaranteeRewardsPlusPlatinum Elite Challenge
| | | |
| --- | --- | --- |
| Hotel Category | Normal Rate (Points Needed) | Pointsavers (Points Needed) |
| 1 | 7,500 | 6,000 |
| 2 | 12,500 | 11,000 |
| 3 | 17,500 | 16,000 |
| 4 | 25,000 | 22,500 |
| 5 | 35,000 | 32,500 |
| 6 | 50,000 | 45,000 |
| 7 | 60,000 | 55,000 |
| 8 | 85,000 | 80,000 |
Being a Marriott Bonvoy member, you're able to earn points on a maximum of three rooms at the same time (but the rooms must be paid for by you to qualify). Keep in mind that other hotel loyalty programs may require you to physically stay in the room to earn the points.
For business owners who pay for their employee's room stays for conferences, events, business meetings, etc, this is a great, valuble way to rake in points.
Note: You're only able to earn elite qualifying nights for one room at a time and must stay in the room for it to qualify.
Whether you prefer a non-smoking room or one with extra pillows each time you check in, you can simply log into your Marriott Bonvoy account and set your room preference(s).
That way, the hotel will make adjustments per your requests before you arrive. After a long day of travel, you'll want a fast check-in to relax in your ideal room.
The available preferences include:
Accessibility
Preferred bed type
Preferred pillow type
Smoking preference
Floor location
Mini-fridge
Extra towels
Extra pillows
These preferences aren't guaranteed, but the hotel staff will try their best to accommodate your needs/requests.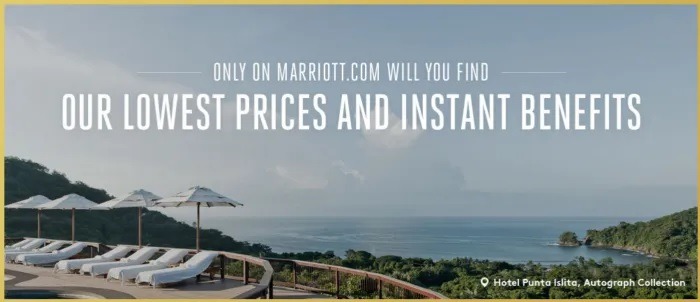 Marriott's Look No Further feature is a best rate guarantee perk – you're able to get 25% off rate you find on a third-party website that's lower or a 5,000-point bonus.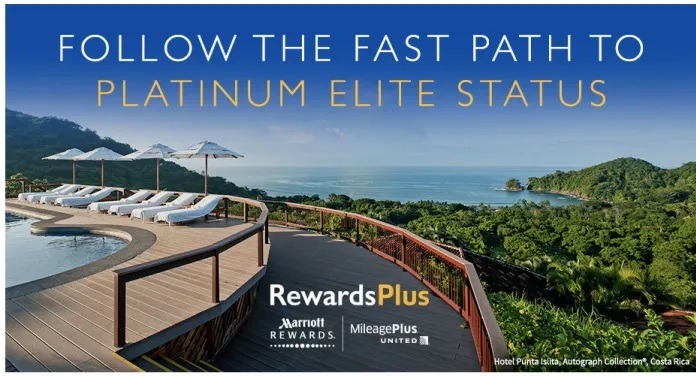 Marriott Bonvoy and United MileagePlus have partnered to offer you bigger & improved rewards with the RewardsPlus program. Marriott Bonvoy Titanium & Ambassador members are able to enroll to enjoy complimentary United MileagePlus Premier Silver status. As for United MileagePlus Gold members (or greater), these members will receive complimentary Marriott Bonvoy Gold status.
Points/miles perks include:
Get 10% more miles when you convert Marriott points to MileagePlus miles
Receive 10% more miles when you redeem Marriott points for exclusive RewardsPlus Travel packages
Convert MileagePlus miles to Marriott points at a 1:1 ratio (the only airline that can convert miles to Marriott points)
Additional RewardsPlus features include:
Complimentary access to Economy Plus at check-in for you and a companion (when available)
Complimentary Premier upgrade confirmation as early as day of departure (when available)
1 complimentary checked bag (up to 70 lbs or 32 kg)
Premier Access priority airport services (where available)
7 award miles for every $1 you spend on United flights
From time to time, Marriott's Platinum Elite Status Challenge allows you earn Platinum Status if you stay at Marriott properties for 16 nights within a 60- or 90-day window.
---
---
Bottom Line
Even though Marriott Bonvoy points don't hold as high of a point value compared to other loyalty programs, the benefits make the program worth it. Not only does the company have a plethora or properties to stay at, there is a high earning potential, and various airline partners to transfer to.
For more luxury brands, check out Everything You Need To Know About American Express Fine Hotels & Resorts. 
Bank Offers You May Like


See our best bank bonuses updated daily to earn up to $1,000 in free money. Find popular checking offers such as Chase Bank, U.S. Bank, TD Bank, Huntington Bank, Axos Bank, Discover Bank, and BMO Bank. See our best rates for Savings and CD.

FEATURED BANK PROMOTIONS


PROMOTIONAL LINK
OFFER
REVIEW
Chase Business Complete Checking®
$300 Cash

Review

Chase Total Checking®
$200 Cash

Review

BMO Relationship Checking
$600 Cash

Review

BMO Smart Advantage Checking
$400 Cash

Review

BMO Smart Money Checking
$400 Cash

Review

U.S. Bank Smartly® Checking
$1,000 Cash

Review

U.S. Bank Business Checking
$800 Cash

Review

U.S. Bank Business Checking
$350 Cash

Review

Citi Priority Account
Up to $2,000 Cash Bonus
with required activities.

Review

Citigold® Checking Account
Up to $2,000 Cash Bonus
with required activities.

Review

Discover Online Savings Account
Up to $200 Cash

Review

Chase Private Client
$3,000 Cash

Review

J.P. Morgan Self-Directed Investing
Up to $700 Cash

Review

Chase College CheckingSM
$100 Cash

Review

Chase Secure BankingSM
$100 Cash

Review

SoFi Checking and Savings Account
$275 Cash

Review

Huntington Bank Unlimited Plus Business Checking
$1,000 Cash

Review

Huntington Bank Unlimited Business Checking
$400 Cash

Review

Huntington Bank Business Checking 100
$100 Cash

Review

TD Bank Beyond Checking
$300 Cash

Review

TD Bank Convenience CheckingSM
$200 Cash

Review

First National Bank Checking
$350 Cash

Review

PSECU Checking
$300 Cash

Review

Axos Bank Rewards Checking
$300 Cash

Review

Axos Bank Basic Business Checking
$200 Cash

Review

Axos Bank Business Interest Checking
$200 Cash

Review

Business Premium Savings
$300 Cash

Review

TradeStation
$150 Cash

Review

Blue Federal Credit Union 15-Month CD
5.25% APY

Review

Western Alliance Bank High Yield Savings
5.25% APY

Review

CIT Bank Platinum Savings
5.05% APY

Review

Blue Federal Credit Union 9-Month No Penalty CD
5.10% APY

Review