Want to earn $250 bonus with BBVA Compass? Set up a savings plan with an automatic transfer from your BBVA Compass consumer checking account to your Build My Savings account to get up to $250 each year. You get to choose your starting balance, how much, how often, and when to transfer each month, and the length of your plan to get the maximum match of $250 bonus. Find out how much you can earn with BBVA Compass interactive calculator.
Availability: For residents of Alabama, Arizona, California, Colorado, Florida, New Mexico, and Texas.

Whether you want to save for a vacation, furniture, a down payment on a car or home, or even a rainy day fund, you will fee great about reaching your goal. With the Build My Savings account from BBVA Compass, see how quickly your savings can add up with automatic transfers and a Match Bonus of up to $250 per year.
But first, you will need a Checking account. I recommend the Galaxy Tab 3 Checking account promotion or $100 NBA gift card promotion to double dip on this bonus. Make sure to follow all the terms and conditions for the respective bonus.
How do I set up my Build My Savings account?
Establish a monthly, reoccurring automatic transfer of at least $25 from your BBVA Compass checking account to your Build My Savings account.
Determine how long you want your plan to last (6, 12, 18, 24, 30, or 36 months).
Here's an example of a maximum bonus of $250 bonus setting for 1 year term.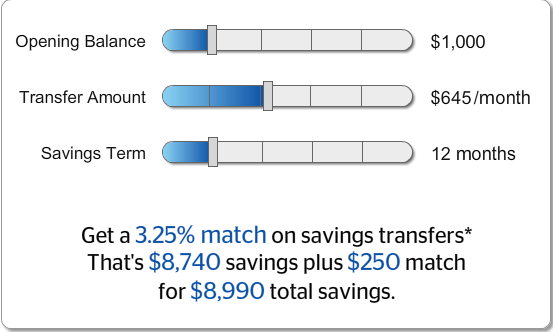 You can actually set up a 36 months term for a total of $750 bonus! You will receive your Match Bonus within 30 calendar days following the end of each 12-month period of your savings plan. Sign up for a Build My Savings Account today to receive up to $250 bonus per year. If you don't qualify, check out our complete list of bank bonuses nationwide!
Hot Deal of the Day: Republic Wireless $19/month Unlimited Data, Talk & Text is one of the best cell phone plans available online. With just $19 per month for no contract cell phones along with unlimited data, talk & text included in all plans.
Chase IHG® Rewards Club Select Credit Card offers 70,000 bonus points after you spend $1,000 in the first 3 months of account opening. One of the best hotel credit cards, you get a free night certificate that can be used at any IHG hotel every year. Award nights at IHG hotels range from 10,000 points up to 50,000 per night. Therefore, your 70,000 points can get up to 7 free nights at lower tier hotels such as the Holiday Inn and Holiday Inn Express. As a cardholder, you'll earn 5 points per $1 spent when you stay at IHG hotels, 2 points per $1 spent on purchases at gas stations, grocery stores, and restaurants, and 1 point per $1 spent on all other purchases. Enjoy all the amazing perks with a $0 introductory annual fee the first year, then $49 afterwards. Apply Now---

Chase IHG Rewards Club Card Review