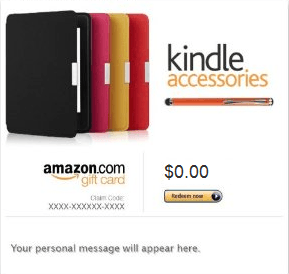 Amazon Kindle promotion is offering up to $100 bonus when you buy $500 Amazon gift cards or more, that's 20% back towards qualifying Amazon Kindle accessories! The Amazon.com Kindle Accessories Gift Cards can be use for any items on Amazon.com, valid until March 14, 2013. It stated clearly on the offer page that you can use them on "Kindle Accessories as well as millions of other items on Amazon.com".
Hustler's Tip: Use one of the Chase Credit Cards to trigger the bonus requirement for purchases. E.G. Chase Ink Bold® Business Card 50K points bonus.
Amazon Gift Cards Accessories Promotion:
Buy $50-$99.99, get back $10 via promo code
Buy $100-$499.99, get back $20 via promo code
Buy $500 or more, get back $100 via promo code
$100 Amazon.com Kindle Accessories Gift Card Bonus:
It's the same as getting $100 in free cash for those who shop on Amazon.com since you can buy almost anything and everything with your purchase of $500 gift cards. I would purchase the maximum of $500 and they will email you the $100 gift card bonus promo code on or before April 1, 2013.
Amazon.com Kindle Accessories Gift Cards:
Amazon.com Kindle Accessories Gift Cards can be redeemable storewide and they will never expire. The $500 Amazon.com Kindle Accessories Gift Cards can be used toward any Amazon.com purchases, however the $100 bonus reward is only good for Kindle Accessories on Amazon.com. You'll get a promotional code promotional code of $10, $20, or $100 will be sent to the email address associated with your Amazon account. There is a limit of 1 code per customer/primary email address.
Make sure to purchase your gift card by March 14, 2013 to receive up to $100 in free Kindle Accessories that can be used storewide on Amazon.com. The promo code will be sent by 4/1/13 to your primary email address. The promo code is only good toward qualifying Amazon Kindle accessories that are sold directly by Amazon. I would buy the exact amount of $50, $100, or $500 in gift cards to get the maximum 20% return in free Kindle gear for the Amazon Kindle Promotion. Find more ways to Make Free Money on our monthly making money tips!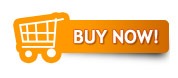 Hot Deal of the Day: Sharebuilder offers a $100 bonus to join with promo code 100LSQ4 when you deposit $5K or more. Select from over 7,000 stocks and ETFs.