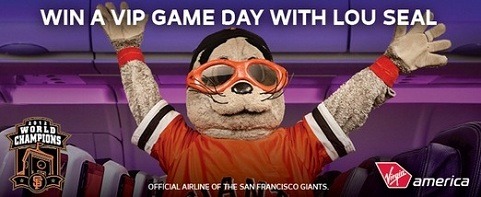 Get 15% Off Virgin America Flights if you fly anywhere in the U.S. between September 16th and November 14, 2013. You must book your ticket by August 14, 2013. By signing up, you'll be entering a sweepstakes for 2 tickets to see the San Francisco Giants including roundtrip flights for 2, a 2-night hotel stay, your name on the scoreboard, and 10,000 Elevate reward points. You must enter the sweepstakes in order to get the 15% off code.
Want to get a Free Flight? Gold Delta SkyMiles® Credit Card from American Express is offering new members 30,000 bonus miles after $500 in purchases within the first 3 months of the card. The 30,000 miles is more than enough for a full round-trip flight ticket in the continental U.S.
Get 15% Off Virgina America Flights:
Enter Sweepstakes and Book by August 14, 2013
One time use promo code is valid for non-refundable Main Cabin tickets only.
Travel must occur between September 16, 2013 and November 14, 2013.
Also, the discount is not valid for travel on Fridays and Sundays with additional blackout dates on October 11, October 14, November 8, and November 11, 2013.
The promo code may only be used for bookings made on virginamerica.com and is only valid on itineraries of up to 2 guests. Just enter the Virgin America Giants Sweepstakes before they give away the prize for the game on August 10th. There is absolutely no cost in doing so, but I would use a Spam Mail for these type of promotions.

Hot Deal of the Day: Betterment offers a $25 bonus for opening an account with a $250 deposit. A set-and-forget investment service that takes care of important details automatically.