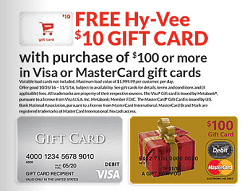 Love gift cards? Hy-Vee has a promotion going on right now with Visa where if  you purchase a $100 Visa or MasterCard Gift Card, you will receive a free $10 gift card from Hy-Vee. Be sure to go to page 12 when you click the Hy-Vee gift card link. This promotion is taking place in the following states: Iowa, Illinois, Kansas, Minnesota, Missouri, Nebraska, South Dakota and Wisconsin. This offer is valid from October 26th to November 1st, so be sure to take advantage of it if you want to get some free gift cards for the holiday season!
Free $10 Hy-Vee Gift Card Info:
Promotion: $10 Gift Card from Hy-Vee when you pruchase $100 Visa/MasterCard Gift Card
Expiration Date: October 26th through November 1st
Requirements: Must purchase $100 value in Visa or MasterCard Gift Cards
Terms and Conditions: Offer is only valid in Midwest states and only valid from October 26th through November 1st, variable load cards not included
Earn $10 Hy-Vee Gift Card Promotion:
You must purchase at least $100 in Visa or MasterCard gift cards
You will receive the $10 gift card once you purchase the gift cards
Bottom Line:
This is a good promotion to use if you planned on purchasing a Visa or MasterCard gift card with values over $100. You can purchase multiple $100 Visa/MasterCard gift cards therefore getting a $10 Hy-Vee gift card each time. Be sure to take advantage of this promotion while it lasts from 10/26/16 to 11/1/16! For more ways to Save Money, check out our full list!