There are a plethora of business credit cards out there, however the Chase Ink Cash Business offers some of the best rewards with signup bonus, no annual fee, and a superb rewards program. Here's why we think this is the card for your business:
2014 Chase Ink Cash Business Review
Ink Cash® Business Card offers $200 cash back after you spend $3,000 in the first 3 months from account opening – one of the largest amounts ever offered for a business credit card. You receive 5% cash back on the first $25,000 spent annually at office supply stores, and on cellular phone, landline, internet, and cable TV services. The card also gives 2% cash rebate on the first $25,000 spent annually on gas and dining expenses, and 1% rebate on all other things. There is a 0% introductory APR for 6 months on purchases and balance transfers. I personally prefer Ink Cash to the other Ink cards because you get cash back, generous cash rebates, and no annual fee for a business card!
You may not know this, but if you ever sell something on eBay, Craigslist, or do any freelance work, your business is called sole proprietorship. Simply use your name as business ID and Social Security number as tax ID on your application to apply.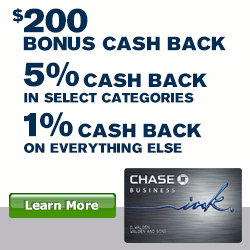 Whether you are a small business owner or sole proprietors, you'll need a business credit card that rewards you on purchases geared towards business expenses and keep track of your spending. The Ink Cash Business Card offers online business tools to allow easy managing of accounts, set spending limits on employee cards as well as track expenses and identify potential tax deductions. Rewards are earned as points and 1 point equals 1% or $0.01 cash back. So if you have 5,000 points, they can be redeemed for a $50 check. Some of our favorite features of the Ink Cash Business Card:
No Annual Fee- Unlike most business credit cards, it doesn't come with an annual fee! You can sock it away and not have to worry about a single thing!
$200 Cash Back Bonus- Right off the bat, Ink Cash Business gives you $200 cash back when you spend $3,000 within the first three months.
5% Cash Back Categories- You get 5 percent cash back on the first $25,000 spent annually at office supply stores and on cellular phone, Internet, landline, and cable TV services. Not to mention the 2% on gas and dining expenses up to $25K purchases. For everything else, you'll earn 1% cash back on all purchases. No limit to the amount of cash back  you can earn. Whatever you spend on, you're sure to get rewarded just for using your card.
Business Features and Protection- Get free monthly statements and quarterly management reports. Your expenses are itemized and categorized to make it easier for you to track your business' spending. Card holders receive zero liability protection. For any unauthorized purchases made with your Ink business card, you are not responsible to pay a single cent.
Travel Benefits and Perks- Enjoy travel accident insurance, auto rental insurance, roadside dispatch, baggage delay refund, 24/7 real-person customer service, purchase protection, extended warranty, fraud early warning service, etc.
The $200 cash back bonus is only one of the great incentives offered that sets this card apart from the rest. It gives you 5% cash back on office supplies, cable services, and telecom services on the first $25,000 dollars spent annually. This card has no annual fee and offers a 6 months 0% introductory APR on purchases and balance transfers! With such generous cash back options along with travel and shopping benefits, it is one of the best business credit cards around. Not only can the money you earn off the credit card rewards help keep your business in the black, but it can also make itemizing your purchases a breeze. Do yourself and business a favor and get your Ink Cash® Business Card today! Find all your credit card bonuses at our amazing list!


Disclaimer: This content is not provided or commissioned by the credit card issuer. Opinions expressed here are author's alone, not those of the credit card issuer, and have not been reviewed, approved or otherwise endorsed by the credit card issuer. This site may be compensated through the credit card issuer Affiliate Program.
{ 2 comments }