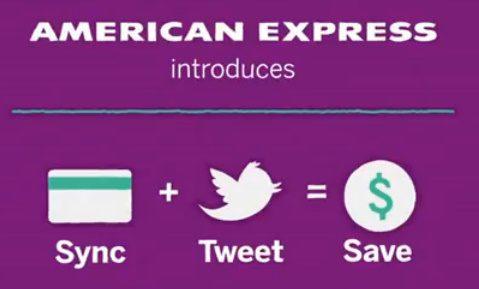 Sync your American Express card with your Twitter account receive a one-time $25 statement credit when you make a single purchase of $250 or more from Best Buy. Receive a one-time $25 statement credit when you make a single purchase of $250 or more at Best Buy. Make sure to Tweet #AmexBestBuy. Offer is good until 12/31/2013
$25 Off $250 At Best Buy With AMEX Twitter Sync
You must have an American Express Card that is synced with Twitter (see sync.americanexpress.com/twitter for more details on how to sync your Card);
You must tweet using #AmexBestBuy;
You must receive a response message from @AmexSync stating that this offer has been added to your synced Card; AND
You must use your synced Card to spend a total of $250 or more at Best Buy by 12/31/13.
Don't know what to buy at Best? I suggest just buying a $250 Amazon Kindle gift card from a physical Best Buy store's gift card section. We all shop online at Amazon and the Kindle gift card code is good for any purchase at Amazon.com. Hence, it won't change your spending habits.
Make sure to spend $250 in one purchase online or in-store by 12/31/13 in order to receive $25 back by via statement credit. You could also register by logging in on americanexpress.com, on Foursquare, or on the AMEX app. Don't know which card is synced or not? You can unsync and resync cards here.
Hot Deal of the Day: Personal Capital offers $10 Bonus with a new account. They help you with your finances to develop long term goals and investment plans.