Chase Freedom UnlimitedSM offers $150 signup bonus after you spend $500 on purchases within the first three months. If you add an authorized user and make your first purchase within the first three months, you'll earn an additional $25 bonus. The Chase Freedom UnlimitedSM lets you earn an unlimited 1.5 percent cash back on all purchases which you can redeem your cash back rewards at any time and for any amount. The card works best for cardholders who enjoy earning Ultimate Rewards® points with the Chase Sapphire Preferred® in order to convert UR points for better redemption options such as Hyatt or United. Best of all, the card has no annual fee! Apply Now---

Freedom Unlimited Review
For those with a Chase Freedom Card($200 Bonus), you will get 5% cash back on up to $1,500 spent between October 1 and December 31, 2010 for the following categories:
Grocery Stores, Department Stores, Movies
Make sure to sign up here for those already with a Chase Freedom Card
https://www.yourchasefreedom.com/index.aspx
Terms & Conditions
You will earn 4% bonus rewards in addition to your 1% base earn (total 5%) plus any other rewards you earn in your program. To be eligible for this bonus offer, you must sign up by 12/14/10. If you are earning your rewards as points and you choose to redeem for cash back, 1 point equals 1% or $0.01 cash back. For example, 2,000 points can be redeemed for a $20 check. This bonus offer only applies to net purchases made with your credit card during the promotional period at merchants that classify their merchant location for Visa/Mastercard in any of the following categories: grocery and specialty food stores, department stores, movie theaters, video rental stores. Purchases not eligible to receive bonus rewards include, but are not limited to, purchases made at superstores, warehouse clubs, discount stores, and their affiliates. Online and catalog purchases are not eligible to receive the bonus rewards unless the merchants have correctly identified and billed the transactions. We do not determine whether merchants correctly identify transactions as being made in each category. However, we do reserve the right to determine which purchases qualify for the bonus rewards. Please allow 6 to 8 weeks after the last day of the promotional period for bonus rewards to post to your account. Maximum bonus reward accumulation during the promotional period is 6,000 bonus rewards, which equates to $1,500 in net purchases. Credit card product changes during the promotional period will forfeit this bonus offer. To qualify for this promotional offer, account must be open and not in default at the time of fulfillment. This promotional offer is non-transferable.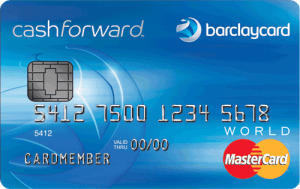 Barclaycard CashForwardTM World Mastercard® offers $200 cash rewards bonus after you spend $1,000 in purchases in the first 90 days after account opening. In addition to the $200 bonus, you earn unlimited 1.5% cash rewards on every purchase. Every time you redeem, you get a 5% cash rewards bonus to use toward your next redemption into your bank account, a statement credit or gift cards. You'll also get 0% intro APR for the first 15 months on balance transfers made within 45 days of account opening. Plus you'll enjoy a 0% introductory APR for the first 15 months on purchases. Your card comes with $0 fraud liability protection, chip card technology, and free online access to FICO® Credit Score. With all of these great card features, there is no annual fee! Apply Now---

Barclaycard CashForward Review