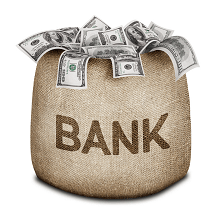 Did you know you can Fund Your Bank Account with a Credit Card? When you visit HustlerMoneyBlog you get exposed to hundreds of different bank bonuses that allow you to fund your bank account with a credit card. By learning on which bank lets you fund your account with a credit card as a purchase, you can earn cash back and meet credit card spending requirements. We want to help our readers make the most out of these offers without draining their bank accounts, so we've put together a list of banks that will allow you to use a credit card for your opening deposit. With the right card and the right bank, your initial funding may be recorded as a sale or purchase that will not count as a cash advance.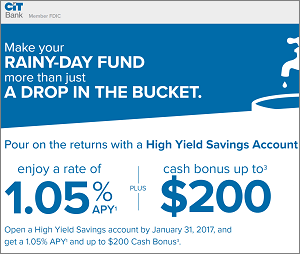 CIT Bank – Earn up to $200 Cash Bonus when you open a new High Yield Savings Account at CIT Bank by January 31, 2017. To earn a $95 bonus, you must make an initial deposit of $25,000 or more and maintain an average monthly balance of $25,000 for 3 monthly statement cycles. Deposit $100,000 and maintain that for 3 monthly statement cycles and you'll receive a $200 bonus. Best of all, you'll enjoy a rate of 1.05% APY! Apply Now---

CIT Bank Review
Discover Bank Online Savings Account: Earn $100 Bonus along with high interest rate of 0.95% APY! You must apply through HustlerMoneyBlog.com with promo code HMB1016 by 01/31/2017 and make a minimum deposit of $15,000 by 02/15/2017. FDIC-insured, no minimum balance or monthly maintenance fees. Apply Now---

Discover Bank Review

Santander® Simply Right® Checking
Offers $150 bonus for new checking account customers that open a Simply Right® Checking account, make a direct deposit of $500, and keep the account open for at least 90 days! This offer is only available until January 31, 2017! Coupon offer only. Santander Bank, N.A. Member FDIC.
Get Started

The table below separates different credit card funding methods into purchases and cash advances. You want to avoid the cash advances because these transactions will usually come with fees that will diminish your earnings. Avoid cash advance fees by setting your credit card cash advance limit to $0. Just call up your bank and request your cash advance limit be set to $0.
Disclaimer: HustlerMoneyBlog cannot guarantee that these funding methods will be successful for everyone. It is always a good idea to double check and call or email each bank to verify the information. YMMV with the information below.
Bank or Credit Union

Credit Card Funding (Purchase)

Credit Card Funding (Cash Advance)

Notes

Review

1st Mariner Bank
PenFed Platinum Visa 1, Schwab 1
Bank of America 1, Barclaycard Arrival, Chase Rapid Rewards, Citi AA
Fund account up to $2500. (no Amex card)

Review

Amalgamated Bank
Citi Double Cash, Chase Sapphire Preferred
None
Available online nationwide.
Visa and MasterCard only.

Review

America's Credit Union
None 1
None 1
This credit union does not accept online credit card funding.

Review

Arizona State Credit Union
Unknown 1
Unknown 1
You can fund your account with up to $2500 from a credit card.

Review

Associated Bank
Barclay Arrival 1, Chase Freedom 1, Citi Double Cash 1
You can fund a new account with up to $200 from a credit card, AMEX is not accepted.

Review

Bank of America
None
None
Does not allow credit card funding

Review

BBVA Compass
Chase Sapphire Preferred 1
BofA Alaska, Barclay Priceline and Chase Hyatt cards showing as cash advance. 1
You can fund a new account with up to $5000 with a CSP card. YMMV.

Review

Blue Hills Bank
Barclay Arrival 1, Barclay Miles & More 1
You can fund a new account with up to $1000 from a credit card.

Review

BMO Harris Bank
None 1
None 1
Does not allow credit card funding

Review

Capital One 360
None
None
Does not allow credit card funding

Review

Chartway Federal Credit Union
BoA Alaska Airways 1, Chase Freedom 1, US Bank Club Carlson 1
You can fund a new account with up to $1500 from a credit card.

Review

Citibank
Bank of America 1, Barclay AA 1, Barclay Arrival 1, Barclay Aviator 1, Barclay US Airways 1, 2, Citi AA Select 1, Citi Executive 1
Barclay Priceline 1, Capital One Spark 1, Chase 1, Citi Hilton 1, Citi Platinum Select 1, Citi Premier 1,
Dead as of 2/9/2016

Review

Citizens Bank
BoA Alaska Airways 1, BoA Travel Rewards 1, Chase Freedom 1
Citizens Bank allows credit card funding up to $1,000.

Review

Consumers Credit Union (Ridgewood)
Chase Freedom 1, Chase Hyatt 1, Citi Double Cash 1, Schwab Visa 1
Citi AAdvantage 1
You can fund a new account with up to $1000 from a Visa, MasterCard, or AMEX

Review

Elevations Credit Union
Chase Sapphire Preferred 1
You can fund a new account with up to $10000.

Review

First Citizen's Bank
Barclay Sallie Mae 1, Chase Sapphire Preferred 1
You can fund a new account with up to $1000.

Review

FirstMerit Bank
Chase Sapphire Preferred 1
You can fund a new account with up to $10000.

Review

First Midwest Bank
Non AMEX Card 1
You can fund your credit card up to $2500 as long as it's not an Amex card.

Review

First Niagara Bank
Barclay Arrival 1, Capital One MasterCard1, Capital One Venture 1, 2, Chase Freedom 1, 2, Chase Sapphire Preferred 1, Chase Southwest 1, US Bank 1
All Citi Cards 1, Discover 1, 2
You can fund a new account with up to $1000. AMEX is not accepted.

Review

First Tennessee Bank
Chase Ink Plus 1, Chase Sapphire Preferred 1, Citi Double Cash 1
You can fund a new account with up to $300.

Review

GTE Financial
Chase 1, 2
You can fund a new account with up to $215.

Review

Key Bank
Chase Freedom 1, 2, 3, Chase Sapphire Preferred 1, Citi Premier 1
You can fund a new account with up to $100.

Review

MountainOne Bank
Discover 1
Chase 1
You can fund a new account with up to $1000.

Review

NASA Federal Credit Union
None 1
You can fund up to $500 with a credit card

Review

Ocean First Bank
Chase 1
You can fund a new account with up to $2500.

Review

Pinnacle Bank
Capital One Spark 1, Chase Hyatt 1, Chase Ink Bold 1, Chase Ritz Carlton 1, Chase Sapphire Preferred 1, Chase United 1, Citi Double Cash 1, Citi Premier 1, Fidelity 1
You can fund a new account with up to $5000.

Review

PNC
BoA Alaska Airlines 1, BoA Cash Rewards 1, Chase Freedom 1, Chase Ink Plus 1, Chase Sapphire Preferred 1, Chase Southwest 1, Chase United 1, Citi Premier 1
Barclay Arrival & Barclay US Airways 1, Capital One 1
Allowed to fund up to $2,000 with a Visa or Mastercard credit card. Chase cards might start off as a cash advance and then revert to a purchase.

Review

Radius Bank
Citi Double Cash 1, Barclay Wyndham 1, Priceline 1
You can fund a new account with up to $1000.

Review

Regions Bank
Chase Marriott 1, Chase Southwest 1, Citi Double Cash 1
You can fund a new account with up to $1000.

Review

Santander Bank
Barclays NFL 1, Chase Freedom 1, Chase Sapphire Preferred1, Chase United 1
Citi MasterCard 1, Citi Prestige 1, Discover 1
Allowed to fund it up to $500 with a Visa or Mastercard.

Review

Star One Credit Union
Citi Premier, Chase BA Avios
Fund account up to $1,000

Review

SunTrust Bank
Priceline Visa 1, Citi 1
Barclay US Airways 1
You can fund a new account with up to $1000.

Review

U.S. Bank
BoA Alaska Airlines 1, BoA Virgin Atlantic 1, Barclay Arrival 1, Barclay Aviator 1, Capital One Quicksilver 1, 2, Capital One Venture 1, Chase Brit Airways 1, Chase Freedom 1, Chase Hilton 1, Chase United 1, Chase Southwest 1, Citi HHonors Reserve 1, Citi Prestige 1, Discover 1
You can fund your account with up to $500 on a credit card.

Review

Wells Fargo
BoA Alaska Airlines 1, Chase Ink 1, Chase Sapphire 1
All Citi Cards 1, 2, Discover 1
You can only use a Visa or Mastercard to fund the account with up to $50

Review
Banks With No Credit Card Funding:
ACNB Bank
Apple Bank
Astoria Bank
Avidia Bank
Bank Direct
Charles Schwab Checking
Clearview Federal Credit Union
Columbia Bank
Dollar Bank
ESL Federal Credit Union
Fifth Third (5/3rd)
First Trade Union Bank (FTUB)
Five Star Bank
Freedom Credit Union
Freedom Federal Credit Union
Fremont Bank
Greater Nevada Credit Union
HomeStreet Bank
HSBC
Huntington Bank
IBERIABANK
Ideal Credit Union
Johnson Bank
JSC Federal Credit Union
MB Financial Bank
Mango Bank
M&T Bank
Nationwide Bank
Northpointe Bank
NorthShore Credit Union
Nutmeng State Financial Credit Union
Pacific Service Credit Union
PeoplesBank
Peoples Bank
Popular Bank
Salem Five Bank
Talmer Bank & Trust
TDECU
Union Plus Prepaid
Webster Bank
Whitney Bank
Valley National Bank
Chase Sapphire Preferred® Card offers the chance to earn 50,000 bonus points after you spend $4,000 on purchases in the first 3 months from account opening. That's $625 toward travel when you redeem through Chase Ultimate Rewards®. You can earn an additional 5,000 bonus points after you add the first authorized user and make a purchase in the first 3 months from account opening. Earn 2X points on travel and dining at restaurants & 1 point per dollar spent on all other purchases worldwide. Your points go far since you get 20% off travel when redeemed thru Ultimate Rewards. All Chase Sapphire Preferred cardholders enjoy travel benefits and a direct access to a live adviser 24 hours a day. No foreign transaction fees, plus Chip and Signature enabled for international travel. There is an introductory annual fee of $0 the first year, then $95. Apply Now---

Chase Sapphire Preferred Review