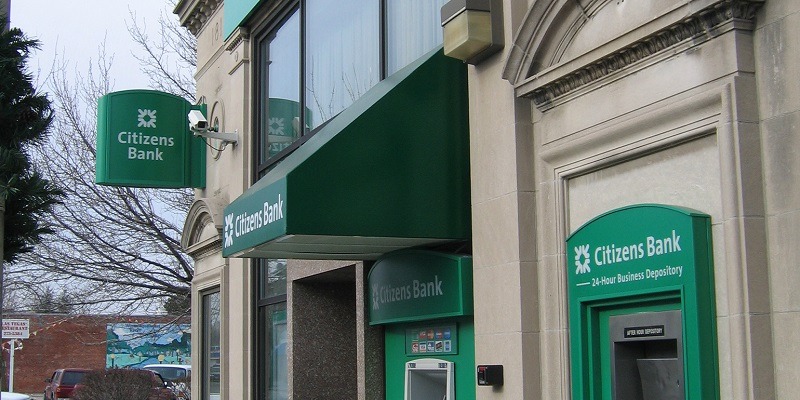 When opening a checking or savings account, what are the features and benefits that you expect the most? While you won't find the best interest rates, you'll experience terrific customer service and get a wide variety of benefits when opening an account. To find out if Citizens Bank is right for you, continue reading this review below.
Citizens Bank is the 13th largest bank in the United States, and is also one of the oldest. It has a huge variety in product offerings and tools to help you become financially adept. Citizens Bank is dedicated to motivating customers to meet their financial goals while making sure to provide secure and trustworthy services.
Checking Account Options
This bank offers a large variety of different checking accounts. They offer ones that have interest, no penalties, and more.
One Deposit CheckingStudent CheckingPlatinum CheckingPlatinum Plus Checking
As the name implies, if you make one deposit every month, you won't have to pay a monthly service fee. However, there is no interest fee associated with this account. You will get a debit card, online/mobile banking, and set up automatic transfers.
If you are under 25, you can open this account with no service fee. Once you turn 25 however, a fee will start to go up every month.
There is no interest on this account, but you get the same benefits as One Deposit Checking.
This account offers you interest and personal financial advice. It also gives you access to preferred products.
To be eligible for this account, you'll need to have a total of $25,000 in any of your deposit accounts combined.
This will also give you higher rates on your savings, CDs, and money market accounts.
If you plan to deposit $5,000 every month or have an average monthly balance of $10,000 each month, you'll be able to earn a high interest rate. You'll still need the $25,000 to get ride of the service fee, but you get access to platinum service rates.
Compare Checking Accounts
Chase Total Checking®HSBC Advance CheckingAsterisk-Free Checking®Chase Premier Plus CheckingSM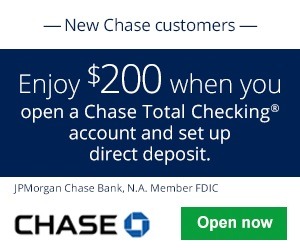 • Enjoy a $200 bonus when you open a new Chase Total Checking® account and set up direct deposit
• Access to 16,000 Chase ATMs and nearly 5,000 branches
• Chase Mobile® app - Manage your accounts, deposit checks, transfer money and more -- all from your device.
• Apply online in minutes
• Open your account online now
• Available online nationwide except in Alaska, Hawaii and Puerto Rico. For branch locations, visit locator.chase.com.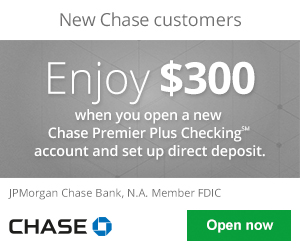 • Enjoy $300 as a new Chase checking customer, when you open a Chase Premier Plus CheckingSM account and set up direct deposit.
• Enjoy $300, more benefits, and earn interest on your new Chase checking account.
• The $25 Monthly Service Fee is waived when you keep an average beginning day balance of $15,000 or more in any combination of this account and linked qualifying Chase checking, savings and other balances.
• No Chase fee on first four non-Chase ATM transactions per statement period.
• Earn interest on your checking account balance.
• Access to 16,000 Chase ATMs and nearly 5,000 branches
• Apply online in minutes. Open your account online now.
• Available online nationwide except in Alaska, Hawaii and Puerto Rico. For branch locations, visit locator.chase.com.


Savings Account Options
Citizens Bank does offer a few selection of savings accounts with some pretty decent benefits. You can access these accounts through their digital banking with variety of ways to waive the monthly fees.
Green SavingsPlatinum SavingsPlatinum Plus SavingsCollege Saver
With this savings account, the first 4 months are free of charge.
After that period, if you have $200 in the account you can continue to waive the free associated with this account.
You'll earn interest and earn a bonus if you use their GoalTrack Savings Program.
This account goes hand in hand with the Platinum Checking.
You can only open this account if you have the checking.
There are no monthly fees or deposit requirements, and you get the platinum interest rate and access all other platinum rates.
Like the Platinum savings account, you must have the Platinum Plus Checking account. You will get the highest tier interest rates and financial advice.
If you have a child and plan to start saving for their education, then this account is perfect for you.
Your child must be below 12 years old, and deposit at least $25 per month for children ages 6 years and younger or $50 for children older than 6 years.
Once your child turns 18, Citizens Bank will deposit a $1,000 bonus.
This account required a minimum $25 opening deposit if your child is 6 years old and younger or $500 if your child is over the age of 6.
This account includes interest and no fees.
Compare Savings Accounts
Discover Online SavingsChase SavingsSMHSBC Direct SavingsUFB High Yield Savings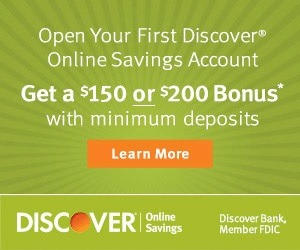 Open a Discover Online Savings Account for all these features:
• Bonus offer applies for your first Discover Online Savings Account
• Earn $200/$150 Bonus with promo code HMB1019 by November 4, 2019
• Fund your first savings account with a minimum of $25K by November 18, 2019 to earn the $200 Bonus
• Fund your first savings account with a minimum of $15K by November 18, 2019 to earn the $150 Bonus
• Earn high interest rate of 1.90% APY
• No minimum opening deposit, no minimum balance requirement, and now no fees
• Interest on Discover Online Savings Accounts is compounded daily and credited monthly
• Manage your account online or with the Discover mobile app
• FDIC insurance up to $250,000




See advertiser website for full details


• Enjoy a $150 bonus when you open a new Chase SavingsSM account, deposit a total of $10,000 or more in new money within 20 business days, and maintain a $10,000 balance for 90 days
• Access to 16,000 Chase ATMs and nearly 5,000 branches
• Link this account to your Chase checking account for Overdraft Protection.
• Chase Mobile® app - Manage your accounts, deposit checks, transfer money and more -- all from your device.
• Apply online in minutes. Open your account online now.
• Available online nationwide except in Alaska, Hawaii and Puerto Rico. For branch locations, visit locator.chase.com.




• The UFB High Yield Savings Account offers up to 2.15% APY with interest compounded daily.
• The minimum deposit to open a UFB Direct High Yield Savings Account is only $100.
• This account features access to all of our free online banking tools, all with no monthly maintenance fees.
• FDIC insured to the maximum allowable limit - certificate number 35546.



Money Market Account Options
Citizens Bank has some pretty incredible Money Market accounts. Many of them are tied to previous checking accounts.
This bank rewards its customers through relationship banking, so be prepared for high interest rates if you make some hefty deposits.
Personal Money MarketPlatinum Money MarketPlatinum Plus Money Market
This account can be opened with any amount, but requires a $2,500 balance to waive the monthly service fee. It offers a fixed interest  rate along with 24/7 access through online/mobile banking.
Platinum Checking Account users benefit from this account with a higher interest rate.
You will receive a high interest rate with no monthly fees. You can also earn a higher rate if you deposit another $25,000 dollars, but it's not needed to open the account.
This is only available to those that have a Platinum Plus Checking Account.
This account offers incredible interest rate. If you deposit another $25,000, you'll be able to receive top interest rates.
This account has no fees.
Compare Money Market Accounts
Discover Money MarketBBVA Money MarketCIT Bank Money MarketHuntington Business Money Market
CD Account Options
Citizens Bank offers some pretty standard CDs. If you are platinum customer, be sure to take advantage of the 36-month CD to get top of the line interest rates.
13-Month Online CD12-Month CD36-Month CD
As the name would imply, this CD can only be bought online. It has no fees and gives a guaranteed rate. You'll need a deposit of $1,000 to open the account.
This CD can be opened over the phone, online, or in person. You'll need a $1,000 deposit to earn a fixed interest rate.
This is a great account for those looking for something more long term. If you are a platinum customer, you'll earn even higher interest rates with this account. There are hefty early withdrawal penalties, so be careful.
Compare CD Accounts
Discover CDCIT Bank CDSynchrony Bank CDBBVA CD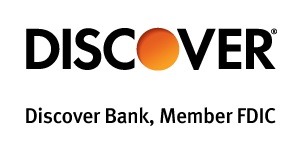 • Available nationwide online, Discover offers CDs with some of the highest & most competitive rates! with select terms as short as 3 months up to 120 months
• Rates ranging from 0.35% APY up to 2.50% APY.
• Opening a Discover Bank Certificate of Deposit is extremely quick and easy.
• Funds on deposit are FDIC-insured up to the maximum allowed by law.
• Start today with a minimum deposit of $2,500!
• Get started and open a Discover CD in 3 easy steps.





• Available online nationwide
• Earn 0.72% APY up to 2.50% APY on a 6-Month up to 5-Year Term CD
• $1,000 minimum to open
• Selection of terms to meet your needs
• A range of choices. Low minimum deposits.
• No fees to open or maintain the account
• Earn 6X the national average
• Available as Custodial
• Open a CIT Bank Certificate of Deposit Account today!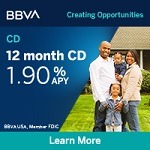 With the BBVA Compass Bank 12-Month and 36-Month CD:
• Earn 1.90% APY on 12-Month or 2.35% APY on 36-Month with just a $500 minimum deposit
• The perfect balance between a great fixed rate and flexible money access.
• Access funds, if needed. No penalty.
• No opening or maintenance fees
• Shorter 11-month timeframe and a great APY
• If you need your funds prior to the maturity date, you can withdraw your money — including any interest earned — beginning seven days after the funds have been received. No penalty. No problem. It's the security of a CD with the flexibility to access your funds early if you need them.


Overdraft Fees
Although Citizens Bank has high overdraft fees that are only limited to seven fees per day, you can offset them with a $5 Overdraft Pass available as a warning. However, you do have to open a One Deposit Checking account in order to acquire this pass.
If not, they will start charging you. Because Citizens Bank doesn't have a high yield savings, they have to compensate for some benefits regarding their checking accounts.
If you already have a Citizen Bank's savings account, you can link it in order to cover your overdrafts. Surprisingly, the fee is actually much lower than what you would regularly pay for overdraft charges.
Reasons To Bank with Citizens Bank
Your One Deposit Checking account includes a $5 Overdraft Pass. If you make an overdraft of $5 or less, Citizens Bank won't charge you for the overdraft.
Utilize Overdraft Coverage by linking an eligible Citizens Bank savings account to cover your checking account overcharge or apply for an Overdraft Line of Credit. The line of credit does have an annual fee and each transfer from savings or your line of credit incurs a transfer fee.
Set up GoalTrack Savings on any savings account at Citizens Bank. This program tracks your savings and keeps you updated on your progress. You can open a savings account for each "goal" you set up, and Citizens Bank will help keep you motivated to meet that goal. In some cases, they even offer bonuses when you reach your goal.
Set up automatic transfers to your savings account with Steady Save. With this, you decide the amount and frequency of the deposits and then Citizens Bank does the rest for you. If you decide you can't afford the savings any longer or you want to change the amount, you can make changes as you see fit.
The Platinum and Platinum Plus Checking accounts charge fewer fees. For example, you won't pay a fee for paper statements, stop payments, or money transfers via money orders or certified checks. You may also open additional Platinum accounts free of charge.
Platinum and Platinum Plus Checking account customers receive free platinum-designed checks.
Citizens Bank has a monthly budget calculator tool on their website. With basic information about your income and expenses, you can have a bird's-eye view of your spending and saving habits.
You can bank on-the-go with the Citizens Bank app. This includes bill pay, transfer funds, pay friends/family with Zelle, see account history, check balances, and remotely deposit checks.
Citizens Bank customer service representatives are available 24/7. This means you can always reach someone when you are having an issue or just have a question.
Even if you have a basic checking account, you can save 1/8th of a point on your mortgage or HELOC with Citizens Bank as a part of their relationship banking.
Reasons Not To Bank with Citizens Bank 
Unless you live on the East Coast or in parts of the Midwest, you won't have access to Citizens Bank's products. They are headquartered in Rhode Island, but have branches throughout Connecticut, Delaware, Massachusetts, Michigan, New Hampshire, New Jersey, Ohio, Pennsylvania, Rhode Island, and Vermont.
The overdraft fees are excessive. Citizens Bank allows up to seven overdraft fees per day. This could amount to as much as $245 per day. If you keep your account in overdraft status for more than 4 days, you will then pay an additional $30 fee for sustained overdrafts.
Citizens Bank doesn't have a high-yield savings account. The interest rates you earn on your savings is minimal compared to other high-yield savings accounts. If you have a significant amount of money to deposit, you may want to consider other options where you could earn more interest.
Citizens Bank Routing Number
The routing number varies from state to state. To find find this routing number, you can simply check the bottom left corner of your checks – check to see if this number differs.
Contact Customer Service
Reach Citizens Bank Customer Service at 1 (800) 922-9999. You can contact customer service 24/7, so don't have to worry about missing their hours.
In addition, You can also email them via Online Banking if you don't want to talk to someone person to person.
How Citizens Bank Compares
Bottom Line
If you prefer a bank that offers exclusive tiered benefits and will help you keep track of your spending, then consider Citizens Bank. You'll be investing time and money into these institutions and will need to make the right choice, so, be sure the bank/credit union will offer you what you need. It's very important to keep in mind the potential fees that may incur and how to avoid them if possible.
If you're interested in banking with Citizens Bank, see our list of the latest Citizens Bank bonuses! For more options from a variety of banks, see our list of the best bank promotions!