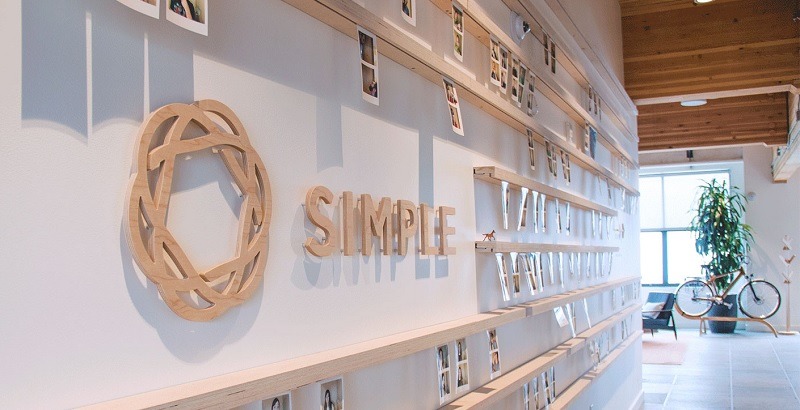 Simple currently has a promotion where you can earn up to a $300 bonus on top of 2.02% annual percentage yield (APY) with qualifying activities. If you're interested, see below on how you can earn this bonus and competitive APY with Simple.
About Banking with Simple
So what is Simple?
Simple is a digital banking platform where customers can bank, budget, and save all in one place. Simple builds features and offers products that help people feel confident with their money.
All in all, Simple's online banking account is merely a streamlined method of keeping your personal finances managed through the convenience of your smartphone. Much like other banks that do not operate via a brick and mortar, you can expect no fees to be charged for banking with Simple.
So where are your funds held? Funds in your Simple account are held by BBVA USA and are FDIC-insured up to the legal limit.
Who can apply? Any one over the age of 18 years of age, a citizen of the United States that has a social security number can apply!
Simple $300 Checking Bonus
Bank, budget & earn up to $300 on top of 2.02% APY when you open a new Individual and Shared Protected Goals Account with qualifying activities.

HOW TO EARN BONUSMONTHLY FEESFINE PRINT
How to earn a $150 bonus for each new Protected Goals Account ($150 for Individual and $150 for Shared):
Open a new Protected Goals Account by 9/30/19 4:59PM PT.
Deposit(s) totaling $10,000 or more must post to the new Protected Goals Account by 10/15/19 4:59PM PT.
Maintain a balance of at least $10,000 in the new Protected Goals Account through 12/31/19 4:59 PM PT.
Qualifying customers will receive the bonus credit to their Protected Goals Account by 1/14/20 4:59 PM PT.
Accounts must be open and in good standing at the time of bonus credit.
Maximum of one (1) $150 bonus per eligible Protected Goals Account. Maximum of $300 in bonuses.
Simple employees are ineligible for this promotion.
BBVA USA may report the value of the bonus to the IRS as required by law. Any client whose tax status would require BBVA USA to impose tax withholding of any sort will not be eligible for this bonus.
Bonus may be modified or withdrawn without notice.
(Expires September 30, 2019)
Simple Banking Features
Not only are Simple online checking account deposits FDIC-insured, you can expect no sort of monthly fee to use the account. In addition, you get access to built-in budgeting & savings tools, quick direct deposit set-up, no overdraft fees, over 40,000 totally-free ATMs, and instant push notifications for every swipe. Sounds great, yes? The benefits don't stop there – here's more
2.02% APY Simple customers earn 2.02% APY on all Protected Goals Account Balances – 30x the national average.
Simple Goals Use Goals to stash away money: Save for the unexpected or automate saving for things you want. From a trip to Italy to a new bike.
Simple Expenses Set it & forget: Set up your Expenses one time and going forward, Simple does the boring work of recreating the Expense for you. That way, when you pay your rent bill, your Expense is already saving up for next month's bill. Yep, it's their job now. (You can even split Expenses with a partner when using a Shared Account).
Safe-to-Spend® Spend spontaneously, without derailing your budget or bills (or doing math on the spot…). Simple takes your account balance, subtracts your Expenses and Goals, and tells you exactly how much money you have leftover to spend on whatever you want. (Buy the shoes!)
Shared Accounts Earn interest with whoever you're interested in: Let your money earn up to 30x the national average APY with a Shared Protected Goals Account. And when it comes to shared bills, two paychecks are better than one! Open a Simple Shared account and tackle them together.
Note: Although the account is free, there may be potential fees if you use an ATM outside of their 40,000 totally-free ATM network. Also, if you use your Simple debit card internationally, Visa will add on an International Service Assessment (ISA) fee of up to 1% of the transaction amount.
Mobile App Deposit
Using their mobile app, you can take a picture of a check and have it deposited directly into your account, for a maximum of $5,000 per day (and a per-check limit of $2,000). The funds will be available between 0-9 business days after the deposit is processed. The check deposit maximum is 10 checks per week or a total of 15 checks per each 30-day period.
Other ways to fund your account:
Direct deposit
Transfer funds electronically from an account at another institution
Check Deposits by mail
Cash – Get a money order at any USPS, local grocery or convenience store then deposit it with the mobile app
Bottom Line
With mobile banks rapidly growing, Simple offers you a non-traditional banking experience. If you are interested, why not give them a try and earn a generous bonus along the way?
If you are up for trying out a free account that monitors and track your spending, then I definitely recommend checking out the promotion!
For more promotions like this, check out our massive list of the most popular bank bonuses.
(Expires September 30, 2019)