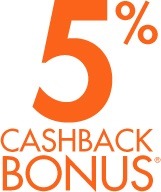 Just a friendly reminder, Discover Card cardholders can sign up right now to get 5% Cashback Bonus on up to $1,500 in purchases at Home Improvement Stores from April through June 2013. Home improvement stores can be any home supply retail stores, lumber/building material stores, paint/wallpaper stores, hardware stores, and lawn and garden supply centers. E.G. Lowe's or Home Depot. It's important to register your card online or by calling them in order to participate in the quarterly promotion.
Hustler's Tip: The Discover It Card is now offering 18 months 0% APR on balance transfers along with no annual fee, no overlimit fee, and no foreign transaction fee. Pay zero late fee on your first late payment and they won't increase your APR for paying late.
Discover's 5% Cash Back Terms and Conditions:
Sign up to earn 5% Cashback Bonus on purchases made at home improvement stores 4/1/13 (or the date on which you sign up, whichever is later) through 6/30/13, subject to a cap of $1500 in purchases. Home improvement stores are defined as home supply retail stores, lumber/building material stores, paint/wallpaper stores, hardware stores and lawn and garden supply centers. These purchases must post to your account by 6/30/13 and do not count towards determining your eligibility to earn 1%. Purchases made at warehouse clubs, wholesale distributors, and discount stores are not eligible. Purchases made using Near Field Communication (NFC), virtual wallets, or similar technology may not be eligible. If a purchase is coded for a category other than listed above, it will not qualify. Rewards are added to your Cashback Bonus account within 2 billing periods. See Cashback Bonus Program Terms and Conditions for further details.
Register your Discover It Card today to enjoy the 5% Cash Back Bonus on Home Improvement purchases good until June 30, 2013. Check out all 5% Cash Back registration for all major issuers such as Chase, Citi, etc.

Hot Deal of the Day: Motif Investing is offering $150 bonus when you deposit $2,000 and make 5 trades into your new account. There are no management fees, and no activity requirements. Simply pay the flat transaction fee any time you trade a motif.