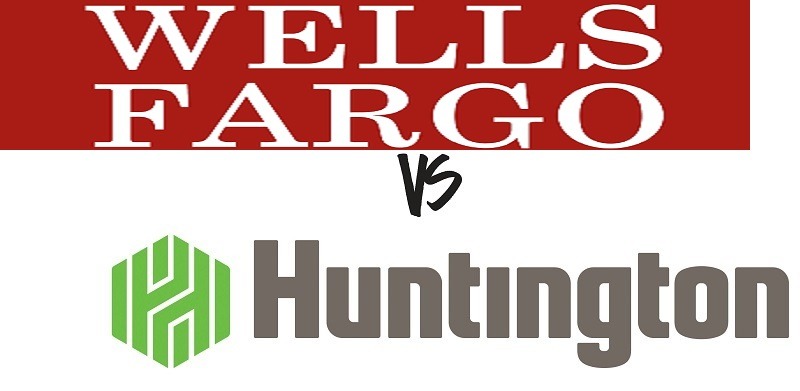 Huntington is located in the Midwestern states – with fantastic account options (both personal and business) packed with great features and benefits.
But how does Huntington compare to Wells Fargo?
Huntington Bank has nearly 1,000 branches and over 1,800 ATMs across eight Midwestern states.
There are just a few consumer and business account options –  however, they are packed with features and benefits that you'll surely enjoy.
Wells Fargo has over 5,700 branches across 16 states.
There is of a variety of checking and savings account options with differing perks such as Teen Checking, Opportunity checking for those who have financial problems, CDs with high rates, and more!
However, Wells Fargo does have higher monthly fees with more difficult monthly fee waivers.
If the fees are a bit much, no worries as there is a free checking account option.
See our side by side comparison of Huntington Bank and Wells Fargo below.
Huntington Bank
Wells Fargo
Locations
Nearly 1,000 branches

(Locator)

More than 5,700 branches

(Locator)

ATMs
Over 1,800 ATMs
More than 13,000 ATMs
Savings
3.6/5
2.5/5
CD
4/5
2/5
Checking
4.6/5
4/5
Money Market
3/5
N/A
Customer Service
5/5
4/5
Mobile App
3.6/5
4.5/5
Pros
-Free checking option
-24-hr grace for overdrafts
-All day deposit
-24-hr customer service
-Access to Mobile Wallet Features
-Deposit your check with your smartphone
-24/7 customer service
Cons
-Limited branches
-Low savings APY
-Minimal interest
-Requirements to waive the monthly service fees are hard to meet
-No overdraft protection
Bottom Line
Huntington offers great account benefits and offers a great free checking account option.
Wells Fargo is well known and has been around for many years. If you're looking for stability and your basic banking features, you'll find them here.
Huntington Bank Promotions
Huntington 25 Checking accountHuntington Unlimited Plus Business Checking AccountHuntington Unlimited Business Checking AccountHuntington Business Checking 100 Account
---
Wells Fargo Promotions
---
Wells Fargo Credit Cards
Wells Fargo Cash Wise Visa® CardWells Fargo Propel American Express® Card
---
Compare to Other Banks
---
---
Bottom Line
Which Bank is Better: Huntington or Wells Fargo?
In summary:
Huntington has great checking and savings account options that will suit your needs. In addition, their customer service is definitely noteworthy.
Wells Fargo is stable and offers basic banking for the beginner. Their mobile app suits a great user experience.
For more variety of options, see our list of the best bank account bonuses & savings account offers.
More on Huntington:
More on Wells Fargo: