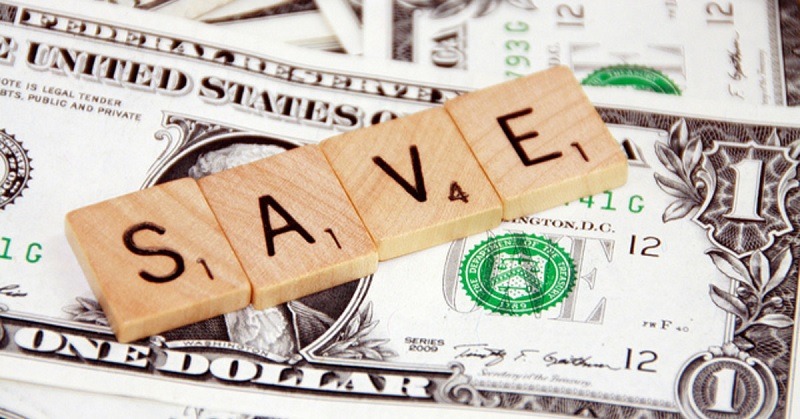 With many things going up in price nowadays, it has become more imperative to save as much money as we can. That being said, we have compiled a list of the things we've found to work the best in helping people save money. Continue reading to see our list of 99 ways to help you save money.
Aim for short-term savings goals
What this means is setting aside $0.50 a day or $20 a week. Those few cents a day can turn into over $180 a year, and $20 a week means over $1,000 in savings annually. You can earn interest on it with an online Savings or Money Market account, or even us the money to  invest.
Only use ATMs that belong to your bank
If you are desperate and try to withdraw from an out-of-network ATM, it could cost you more than $150 over the course of a year. To help avoid this, check out Charles Schwab Banking, they offer unlimited ATM fee rebates worldwide.
Avoid overdraft fees
The $20 to $35 you spend by bouncing a check or overdrawing your account each month would save you $240 to $420 a year.
Use online bill pay
This is a great way to save money because it keeps you in much closer contact with your money because you can keep an eye on your balance and the chance of overdraft won't be as high. Also, it can save you money on stamps and paper checks. Just fill out an online form and click submit.
Switch banks
Not only do some banks provide sign-up bonuses for opening an account, they offer attractive interest rates to new customers as well. Compare banks with the best sign-up bonuses.
Improve your credit score
A good credit score can save you thousands of dollars in interest on everything from a credit card to a home loan. If you've never focused on your credit score before, a good place to start is to get your free FICO score. Once you know where you stand, you can begin to improve your score and lower your interest payments.
Get a rewards card
There are many credit cards out there that will reward your spending in free travel, cash or products. Plus, many of these cards don't have an annual fee. If you're going to spend money, why not get something back for it? Better yet, get a hefty bonus for signing up. Here is a comprehensive list of the best credit card bonuses. If you want to know which of these credit cards are the best for you based on your spending behavior, we narrowed it down for you.
Make your monthly credit card payments in full and on time
If you fail to pay off your credit card in full, the high-interest payments (and the late payment fees) will start to eat away at your monthly budget.
Remove your credit card information from your online accounts
If you had your credit card already saved on online shopping accounts, then you would be tempted to buy something from that online retailer. However, by removing your credit card information, you won't be tempted to purchase anything, unless you input your information again.
Negotiate rates with your credit card company
You have the right to negotiate your current interest rate, especially if you've been making your payments on time.
Complete a balance transfer
You also have the right to transfer your balance to an entirely different card with an introductory 0% APR. Check out these balance transfer credit cards, which could help you save hundreds of dollars in interest over time.
Quit using credit cards
A credit card is a great tool to help earn cash back and rewards, however, if you can't control yourself when spending money, then it can become a problem fast. Keep your cards distant from you, if you need, and only use it when you need to.
Spend one, save one
Save away an amount equal to whatever you spend on non-essentials, such as fast food and coffee. If you can't afford to save the matching amount, you can't afford an expensive latte. At minimum, save the spare change from any purchases on your debit and credit cards. The Acorns app provides an easy way to roundup your purchases and automatically invest your spare change.
Ask to waive fees
If you ever sign up for a service that has fees, ask if they can be waived. Some services may even come with no fees at all. For example, these checking accounts charge no monthly service fees and these credit cards have no annual fees.
Choose quality over quantity
This can apply to food, clothes, electronics and much more. Although it's tempting to buy the cheaper version of an item, choosing quality will save you more in the long run.
Keep track of your expenses
Here's an important tool for saving money: keep track of your expenses. Most people don't even know what they spend in a month, and it is those small things that add up. Tip: Use a personal finance app that can track all your spending and more.
Make a weekly "money date."
Once a week, try to sit down and look at all those things that you've bought and try to plan ahead for the upcoming weeks to see what you have room to spend. This will give you an overview of what you spend your money on and what you can cut back on.
Plan your meals around your grocery store flyer
Pick recipes based on ingredients that are on sale and what you already have on hand. It's an easy way to spend less on groceries. TIP: Download the app to your favorite grocery store such as the one from Walmart Grocery. They often provide shopping lists and recipe builders, as well as shopping rewards and benefits. Also, pay with one of these best credit cards for grocery shopping to maximize cashback and rewards.
Shop on Wednesdays
Since many grocery stores launch their new sales in the middle of the week, customers who go the store on Wednesday get first access to that week's deals. At the same time, stores will often honor the previous week's coupons. That means you can maximize your savings while also shopping during a less crowded time of week.
Shop for food with a list and stick to it
When you go grocery shopping with a list, that means you tend to know how much you're planning on spending and what you really need. Going without a list means you might purchase unnecessary things that could cost you more than you're expecting.
Drink more water
This will cut back on your soda, juice and tea expenses. Bring a refillable bottle with you everywhere and opt for a glass of water when you dine out.
Substitute regular coffee for expensive coffee drinks
If you're a coffee addict who likes their morning lattes at a specific store, a good way to help you save some money while still getting that coffee shop experience is to order a regular coffee instead of a specialty drink. What's even better is to make it at home.
Prepare meals at home
Get your hands on a beginner cookbook and try making some of the dishes inside. You'll find that cooking at home is much easier than you think and way cheaper than takeout or dining out.
Don't fear leftovers, jazz them up instead
Don't just throw away food that you can't finish, save them as leftovers. Although these leftovers may not seem as great as when you first had it, you can always spice it up by turning it into something else. A popular thing is turning day old rice into fried rice!
Make a quadruple batch of a casserole
Casseroles are a great and easy way to meal prep because you're basicaly throwing all the ingredients in at once and cooking it. By making four, you can freeze three and have them for another dinner. Preparing a few at once allows you to buy the ingredients in bulk, which means more savings.
Eat out one fewer time each month
If it costs you $25 to eat out, but only $5 to eat in, you'll save over $200 in one year.
Sign up for free customer rewards programs
No matter where you live, you'll find plenty of retailers who are willing to reward you for shopping at their store. Here's the basic game plan for maximizing these programs. (1) Create a Gmail or Yahoo Mail address just for these mailings. (2) Collect every loyalty card you can. (3) Check that account for extra coupons whenever you're ready to shop.
Buy items online, in bulk
Some companies even offer free shipping on large orders. Clearance items are sometimes available, and you can also save on non-perishable groceries and diapers.
Buy used when you can
The exact clothing item that you want at a retailer can be find at a much lower price at used equipment stores, game stores, consignment shops and so on. Check these stores first before making your purchase and you'll guarantee save money.
Learn how to dress minimally
Buy clothes that mix and match easily, and you won't need nearly as many clothes. Simply pair timeless, simple pieces that go well together.
Do holiday shopping right after the holidays
Most people use this technique for Christmas, but it works for every holiday. For example, if you are looking for a Mother's Day gift, start after it passes to get one for the next year as their will be discounts.
Follow up on rebates
If something you bought offers a rebate, submit the form that day. Then, save it on the calendar and follow up with the company if your rebate doesn't show up. For products without a direct rebate, try purchasing them on one of these best cash back shopping sites to earn rebates from them.
Avoid stress-spending
After a stressful time period, it may be very easy for you to spend money to make you feel better. A better way to help you save money is to channel that into something else like exercising.
Repair clothes
Repair clothes instead of tossing them. Don't throw out a shirt because of a broken button, sew on a new one. Don't toss out pants because of a hole, put in a patch and save them for housework. Most basic sewing jobs can be completed by anyone, and a little bit of practice goes a long way.
Go through your clothes – all of them
If you ever feel like buying new clothes, check your closet first and make sure you've seen everything that you've bought. You may even find some hidden gems that you forgot you have.
Buy store-branded OTC medications
With 20% to 40% less cost than big brands, your savings could easily exceed $100 a year.
Ask your physician to prescribe drugs available as a generic
Annually, generic drugs can cost several hundred dollars less than brand name medication.
Buy low-cost prescription drugs
Check out your local pharmacists, supermarkets, area discount centers and online pharmacies.
Practice preventative dental care
A good cleaning routine helps prevent fillings, root canals and dental crowns. All of which are expensive and zero fun. Use this service from Opencare to help you find the perfect dentist and earn yourself a bonus.
Switch to an exercise pass program
If you like working out or exercising, definitely invest in an exercise pass or gym membership over taking individual classes. The pass will grant you access to a ton of features while the class can cost hundreds of dollars a month.
Be a hair model
You might not have considered modeling before, but if you want to score a great deal on a haircut, now might be the time to start. Students studying how to cut hair charge close to nothing. They might lack experience, but they often do a decent job.
Stick to reliable, fuel-efficient cars
Let's say you drive a vehicle for 80,000 miles. If you choose a car that gets 25 miles per gallon over one that only gets 15, you'll save 2,133 gallons of gas. At $3 a gallon, that's $6,400 in savings!
Shop around for gas
Comparing prices at different stations and using the lowest-octane recommended by the car manual can save you hundreds of dollars a year. GasBuddy is a great app that makes sure you never pay more than necessary when you're at the pump.
Keep your car tires inflated to their proper pressure
For every two PSI of air pressure under the recommended level, you lose 1% on your gas mileage. Most people tend to have wheels that fluctuate from the recommended PSI. That means by inflating your tires, you can improve your gas mileage!
Get your tires from Costco or other wholesale clubs
Simply put, they cost a lot less than buying them at the dealer or even a chain tire store.
Clean or change out your car's air filter
A clean air filter can improve your gas mileage by up to 7%. That means you can save more than $100 for every 10,000 miles driven in an average vehicle.
Avoid fast start-ups and stops when driving
Over time, you'll save hundreds of dollars on lower gas and maintenance costs.
Don't speed
Speeding is inefficient for gas already, but if you get pulled over, you will have to pay for the ticket and the higher insurance premiums. Therefore, it is best that you stick to the speed limit.
Suggest cheap activities
Suggest cheap activities when meeting up with family and friends. Be the first one to bring it up. That often gives you the power to steer the group towards things that are cheaper.
Socialize at potluck meals, rather than at restaurants
Potlucks are a great way to hang out with friends and family without breaking the bank because everyone signs up to bring a unique dish allowing for everyone to try something new. This also helps you save on gas costs, parking, tip, etc.
Invite friends over instead of going out
It's always cheaper to stay in with friends and come up with your own entertainment. Instead of hitting the town, play cards, sit around a fire pit, or watch movies with your guests. You'll all save money and have a blast too. They can share a Lyft or Uber ride home.
Plan gift-giving well in advance
It's always the thought that counts when it comes with gift giving. If you give yourself enough time to plan for a gift way before an event, you will be able to look for whenever the item goes on sale.
Make DIY gifts
Make DIY gifts, like food mixes, candles, fresh-baked goods, soap and all kinds of other things that are easy and inexpensive. These make spectacular gifts for others because they involve your personal touch. That's something you can't buy from a store. Plus, they're often consumable, meaning they won't end up filling someone's closet.
Give the gift of labor
For new parents, give an evening of babysitting as a gift. If you know pet owners, offer to take care of their pets when they travel. Lawn care is a great gift to a new homeowner. These types of presents are always a hit.
Swap babysitting with neighbors
Try to find another set of parents or two that you trust, and swap nights of babysitting with them. It'll save you the money of hiring one for an evening out.
Give up premium cable channels or better yet, cable altogether. With services like Hulu, Netflix and Amazon Prime, you can now watch your favorite TV shows and movies for a fraction of the cost of cable TV. You can take these services with you anywhere you want but depending upon where you're going, you may need to circumvent geographic content restrictions. For that, there is NordVPN or ExpressVPN.
Do inexpensive things in your community for fun
Check local newspapers and websites to discover low-cost parks, museums, film showings, sporting events and more.
Purchase matinee tickets
Movie theaters charge as much as 50% off for afternoon showings.
Hit the library – hard
Libraries are a great place not just for reading and renting books, but it is also a great place to meet new people, surf the internet, rent out movies and more.
Know your membership benefits
For example, AAA offers discounts on movie tickets, attraction tickets, sports & recreation, shopping, dining and more. Your credit card may offer some of these membership benefits. Check out our best credit card bonuses for top perks and rewards.
Cancel unused club memberships
Do you have a gym membership or a club membership that you are no longer using? If you don't know, check our credit card statement to see if you do have one. If you no longer use that service, be sure to cancel it as it can add up in cost over time.
Consider VoIP telephone service
I use Internet phone service and have saved a substantial amount of money. VoIP has been very reliable, and you'd never even know the signal was being carried over the Internet.
Understand your cell phone bill
The best way to save money on cell phone costs is to know the peak calling times, area coverage, roaming and termination charges. Also, see if Google Fi is a good alternative for your situation – if you have a ton of friends you can also earn service discounts with referrals.
Reduce cell phone costs
Look for services you don't use, and ditch them. You can even switch to a smaller provider offering service in your area for less.
Slow down your internet service
Reduce your internet speed with your company to save a little bit more per month. Realistically, if you are only doing simple tasks, you don't need to have super high speed internet.
Bundle services
Ask your telecom sales representative if they can offer you better prices if you decide to go with a plan that has both phone and internet services. Doing so may help you reduce the amount of clutter when it comes to bills. If you need help, Trim is a service that helps you cancel your unwanted subscriptions and lower your monthly bills by negotiating with your providers.
Take advantage of year-end promotions
Most service providers launch deals at the end of the year. Check whether your provider has any bargains during the festive season, and compare their promotions with the competition's. For checking and savings account promotions, see our best bank account bonuses here.
Turn off the lights
This may sound like a no brainer, but some may want to leave the lights on as a form of safety or if they think they won't be out long. Turning off your lights can help you save money over time, even if it is just bit by bit now.
Install CFLs or LEDs
Install CFLs or LEDs wherever it makes sense. Energy-efficient light bulbs might cost a bit more initially, but they have a much longer life than normal incandescent bulbs. Plus, they use far less electricity. Swapping out your four or five most-used light bulbs can save you $45 or more a year.
Use window coverings
Use window coverings to block or let in sunshine. This helps retain heat and redirect it, keeping your house at an optimal temperature so that your gas bill doesn't get out of control.
Put all your electrical devices on a surge protector
Put all your electrical devices on a surge protector, especially your entertainment center and computer equipment. A power surge can damage these electronics very easily.
Shut vents in unused rooms
This isn't advisable if you have forced air heating, but shutting vents in unused rooms can save you money on your heating and cooling bill.
Clean out those closets
If you find something in your closet that you no longer want to wear, don't just throw it away, sell it instead. You can have a yard sale, sell on eBay or Craigslist, use a consignment shop, or even donate it for a tax deduction.
Buy energy efficient appliances
Look for the Energy Star on appliances and consider the annual energy cost before purchasing. More efficient appliances cost more, but you make up for the extra cost, and then some, over the life of the product.
Do a "maintenance run" on your appliances
Cleaning your appliances, making sure there isn't any dust in the vents, and more can help because it helps extend the life of these appliances. Also, if it cleans clothes more efficiently, you won't feel the need to get rid of clothes if there is damage or get rid of the appliance.
Invest in a deep freezer
Although it may cost more upfront, a deep freezer can help you save money in the long run. By buying and cooking in bulk, you can later batch freeze meals to make sure you have something later down the line.
Start a garden
Gardening can be a money saving hobby if you have a yard, and it produces healthy food for your family.
Weatherproof your home
Caulk holes and cracks that let warm air escape in the winter and cold air escape in the summer. Your local hardware store has materials, along with useful advice.
Install a programmable thermostat
By scheduling the thermostat to heat or cool your home at certain times, you can make sure that your utilities aren't active while you're at work or asleep.
Ask your local electric or gas utility company for a low-cost home energy audit
The audit may reveal inexpensive ways to reduce home heating and cooling costs by hundreds of dollars a year. If you're a resident of California or Texas, consider this free service from OhmConnect that rewards you for saving energy during peak hours.
Request a discount on trash service
Unknown to some, but the trash disposal service is highly competitive and you may even get offers from other companies to dispose of your trash for you. This can allow you to negotiate for a cheaper service from your current provider.
Choose home repair contractors wisely
Favor contractors who have performed work for people you know. Insist on a written, fixed-price bid, and don't make a full payment until the work has been completed satisfactorily.
Rent out unused space in your home
Do you have an extra bedroom or an in-law suite that's not used? Rent it out on a site like AirBNB. Just make sure you know the risks and are willing to take the steps required to protect your family and your possessions.
Live near your workplace
While this isn't always possible, driving 5,000 miles less a year can lower transportation costs by more than $1,000.
Go on a staycation
Instead of investing in an extravagant vacation that could cost you hundreds of dollars or more, why not check out your surrounding area. Not only will it be much cheaper, but it'll be more memorable to explore what your area has to offer.
Opt for the off-season
Not only will you get discounted rates on airfare, accommodation and tours, but you also get to enjoy your destination without many tourists around.
Eat like the locals
Regional dishes are often cheaper than international cuisine. Get tacos in Mexico, curry in India, and doner kebabs in Turkey.
Use a last-minute booking app
Use a last-minute booking app to reserve your hotel room. If you like a little bit of risk and you're a flexible traveler, you can save on short hotel stays if you book the same day you check in.
Try cheaper hotel alternatives
Try cheaper hotel alternatives, like vacation and short-term rentals, B&Bs, hostels, homestays, camping, boathouses and more. If you avoid staying at hotel, you can put your savings towards a memorable adventure, splurging on local food, or other things.
Shop around for auto and homeowners insurance
Before you decide to renew your current auto or homeowners insurance, compare it with the competition to make sure you are getting the best rates possible. If you aren't able to negotiate then you have the option of switching providers.
Pay your insurance annually
Insurance companies charge you more if you pay monthly, quarterly or semi-annually. Pay once a year and you'll pay less overall.
Increase insurance deductibles
There's a good chance that you don't need to be insured for losses over $100 on your car. Although we wouldn't want to pay a $250 or even $500 deductible, we could. If you're generally a safe driver, find out how much you'd save from raising your deductible.
Think before submitting an insurance claim
A great rule of thumb is to not submit a claim on a loss that is less than twice my deductible. So for a $250 deductible on an auto loss, I'll pay out of pocket any loss up to $500. The reason for this is that the $250 I'd receive from my insurance company is not worth the increased premiums I'm likely to pay. I suggest calling your insurance agent to find out how a claim will impact your premiums before filing.
Switch to term life insurance
Commit this to memory: insurance is not an investment. Universal and whole-life policies are much more expensive and offer sub-par investment opportunities. In almost every case, you'll be much better off with a cheap term policy. See our life insurance reviews here.
Set up automatic repayment for any loans you have
Many loans offer a small rate reduction if you sign up for their automatic debt repayment plan. This way, not only do you save a certain amount of money per month, you won't have to go through the effort of actually paying the bill either. If you need to take out a personal loan, check out the best personal loan lenders here.
Refinance your student loans
Interest rates are low right now, so it could be worthwhile to consolidate your student loans into one low-rate package. Even just a 1% reduction on a $10,000 loan will save you $100 a year. Here are our reviews of student loan refinancing lenders.
Refinance your mortgage
Refinance your mortgage to lower interest charges and get a better term. This can help you save a ton of money while you're paying off your mortgage.
Take advantage of Public Service Loan Forgiveness
Take advantage of this federal program that forgives your student loans if you work full-time with a qualified employer, are on an income-driven repayment plan, and make at least 120 qualifying loan payments.
Get rid of Private Mortgage Insurance
If your down payment was less than 20%, you're probably paying PMI. Once you have at least 20% paid already, by reducing your debt and home appreciation, contact your mortgage company to start the process of removing the PMI.
Bottom Line
Saving money is very important because you can cut the cost out of things that aren't that necessary to put towards things that are. With that in mind, we've scoured the internet to find all of the most popular methods on saving money. You'd be surprised how much more you are spending on everyday goods, but with these tips and tricks, you will never be blindsided again.